Marion Hill's France-set debut focuses on the romantic longings of a tangled trio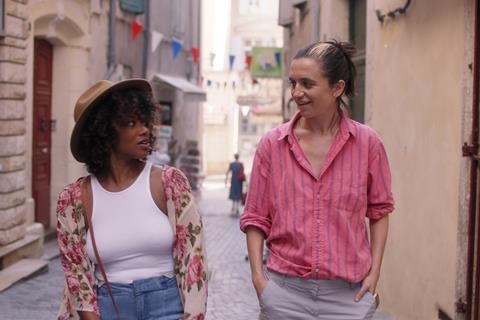 Dir/scr: Marion Hill. US. 2021. 95mins.
Unsettled lives are at the centre of Ma Belle, My Beauty, a portrait of a recently married woman who feels an old stirring once her former girlfriend returns. The feature debut of writer-director-editor Marion Hill is as languid and casually sensual as the warm summer days that frame a bittersweet reunion in the French village of Anduze between these three characters. Primarily interested in evoking an atmosphere of romantic longing, the film drifts alongside the two women, hinting at the roiling emotions that will eventually come to the surface. Screening at SXSW after a Sundance launch, Ma Belle, My Beauty is set for US release in August.
Characters who are waking up from the dream they had about what they thought their lives would be
A few years ago, singer Bertie (Idella Johnson) and musician Fred (Lucien Guignard) were part of a polyamorous relationship in New Orleans with Lane (Hannah Pepper). Bertie was sexually involved with both Fred and Lane, although they weren't romantic partners. But after Lane mysteriously exited their lives, Bertie and Fred got married and moved to France to his family's gorgeous, remote home, hoping to develop a music career together.
But as Ma Belle begins, we sense that Bertie feels out of sorts and is perhaps homesick — not to mention that she's grieving the recent death of her mother. Sensing his wife's malaise, Fred tries to cheer up Bertie by arranging for Lane to show up at the house one day as a surprise. But Lane's arrival only dredges up feelings about their past which leave Bertie even more disheartened.
Hill, who also edited Ma Belle, avoids melodramatics in this tale of former flames who readjust to living together under the same roof. Instead, the film examines how changes in relationship status can cause not someone to reassess their identity while also creating ripples in the people around them. As soon as Bertie locks eyes with Lane, it's clear that she's suddenly confronted with an old way of seeing herself — and that parts of her essence that she's put away are now coming back to the fore.
The sunlit visuals, courtesy of cinematographer Lauren Guiteras, accentuate the allure of this tranquil, rustic paradise, but that proves to be a double-edged sword. Bertie feels less at home in this Eden than Fred — for one thing, her French is very rudimentary — and she can't exactly escape Lane, who still is attracted to Bertie but doesn't know how she fits into her ex's world now that she has committed to Fred.
Although Ma Belle initially appears to be a study of all three characters, eventually Fred moves into the background as the two women try to get used to this awkward new normal. Johnson is nicely understated as a withdrawn woman who's lost her spark — even singing brings her no pleasure anymore — while Pepper conveys Lane's restless spirit and lingering hurt. If Lane can't have Bertie, maybe she can hit back at her, leading to one of Ma Belle's strongest segments as she takes a new lover, the younger Noa (Sivan Noam Shimon), in part to provoke Bertie's jealousy. But is Bertie envious of Noa or of the fact that, not that long ago, she was able to be in a polyamorous relationship and wasn't limited to the new heteronormative strictures in which she now finds herself?
Sometimes to its detriment, this unhurried film operates on a modest canvas, focusing largely on all the things Bertie and Lane can't quite bring themselves to say to one another. That restraint, mixed with the gentle pace and summery setting, can result in a sluggish narrative, but at the same time, it feels appropriate to characters who are, in some ways, waking up from the dream they had about what they thought their lives would be. Hill and her actors navigate that delicate terrain with subtlety and more than a little sadness.
Production company: EFI
International sales: Submarine, info@submarine.com
Producers: Ben Matheny, Kelsey Scult, Marion Hill
Production design: Stephane Gilles-Pick
Editing: Marion Hill
Cinematography: Lauren Guiteras
Music: Mahmoud Chouki
Main cast: Idella Johnson, Hannah Pepper, Lucien Guignard, Sivan Noam Shimon