Dir/scr Julio Medem. Spain 2015. 111 mins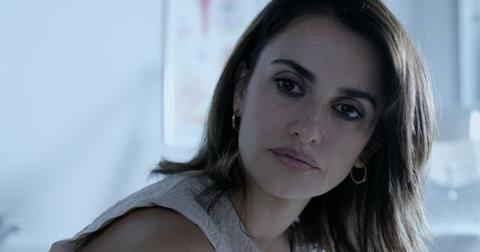 Misery loves company and in ma ma, it arrives in droves as unemployed schoolteacher Magda is abandoned by her errant husband at the same time as she is diagnosed with breast cancer. Subsequent developments unfold with a mixture of calm detachment and overblown melodrama as the film reveals itself as a shameless tearjerker. Audiences may be more prepared to succumb to the sustained assault on the emotions than more cynical critics but, commercially, star Penelope Cruz's first collaboration with director Julio Medem is unlikely to reach the heights of her iconic Spanish-language roles in a string of Almodovar titles.
There is an undeniable cheesiness to the closing stage of ma ma that makes it hard to take entirely seriously
The combination of Cruz, dependable co-star Luis Tosar and Medem should still be sufficient to cause some box-office ripples in Spain and stir modest arthouse interest in other territories. Cruz is also a producer of ma ma which gives her a demanding, laughing-through-the-tears role as Magda, a woman whose strength of character and positive energy sustains her through a series of bitter blows.
Magda responds to her cancer diagnosis by clinging to news that she has a 70% chance of survival. Her focus now is on protecting her football-mad son, but she still has compassion left for others. Watching her son's football game she is talking with scout Arturo (Tosar) when he receives the news that his daughter has been killed in a car crash and his wife is now in a coma. The two become allies in adversity as they face further tragedies and Magda becomes the radiant embodiment of the power of positive thinking.
Set in the clinical white of hospital rooms, the steely blue of scanning machines and the bright light of a summer at the beach, ma ma takes on an otherworldly quality. Floating, gently see-sawing camerawork expresses the way Magda is discombobulated by her treatments and everything that befalls her. Once sympathetic surgeon Julian (Asier Etxeandia) shows her a photo of the Siberian refugee girl that he is planning to adopt, five year old Natasha becomes a ghostly presence in the film, appearing to Magda at the beach, at her bedside and in her home.
Medem's screenplay stretches credibility throughout as it becomes a salute to Magda's indomitable earth mother spirit and belief that anything is possible, whatever logic and science might dictate. Julian reveals his talent for singing and stops the film with a beach side serenade to Magda that becomes a strenuous power ballad in praise of life, love and the beauty of the moment. The song even gets another tear-stained reprise in the final scene by which time you really expect the audience to have joined in and be gently waving their arms in the air. There is an undeniable cheesiness to the closing stage of ma ma that makes it hard to take entirely seriously.
In a strong cast, Tosar comfortably inhabits the role of the decent, stoical Arturo and Asier Exteandia is an engaging presence as singing surgeon Julian but this is very much Cruz's film and she appears in virtually every scene. Magda is a plum role as she runs the emotional gamut through scenes as an ailing cancer patient shaving off her hair to those as a joyously defiant survivor and a woman for whom the maternal instinct takes precedence over any other attachment. Cruz looks radiant throughout and makes Magda a heroic figure but the schmaltzy script and uneven tone of the film conspire to upstage her performance and diminish our capacity to feel moved by it.
Production Companies Morena Films, Ma Ma PC, Ma Ma Peliculas AIE, Mare Nostrum Productions
International sales: Seville International sevilleinternational@filmsseville.com
Producers: Penelope Cruz, Julio Medem, Alvaro Longoria
Cinematography: Kiko de la Rica
Editors: Julio Medem, Ivan Aledo
Production design: Montse Sanz
Music Alberto Iglesias
Main cast: Penelope Cruz, Luis Tosar, Asier Etxeandia