David Tennant turns in a memorable performance as Scottish psychiatrist RD Laing in Robert Mullan's solid biopic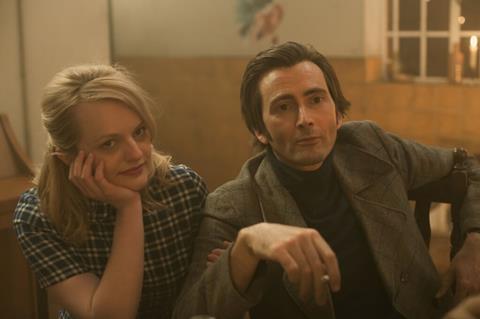 Dir. Robert Mullan. UK. 2016. 106 mins.
The controversial Scottish psychiatrist RD Laing, dubbed 'the acid Marxist', proves to be a slippery subject for a biopic. Despite a forceful central performance from David Tennant, Laing is a difficult character to pin down. On one hand, his charismatic magnetism has a rock star intensity and his empathy for his patients allows him to succeed professionally where others fail. On the other, Laing is portrayed as brutally arrogant, insensitive and focussed to the point of ruthlessness, so preoccupied with his work that those close to him are frozen out.
The film's main asset is Tennant; his Laing is both commanding and nurturing, provocative and playful.
Robert Mullan's drama, which premieres in the closing night slot of the Glasgow Film Festival, should attract further festival interest. The quality of the cast – Tennant's intense central performance is supported by Elisabeth Moss as Laing's partner Angie Wood, and Michael Gambon and Gabriel Byrne as patients in his care – is a key selling point which may boost the film's theatrical potential.
Although interest is likely to be strongest in the UK, where GSP Studios are set to release the film in April 2017, Laing's international reputation and cult status as a maverick figure could help raise awareness. That said, tonal issues and a slightly on-the-nose directorial approach may limit the film's box office potential.
We first meet Laing as he strides on stage in a slim velvet jacket, bathed in stage lights and the adoration of the young audience who buy into his peerless counter-cultural credentials. The backdrop to the story is Laing's unique alternativeEast London institution, Kingsley Hall; a medication-free community in which sufferers of schizophrenia and other mental health issues live, eat and sleep under the same roof as their carers.
The film uses the relationship between Laing and Angie, a graduate student who meets him after a lecture, as a lens through which to view the psychiatrist and the community which orbits him. Such is the gravitational pull of Laing that Angie is viewed by some of his patients as a threat, or a distraction which dilutes the attention that he has previously lavished on those in his care. Angie is, at first, understanding of the tensions that her presence causes, but once she becomes pregnant she expects a level of support and protection that Laing is not prepared to offer.
Mullan shoots in warm pastel tones of apricot and honey, a striking and deliberate contrast to the greys and greens which tend to be used to depict mental health facilities in cinema. He also favours a shooting through a hazy fug of, presumably, incense and cigarettes.
The greatest hits music choices anchor the film in its era – Donovan's Season Of The Witch is closely followed by The Kinks You Really Got Me. Later on, in America, Laing appears on the same bill as the Grateful Dead. Less successful, however, is the use of stoned guitar riffs to punctuate scene changes.
The film's main asset is Tennant; his Laing is both commanding and nurturing, provocative and playful. His charisma is such that you can imagine him mending the broken minds of his patients through sheer force of will; his arrogance such that each clinical success is as much about proving himself right as it is about caring for the sick.
While the film might not be as knotty and complex, or as polished, as Bill Condon's Kinsey, Tennant's portrayal of a maverick scientist is as memorable as Liam Neeson's turn as sexual research pioneer Alfred Kinsey.
Production company: Gizmo Films, Bad Penny Productions, GSP Studios
Contact: c.arden@gizmofilms.com
Producer: Charlotte Arden, Phin Glynn
Cinematography: Ali Asad
Screenwriter: Robert Mullan
Editor: Laurie Yule
Production design: Celina Norris
Main cast: David Tennant, Elisabeth Moss, Gabriel Byrne, Michael Gambon, David Bamber, Olivia Poulet, Trevor White