Toni Collette and Harvey Keitel may star in this Paris-based romcom, but it's Rossy de Palma and Michael Smiley who capture hearts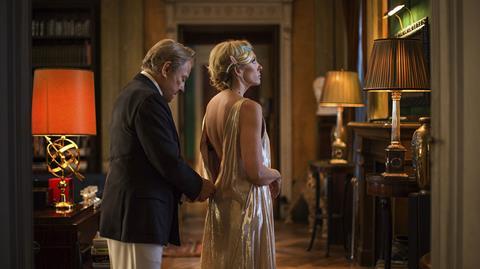 Dir. Amanda Sthers. France. 2017. 90 mins.
Toni Collette and Harvey Keitel might bring star power to upstairs-downstairs comedy Madame, but it's Rossy de Palma who shines brightest in this English-language debut of French writer turned filmmaker Amanda Sthers. With a narrative that turns a case of dinner party subterfuge into an opposites-attract, culture-clash romantic comedy, Sther's second feature following 2009's You'll Miss Me is buoyant when Pedro Almodovar's muse is on screen, but all-too-clichéd in most that surrounds the Spanish actress.
When the film works, it's a slice of undemanding fluff, serving up an underdog fantasy that probes the difference between the haves and the have-nots without daring to dig too deep
Still, given that Madame serves up a smattering of intermittent laughs, modest audience affection could be possible — name recognition will help, and the movie's broad, breezy vibe should garner favourable word of mouth. Premiering at the Sydney Film Festival, it's slated for release in Australia in August, and has been pre-sold by Studiocanal to a smattering of territories.
Collette and Keitel play elitist ex-golf instructor Anne and the secretly-going-broke Bob, an American couple living in a sprawling Parisian property where maid Maria (De Palma) runs the household like clockwork. Introduced in the run-up to an evening dinner party, Anne and Bob's orderly life is thrown into disarray when his novelist son Steven (Tom Hughes) from his first marriage makes a surprise visit. Anne is horrified, superstitiously refusing to seat 13 people at her table. As a quick solution, she orders Maria to dress up and pretend to be a family friend to round out the group, with strict instructions: "don't eat too much, drink too much or smile too much."
Madame wouldn't be the light-hearted farce it is if Maria's big night playing dress-up didn't have predictable consequences, namely a burgeoning romance with British art broker David (Michael Smiley). He's instantly besotted with her unaffected ways, albeit under the misunderstanding that she's a wealthy Spanish heiress trying to keep her true identity a secret. When Anne gets wind of their attraction, she becomes determined to bring it to an end — partly to put Maria back in her place, and partly in a fit of midlife malaise-fuelled envy, with physical passion long gone from her marriage to Bob.
When the film works — or, whenever de Palma brings relatable spirit and charisma to her centrepiece role — it's a slice of undemanding fluff, serving up an underdog fantasy that probes the difference between the haves and the have-nots without daring to dig too deep. When it grates, it's bogged down by blatant stereotypes, wan banter, obvious observations about the intersection of class systems, and rote wisdom about having the strength to be yourself and forge your own path.
Sthers knows the value of zipping from scene to scene, and of stressing the film's lavish surroundings; the film's contents might prove average more often than not, but they're attractively packaged by editor Nicolas Chaudeurge (Still Alice), cinematographer Régis Blondeau (an alum of Sthers' first film), and production designer Herald Najar (TV series The Disappearance).
Among the cast, scenes between de Palma and Smiley render him Madame's second standout player. In fact, it's Collette and Keitel who make less of an impact, largely thanks to their underwritten characters. One can arch her eyebrows in disdain with the best of them, and the other amble around with charm, but their parts serve the narrative more than their talents.
Production company: LGM Productions, Made in PM
International Sales: Studiocanal
Producers: Cyril Colbeau-Justin, Jean-Baptiste Dupont, Alain Pancrazi, Laurent Bacri
Executive producers: Matthew Gledhill, Didier Lupfer
Cinematographer: Régis Blondeau
Editor: Nicolas Chaudeurge
Music: Matthieu Gonet
Production designer: Herald Najar
Main cast: Toni Collette, Harvey Keitel, Rossy de Palma, Michael Smiley, Tom Hughes