Virginie Efira stars in this spider's web of a film about a woman leading a seemingly impossible double life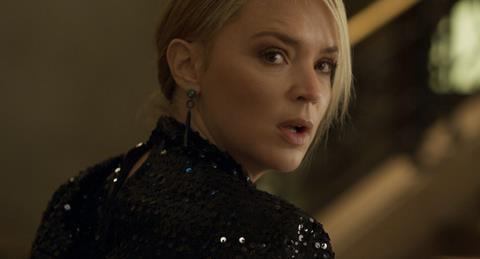 Dir: Antoine Barraud. France/Belgium/Switzerland. 2020. 107mins
On a roll after Sibyl (2019), Bye Bye Morons (2020) and Cannes sensation Benedetta (2021), Virginie Efira is very much the star attraction of Madeleine Collins. Her central performance carries Antoine Barraud's intriguing, cleverly structured psychological thriller in which a woman attempts to sustain a fraught double life. Elegantly handled and suspenseful in the manner of a Hitchcock or an Ozon, the film has mainstream commercial appeal and possible awards potential for multiple Cesar nominee Efira.
Elegantly handled and suspenseful in the manner of a Hitchcock or an Ozon
Barraud begins with an opening sequence that feels like a significant piece of a puzzle that the rest of the film will seek to solve. We move on to the double life of interpreter Judith Fauvet (Efira). In France, she is married to the renowned orchestra conductor Melvil (Bruno Salomone) and the mother of two sons. Claiming to travel extensively for work, she is absent from home as much as three or four nights a week. In reality, she is spending the time in Switzerland where she goes by the name of Margot Soriano and lives with Abdel (Quim Gutierrez) and a daughter.
Efira's Judith gives the impression of being a woman very much in control of a complex, strictly timetabled life. Nothing seems to faze her as she serenely sails through every demand made upon her and any situation in which a little white lie might be necessary to resolve conflict. She seems to think of everything, even ordering a Warsaw snow globe as a thoughtful gift from her non-existent trip to Poland.
Barraud effectively distinguishes the two worlds that Judith inhabits. Her life in France is one of comfort and privilege, unfolding in concert halls, theatres and dream properties that her husband is trying to convince her to buy. The glamorous Judith seems completely at home as she attends cocktail receptions and skirmishes with her anxious mother (Jacqueline Bisset). By contrast, Switzerland offers a less demanding, more modest, domestic existence and the happiness of a close bond with a child who clearly adores her.
The first half of Madeleine Collins is spent establishing the world in which Judith operates and the tiny cracks that threaten to shatter it. The second half ups the pace and the revelations as things start to fall apart and we gain greater insights into her troubled mind. Barraud offers a satisfyingly slippery tale in which we think we know where it might be headed but are constantly met by a little twist or discovery that puts everything into a different perspective. We assume that France and Switzerland represent two worlds that have no meeting point but it becomes apparent that this is not necessarily the case.
The spider's web of a plot hooks you in and Efira builds an emotional connection to a woman who is both admirable in some ways but clearly on the verge of a nervous breakdown. She seems an implacable force; a consummate liar in the face of legitimate questions, delusional in dangerous ways but also visited by flashes of self-awareness that make her all the more vulnerable. "I've turned into a monster," she confesses towards the climax.
As enjoyable as a classy airport page turner, Madeleine Collins is elevated by Efira's committed performance and the added pleasure of a plot that adds up as we come to understand exactly why that opening sequences was the key to the whole story.
Production companies: Les Films Du Belier, Frakas Productions, Close Up Films
International sales: Charades pierre@charades.eu
Producers: Justin Taurand, Jean-Yves Roubin, Joelle Bertossa, Flava Zanon
Screenplay: Antoine Barraud, Helena Klotz
Cinematography: Gordon Spooner
Editing: Anita Roth
Production design: Marine Michelems
Music: Roman Trouillet
Main Cast: Virginie Efira, Quim Gutierrez, Bruno Salomone, Jacqueline Bisset.