Gia Coppola returns after Palo Alto with an abrasive ode to You Tuber culture starring Andrew Garfield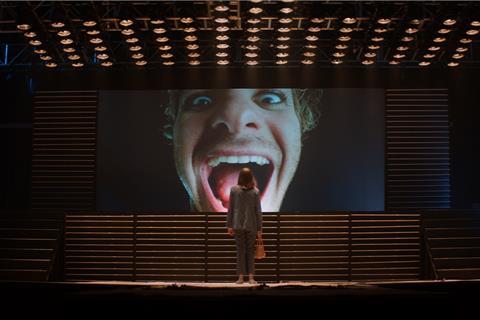 Dir. Gia Coppola . US. 2020. 94 mins.
Not so much bleeding edge as screeching edge, Gia Coppola's Mainstream is a frenetic piece of pop-art social satire that strives to be super-current but feels oddly traditional beneath its eye-searing, pixel-popping surface. A commentary on the soul-eroding effects of YouTube and influencer culture, it's caught in the classic trap of at once deriding and yet being helplessly fascinated by what it satirises – and because the trap is classic, Mainstream can be perhaps forgiven for falling into it. What's harder to accept is the strident relentlessness, verging on incoherence, of the film's stylistic overkill. Mainstream's commercial chances will ride mainly on its central performance by Andrew Garfield, a turn that's hard to like –knowingly so – but which certainly demands respect for its take-no-prisoners abrasiveness.
Garfield certainly deserves credit for sinking his teeth into one of those rare roles that license an actor to turn up the volume to 11 and beyond
Seven years after her directing debut Palo Alto, Gia Coppola – granddaughter of Francis, also noted as a photographer – returns with a story that she says is partly inspired by Elia Kazan's A Face in the Crowd. Maya Hawke plays Frankie, a young woman doing a thankless job in an LA bar, and dreaming of becoming an artist through videos she posts on YouTube. One day in a mall, she meets a young man Link (Garfield) wearing a mouse costume. He goes all out to impress her by ranting at shoppers; she films him and the clip goes viral. Shy, sensible dreamer Frankie becomes infatuated with this unpredictable rager against convention who makes it his full-time raison d'être to challenge people's perceptions, whether they like it or not. The pair soon recruit Frankie's simpatico co-worker Jake (Nat Wolff) to join them making videos featuring Link's confrontational antics.
It's when they're approached by an 'influencer agent' (Jason Schwartzman, doing by-the-book showbiz sleaze) that their star truly ascends. The increasingly ego-drunk Link becomes a hot influencer, under the ironic handle NoOneSpecial, and soon stars in a studio-shot mock game show, on which he asks willing punters which they value more - their phone or their dignity. Things come to a head when Link brutally humiliates a young contestant (Alexa Demie), and it becomes clear the satire has gone too far – and Frankie has to ask herself whether it's worth trading your humanity for YouTube views.
A standard parable about the ethical price of success, Mainstream wins some credibility points by its canny media referencing: alongside Johnny Knoxville, former star of MTV's stunt show Jackass, whose guerrilla outrageousness may be one model for Link's persona, there are cameos by assorted YouTubers and influencers (Juanpa Zurita, Patrick Starr, 13-year-old drag performer Desmond Is Amazing). One wonders how aware they are of biting the media hand that feeds them in signing up for this satire, but at the very least their presence gives the film a freakish currency à la Zoolander.
Once the film gets into its stride aping current behavioural and stylistic excesses (including images layered with Instagram-style icons and filters), it has an undeniable momentum of its own. But for a long stretch at the start, Mainstream is irksomely faux-gauche, especially in a coy device of using silent-era captions to comment on the action and Frankie's thoughts ("My hero!").
Garfield certainly deserves credit for sinking his teeth into one of those rare roles that license an actor to turn up the volume to 11 and beyond. Nicholson, Slater, Jim Carrey, Sam Rockwell in Confessions of a Dangerous Mind – there's a little of all of them here, with a convincingly feral streak of LA punk dementia. And the fact that Link isn't quite what he purports to be gives a convincing undertow to Mainstream's critique of the cult of Authenticity as Performance and Performance as Authenticity.
However, Garfield isn't well matched by Maya Hawke – ascendant music star and daughter of Uma Thurman and Ethan Hawke – whose performance is too much the wide-eyed ingenue to be believed. Nat Wolff makes do with a paper-thin role of an adoring, ignored nice guy, but does it well, and DOP Autumn Durald Arkapaw matches Garfield's excess by layering on registers of neon from different eras. While the soundtrack is over-applied, the music by British multi-hyphenate Devonté Hynes (currently aka Blood Orange) captures a tone of romantic energy.
Ultimately, though, Mainstream never transcends the impasse of being another update of the old story about hipster radicals challenging the system only to be devoured by it – one that has been told through the eras of skiffle, flower power, punk, cable TV, reality shows, you name it. Finally, Mainstream only serves to remind us that a film that aspires to be as Now as tomorrow morning's news risks very quickly looking as fresh as a Sigue Sigue Sputnik B-side (and if you can't remember who they were, that only proves the point).
Production companies: Automatic, American Zoetrope
International sales: Wild Bunch, EDiederix@wildbunch.eu
Producers: Fred Berger, Gia Coppola, Lauren Bratman, Andrew Garfield, Siena Oberman, Jack Heller, Enrico Saraiva, Francisco Rebelo de Andrade, Alan Terpins, Zac Weinstein
Screenplay: Tom Stuart, Gia Coppola
Cinematography: Autumn Durald Arkapaw
Editor: Glen Scantlebury
Production design: Nathan Parker
Music: Devonté Hynes
Main cast: Maya Hawke, Andrew Garfield, Nat Wolff, Jason Schwartzman, Alexa Demie, Johnny Knoxville