A drug dealer pretends to be a model parent in this Croatian drama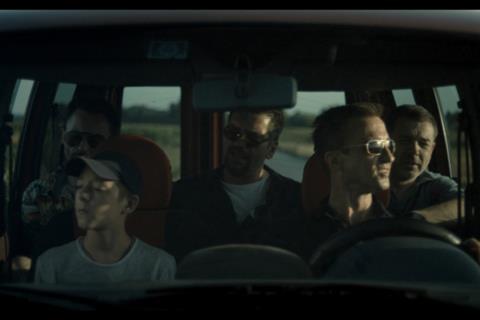 Dir: Antonio Nuić. Croatia. 2018. 90mins
Four years in prison have done absolutely nothing to reform drug dealer Franjo (Franjo Dijak). But with his ex-wife on her deathbed and her parents angling to take custody of his son Mali, Franjo has become adept at acting the role of socially responsible parent. And Mali is thriving despite, or perhaps because of, Franjo's unconventional approach.With the film unfolding over a riotous weekend celebration for Franjo's 40th birthday, the plotting is every bit as messy as the drug-fuelled hedonism - and only slightly less likely to leave audiences with a headache.
The film's cast is one of its stronger points
Nuić reunites the key actors from his segment of the 2004 football hooliganism omnibus film, Sex Drink and Bloodshed, a casting decision which will no doubt mean much more to a domestic audience. Likewise, the blunt weapon approach to comedy is a culturally specific taste which few people outside the region are likely to share. As such, the film could make a boisterous addition to festival programs, but may prove daunting to arthouse distributors.
The film's cast is one of its stronger points. As Franjo, Dijak has a treacherous feline charm and a posture which looks as though he is always squaring up for a fight. He also has the constitution of a bison and can knock back quantities of booze and drugs which could – and does – fell a lesser man.
Raks (Rakan Rushaidat, excellent elsewhere in the Sarajevo competition in All Alone) spends much of the picture either blearily squinting through half-closed eyes or unconscious. Boki (Bojan Navojec) is a likeable dummy who works in television as an 'organiser'; Keco (Hrvoje Keckes) is a traffic warden who is easily swayed by Franjo's forceful personality and well-stocked drug supplies. But however winning the chemistry between Franjo and his three buddies, the film overestimates the entertainment value of watching drunk middle aged men wrestling, at length, with a VR computer game.
Although is it Mali who lends his name to the film, the story is skewed towards his larger-than-life father. An inscrutable teenager with a gift for chess – father and son fire mental moves at each other as they tidy the apartment – Mali sits apart from the chaos, quietly ploughing through his maths homework. This makes it all the more jarring when, at the end of the film, Mali perpetrates an unexpected act.
The aim, presumably, is to show that, for all Franjo's boasting about the positive influence he has on his child, Mali isn't just learning the rules of chess from his father. Still it's a curiously tone deaf device which feels at odds with what we know of the character, and the way in which the event is subsequently written off is equally as clumsy.
Production company: Propeler Film, Alka Film
Contact: lana@propelerfilm.com
Producers: Boris T. Matić, Lana Matić, Jozo Patljak
Screenplay: Antonio Nuić
Editing: Marin Juranić
Cinematography: Radislav Jovanov Gonzo
Production design: Nedjeljko Mikac
Music: Hrvoje Štefotić
Main cast: Franjo Dijak, Vito Dijak, Rakan Rushaidat, Hrvoje Kečkeš, Bojan Navojec, Robert Ugrina, Živko Anočić, Paško Vukasović, Iva Babić, Ksenija Marinković