Dirs/scr: Benoit Delepine & Gustave Kervern. France. 2010. 90 mins.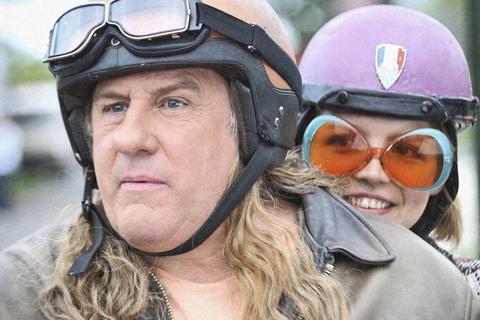 After building a dedicated festival following with Aaltra (2004) and especially Louise-Michel (2008), French absurdists Delepine and Kervern return with Mammuth, another deadpan, politically incorrect comedy. Taking themselves a tad more seriously and carrying a few more pretensions than in the past, the directors team up with a major star in Gerard Depardieu, but the material itself is slighter and less original than before and the results are disappointing.
The film's pseudo-serious attempts to show Mammuth's transformation from brute to poet fall flat despite the best efforts of Depardieu
There is no shortage of laughs and inspired irreverence in Mammuth, but the grainy hand-held cinematography and irksomely perky score by Gaetan Roussel suggest that the film-makers have been influenced by contemporary US cineastes such as Wes Anderson, David O Russell or Alexander Payne. In fact there is some narrative and tonal resemblance here to Payne's About Schmidt, and the casting of acting icon Depardieu as the lost pensioner mirrors that of his Hollywood counterpart Jack Nicholson.
Festival play and arthouse sales should follow Mammuth's world premiere in Berlin based on the film-makers' cult status and the strength of the cast, which also includes Yolande Moreau and Isabelle Adjani, but this film seems unlikely to stick around for long.
Depardieu plays Serge Pilardos, a heavy, listless man who has just turned 60 and is leaving his job at an abbatoir to retire. But when he tries to register for his pension, he is told that none of his employers has ever registered his earnings, meaning that he cannot qualify for benefits without affidavits stating that he worked for them.
His wife Catherine (Moreau), herself desperate to retire after years of working in a supermarket, persuades him to go on the road on his old 70s Mammut motorcycle (hence his nickname "Mammuth") to track down his former employers.
As he travels through his past, he is haunted by a motorcycle accident in which his first love (Adjani, appearing here as a ghost) was killed. But when he goes to stay with his unconventional niece (Miss Ming), he rediscovers a freedom of spirit which he never thought possible.
There are many outrageous moments in Mammuth – from Serge's naked romp with his decrepit cousin (Albert Delpy), to his hapless attempts to fit a shopping cart between two parked cars, to his obscene verbal sparring with the man behind the meat counter at the supermarket. Moreau in particular puts her comic skills to good use here, generating the biggest laughs as the wife whose patience with the working life has worn thin.
But the film's pseudo-serious attempts to show Mammuth's transformation from brute to poet fall flat despite the best efforts of Depardieu (effectively vulgar, courtesy of long blond locks and gigantic pot belly). Nor is the character of the simpleton niece with a penchant for making art out of doll body parts and soft toys as droll or transcendent as the directors would like to think.
Adjani does very little, appearing to Serge along the way - still sporting head wounds from the crash - to guide and coax him on his journey.
To sign up for Screen's weekly Reviews Newsletter with all the week's new releases, international openings and full festival reviews delivered free to your mailbox every Friday, please click HERE
Production companies
GMT Productions
No Money Productions
International sales
Funny Balloons
+331-4013-0585
Producers
Jean-Pierre Guerin
Veronique Marchat
Cinematography
Hugues Poulain
Production designer
Paul Chapelle
Editor
Stephane Elmadjan
Music
Gaetan Roussel
Main cast
Gerard Depardieu
Yolande Moreau
Isabelle Adjani
Miss Ming
Benoit Poelvoorde