Steve McQueen's Small Axe series turns its attention to the trial of the 'Mangrove 9'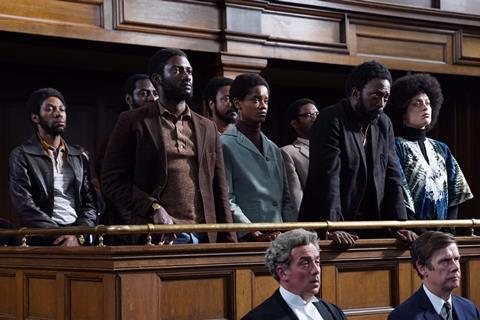 Dir. Steve McQueen. UK. 2020. 127 mins.
In Mangrove, Steve McQueen revives Notting Hill of the late 1960s and an important case in black British history which has been largely forgotten. On one level, it's a blunt, emotionally charged court-room drama with West Indian immigrants in the dock pinning their hopes on the British rule of law. Performances, by Letitia Wright, Shaun Parkes and Malachi Kirby in particular, embody powerful calls for racial justice. But UK viewers will know that this film is set in a part of London which been comprehensively 'gentrified', its slum past forgotten, that its principals are part of the Windrush generation, so disgracefully treated today, and that the building being constructed in the background is almost certainly Grenfell Tower (give or take a few years for dramatic licence). In other words, while this film catalogues a small triumph in 1970, it's part of greater story which is still being written.
Mangrove, conventional though it may be, is still a radical step on the way to societal self-examination
Premiering at the New York Film Festival, Mangrove will open London in October and air on BBC One later in 2020 in prime time. It's one of five films conceived by McQueen as part of the 'Small Axe' project documenting black life in the UK in the 1960s, 70s and 80s: initially set as a series, it has grown in the making, and both this and Lovers Rock were selected for Cannes 2020. While Lovers Rock, which opened NYFF, is a fluid, sensual, cinematic, 68-minute house party, Mangrove is a more conventionally-framed drama, shot on 35mm in a classic three-act, widely-accessible format. (Initially, it was to form the first two episodes of the series).
McQueen and series DoP Shabier Kirchner keep the camera mostly steady, although a bustling soundtrack gives the piece a rhythm of its own. The cinematic exuberance of Lovers Rock is harnessed here by McQueen and co-writer Alastair Simmons into a mission to educate. As restaurateur Frank Crichlow (Parkes) walks through All Saints Road (now colonised by designer labels and international financiers) after a night at the gambling tables, children play in the rubble of a slum bombed during the war with the construction of the elevated Westway dual carriageway slicing through the streets and leaving further dereliction in its wake. In the era of "no blacks, no dogs, no Irish", Notting Hill became a home of last resort for many exiles trying to – invited to - make a life in the UK. Graffiti urges "Powell for PM," referring to the notorious Enoch Powell, of "rivers of blood" fame. Poignantly, this is later referred to as a "community born in the stench of British colonialism" by Trinidad-born activist Darcus Howe (Kirby).
Frank runs the Mangrove, a drug-free community hub which is being relentlessly targeted by police – in particular the PC Pulley (Sam Spruell), a sneering stick-figure personification of law and order in the London Metropolitan police (which, a full three decades later, would be called institutionally racist). Frank's tiny establishment, serving only spicy soul food, is raided time and time again as black youths are stopped and searched on the streets outside, another element of daily life that British viewers will still be familiar with today. Mangrove documents how several activists come together over Frank's common cause, marching to protest the raids with banners and a provocative pig's head on a pike, chanting "hands off black people". They were wholly outnumbered by police.
One of the leaders is student activist and British Black Panther leader Altheia Jones-LeCointe (Wright), another is Howe's feisty partner Barbara Beese (Rochenda Sandall). All will end up as part of the 'Mangrove Nine' in the Old Bailey, charged with incitement to riot and affray. Some conduct their own defence, others are supported by Scottish activist Ian McDonald (Jack Lowden), and face down the establishment as personified by testy Judge Edward Clarke (Alex Jennings).
It being a courtroom, speeches will be made. Most effective here is Kirby as Darcus Howe, eloquently embodying a righteous attitude and acute intelligence. These scenes are all the more devastating in the knowledge that the truths the late Howe told would not change things for his community or for Crichlow, who was charged again and again after this case showed "evidence of racial hatred on both sides," according to the judge. Lead actor Shaun Parkes has the gravitas to convey the sense of Crichlow as a man who wants to live in peace and do the right thing, but who is progressively undone by attacks of "wicked men" until the time comes to take a stand.
Courtroom dramas are a specialty of filmed-entertainment, on both big and small screen, to the point where even occasional viewers feel they know all the beats. But Mangrove's broad-access drama, speaking of systemic racial injustice for black people in the UK, is much less familiar. TV films have been made about individual events, such as the death of Stephen Lawrence, but wider perspectives still get the hands-off approach. The wounds of the Brixton riots of 1981, Tottenham riots of 1985, or even the London riots of 2011, are still raw: and the causes haven't all gone away. Education is everything, and Mangrove is a radical step on the way to societal self-examination.
With three more 'Small Axe' films to premiere, Red White And Blue, Alex Wheatle, and Education, it's going to be interesting to see where the series ends up cumulatively. "If you are the big tree, we are the small axe," says the proverb which gives the series its name. Anyone in for one will be in for all.
Production companies: Lammas Park, Turbine Studios
International sales: BBC Worldwide (airing on BBC One in the UK and Amazon in the US)
Executive producers: Steve McQueen, Tracey Scoffield, David Tanner, Rose Garnett, Lucy Richer
Screenplay: Alastair Siddons, Steve McQueen
Cinematography: Shabier Kirchner
Editing: Chris Dickens, Steve McQueen
Production design: Helen Scott
Main cast: Shaun Parkes, Letitia Wright, Malachi Kirby, Rochenda Sandall, Jack Lowden, Sam Spruell, Nathaniel Martello-White, Alex Jennings, Gershwyn Eustache