Ishmael Bernal's once banned queer classic is beautifully restored and, finally, exposed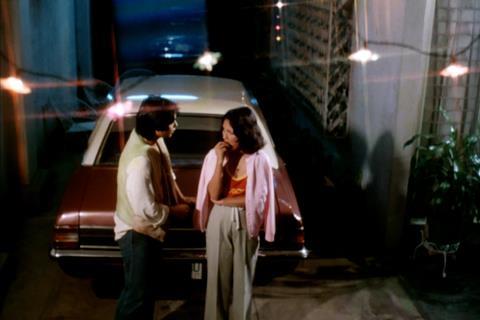 Dir/scr: Ishmael Bernal. The Philippines. 1980. 152 mins.
A queer and third cinema classic, the late Ishmael Bernal's Manila By Night belongs to the world of underground and counter-cinema, a meandering and rich tableau of love, lust and Marxist social critique. The film, which plays out like the slow weaving of a giant tapestry, explores the gritty social fabric and wild intersecting multi-story narratives of individuals looking to score or just trying to get by in Manila across several days and nights. Marked by an impressive ensemble cast, smooth atmospheric music and vibrant mood lighting, Manila By Night, long absent from international screens, has now been beautifully restored in 4K.
Manila By Night is a trip through kinetic, free, queer love, drugs, dancing, domestic abuse, broken promises and prostitution.
Originally released in 1980 at the height of the Ferdinand Marcos dictatorship, Manila By Night has had a hard time reaching international audiences. After heavy censorship in The Philippines (it apparently caught Imelda Marcos' attention in a less than favourable way), which included the removal of any mention of Manila (the film was retitled City After Dark), cutting lengthy sex scenes, and denying the film entry into the Berlinale, Manila By Night has undergone 1500 hours of restoration and now has its world premiere in Udine. Further festival and cinematheque screenings internationally will surely follow. Hopefully, for a film that certainly deserves and is due the reappraisal of essays and other extras that high-end home entertainment labels commission, a specialised re-release isn't out of the question.
The story meanders and swirls, never settling on any one character long enough to anchor the narrative: movement, in every sense, is key to Bernal's vision of a city that outruns its inhabitants: visually through Sergio Lobo's fluid camera work and in Augusto Salvador's patient edit; dramatically through its multiple aching character arcs; and aurally through its brash cityscape sound design and Vanishing Tribe's evocative score. In this 152-minute epic, there are but a few events, yet so many dreams are dashed, hearts broken, lives upturned, while the promise of things looking brighter in the light of day is always just out reach. Bernal is fascinated by both the tragic naivete of fresh blood in the big city and those feisty night cats who chase after the ever-shifting horizon.
The cast, like the characters, is a mix of well-seasoned faces and newcomers, all of whom have their mettle tested. Virgie (Charito Solis) is a former prostitute now married to a police officer, trying to embrace her role as matriarch to a broken family. Her son, Alex (William Martinez) is a promising musician who descends into a downwards spiral of sex and drugs. Pebrero (Orestes Ojeda) and his boyfriend Manay Sharon (Bernardo Bernardo) are conducting far too many affairs to keep track of – girlfriends and boyfriends come and go until, finally, the seeds Pebrero sows come back to haunt him. The aptly named Baby (Lorna Tolentino), the youngest and most innocent of his conquests, finds herself in the kind of trouble that there are no good solutions to – taking care of an unplanned pregnancy costs money, something no one in the film, despite the active, lurid nightlife they all indulge in, ever seem to have.
The city itself, however, is the hard-arsed constant which can be counted on to come to life after dark with the glow of neon lights and steady streams of roaring traffic. The sounds of revving engines and honking horns are so lyrical they eventually become additional instruments in the propulsive syncopated rhythms of Vanishing Tribe's jazzy score. With massage parlours bathed in red light, intermittent chirruping crickets that signal the physical heat and tropical downpours that offer temporary relief from the palpable humidity, Manila By Night is a trip through kinetic, free, queer love, drugs, dancing, domestic abuse, broken promises and prostitution.
Through abrasive melodramatic fast zooms – especially when Lobo's camera focuses on faces and religious iconography like a woven portrait of Jesus or a sullen looking cherub – and Salvador's seamless edit the film's mounting tension reaches a crescendo. When Virgie discovers Alex is on drugs, she abandons her role as perfect mother and has a violent outburst that includes destruction of the domestic space. Having begun the film with the relative harmony of the home, Lobo now moves his camera outside, and captures the rest of the fight through its large bay window and through the pouring rain. The warm immediacy of the family unit becomes a cold, distant view. The spatial inversion mirrors the film's own structure: the first half of the film is all love, lust and good times, but the second half focuses on the misery, pain and destruction left in its wake. And, ultimately, everyone gets caught up in the momentum of it all, unable to avoid the inevitable impact.
"There is no city but this city," a man on a bench says as two children listen to him in puzzlement, unaware as yet of the all-consuming nature of Manila's night-time charms. For the creatures of Manila By Night, this unnamed man preaches the truth. Hidden in the dark of so many rotting film cans for far too many years, Manila By Night is a cult experience finally set free.
Production company: Regal Films
Contact: Film Development Council of the Philippines, info@fdcp.ph
Producers: Lily Monteverde
Cinematography: Sergio Lobo
Editing: Augusto Salvador
Production design: Peque Gallaga
Music: Vanishing Tribe
Main cast: Charito Solis, Alma Moreno, Cherie Gil, Rio Locsin, Lorna Tolentino, Gina Alajar, Orestes Ojeda, Bernardo Bernardo, William Martinez