Dir. Mantas Kvedaravicius, Lithuania/Germany/France/Ukraine, 2016, 96 minutes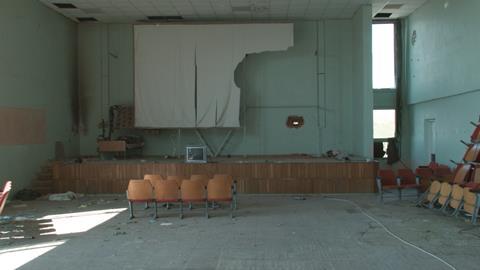 Mariupolis is a portrait of a Ukrainian city under siege, yet we see everything about this place under war conditions except the fighting. Mariupol, as the city is known today, is seen by director Mantas Kvedaravicius as poetic, neglected and remarkably calm, even though rebels supporting Russia are only a few kilometers away and shots are heard in the distance.
In isolated Mariupol, the battle is far from over, although citizens pretend to go on with their lives.
This Ukrainian version of a drole de guerre, with Mariupol surviving improbably while encircled, has a grim and sometimes absurd moral urgency, yet Kvedaravicius's sensitive portrait of the place is likely to be an event in cinematic aesthetics more than anything else. (It doesn't help broaden the audience that Kvedaravicius leaves you to google any facts that you don't already have.) Festival play should be extensive, helped by the praise that the director earned for Barzakh, his 2011 documentary about a family's anguished vigil for a young man gone missing in Chechnya. Mariupolis is unlikely to show publicly in Russia, a huge potential market, although it should circulate illegally there among cinephiles and critics of Moscow's offensive against Ukraine.
As the world turns its eyes to crises elsewhere, remote Mariupolis is a sideshow of a sideshow. The Russian military campaign is the inconvenient truth that shrouds the city, a port of half a million inhabitants on the Azov Sea in eastern Ukraine. In the style of an essay film that touches and skirts themes of siege, abandonment and mute denial, the camera makes its way through neglected public spaces in a city which seems to have lost much of its population.
Yet in these paradoxical visions of a place of odd normality and chilling fear, everyday life comes under close observation. Church bells ring. A shoemaker continues fixing shoes. A young women goes fishing with her father. Teenaged dancers prepare for a performance on Victory Day, May 9, which marks the fall of the Nazi regime in 1945. A father plays with his children. A steel mill continues to operate. Animals in the city's zoo pace around their cages, suggesting the unease of the human population.
Upon closer examination, Kvedaravicius gives us some revealing details. In one public building, a mural from the Soviet days of official harmony among peoples is peeling from the wall. In another extended shot, a plaster cast of a Greek statue lies in pieces, suggesting the fate of the city once called Mariupolis by its Greek population.
In keeping with that mood of expanding emptiness, Mariupolis has no constant musical score, unlike Barzakh, which had a continuous dirge of mourning. A sense of dread fills the sound vacuum.
With the exception of a brief section toward the film's end, which follows citizens in the chaotic aftermath of a bombing, there is no attack on the city on the screen. Yet Ukrainians and Russians won't miss the reference to a monumental Soviet myth in Mariupolis – the 900-day siege of Leningrad, in which almost half a million Russians died while holding off Nazi troops from the city. Implicating armed Putin supporters in choking off the civilian population, the director casts the unseen rebels as war criminals rather than the freedom fighters that they claim to be.
For all the film's Ukrainian sympathies, which are never in doubt, Mantas Kvedaravicius is Lithuanian, and Mariupolis makes allusion to another historical event. Soon after the collapse of the Soviet Union in 1991, Russian hardliners threatened to seize power in Vilnius, the country's capital, after Lithuania declared independence. Thanks to the failure of a military coup in Moscow, the Lithuanians prevailed. In isolated Mariupol, the battle is far from over, although citizens pretend to go on with their lives.
Production companies: Studio Uljana Kim, Extimacy, Twenty Twenty Vision Filmproduktion, Rouge International, 435 Films
International sales: Studio Uljana Kim kim@lfc.lt
Producers: Uljana Kim, Mantas Kvedaravicius
Screenwriter: Mantas Kvedaravicius
Cinematographer: Mantas Kvedaravicius, Vadim Ilkov, Slava Tsvetkov
Sound Design: Arturas Pugaciauskas
Production Design: Jurij Grigorovic
Editor: Dounia Sichov