Rooney Mara plays a rehabilitated Mary Magdalene opposite Joaquin Phoenix as Jesus.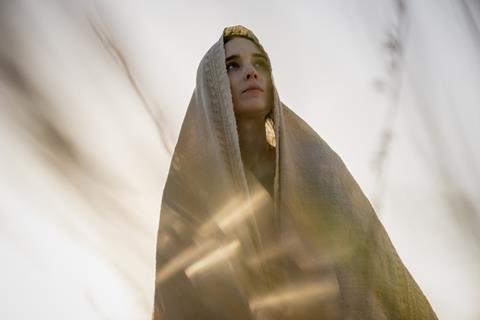 Dir. Garth Davis. UK-Australia. 2017. 120mins
The times, how they've changed. Since The Last Temptation Of Christ was dubbed "morally offensive" by the Catholic Church in 1988, Mary Madgalene has been pronounced an Apostle and become the subject of Garth Davis' revisionist, quasi-feminist film starring Rooney Mara and Joaquin Phoenix as Jesus – with Chiwetel Ejiofor as Peter, and Tahar Rahim as Judas. Oddly, according to the production notes, neither Davis (Lion) nor Mara see the story of Mary Magdalene as being religious, per se, but more of a spiritual quest for the titular fisherwoman to find inner peace for herself and mankind. A humanist reading, in other words.
A clearly well-intentioned, attractive, wistful-to-the-point-of-inertia film
Even though Mary Magdalene revisits sacred texts to emphasise Jesus's feminist credentials, Davis' film is unlikely to give offence – it's far too spiritually-minded to aggravate the faithful, although patience may be tried by the sight of Mary woman-splaining The Resurrection to the knuckleheaded Apostles. Sections of the religious community may even welcome this vision of Mary – no longer a sinner – as Jesus's trusted lieutenant, although it does Peter no favours. This is still a turbulent cinematic release, though, and had a low-key premiere in London this week after being variously touted as an Oscar candidate and the saviour of The Weinstein Company's woes.
As the company filed for bankruptcy this week, and the Oscars have sailed ahead untroubled by this film, Mary Magdalene's fate in the US, where the studio was distributor, is unknown. Unlike Paddington, it wasn't pulled out of The Weinstein Company's ashes, and it will be released by Universal in the UK and Transmission in Australia in time for Easter 2018. It seems most likely to come back to the US circuitously via cable and video before it sees the big screen there as the company's assets head for arbitration.
On viewing this clearly well-intentioned, attractive, wistful-to-the-point-of-inertia film, it's easy enough to see why Mary Magdalene has languished: if it's not exactly a hot-ticket for the Catholic faithful, neither is it something the arthouse might yearn to see. And if the casting of Joaquin Phoenix as Jesus seems odd, well, it is odd, as a glassy-eyed Phoenix looks to the heavens for inspiration, delivering sermons in his unmistakable American-accented voice. Rooney Mara – the palest fisherwoman the Middle East is ever likely to see – puts her all into playing Mary Magdalene as a drippy doe-eyed empath, awarded a stock-issue back-story in which her desire not to marry puts her at odds with her loving but uncomprehending family.
That's when Jesus turns up and she answers his call; yet Mary only washes his feet when Davis and writers Helen Edmundson and Philippa Goslett deem it dramatically convenient. This Mary Magdalene is no sinner; she is simply misunderstood, a woman ahead of her time, and the screenplay bends her to its will.
Occasionally, the film flashes hot with stormy potential: moments when Mary veers towards madness, and Jesus spins between foresight and torment. The more real the film feels, the more Jesus and his followers look like a holy cult, the stronger it becomes. The miracles; the arrival in Jerusalem on Palm Sunday; the challenge to the money-lenders at the Temple – these are dramatically well-staged sequences that fully engage before the film drifts off in a cloud of New Age sentiment.
Meanwhile, the seductively-lit topography becomes more and more problematic to the point where Judas, who, for once, is given a sympathetic back-story and rehabilitated alongside Mary, seems to have travelled to an Etruscan town in Italy to hang himself. While it isn't necessary to tell this story in Aramaic every time, Davis seems to gradually lose his film in touchy-feeliness while sporadically remembering that there's a story there which needs to be brought to a conclusion. Peter and Mary, for example, drift off into the Wilderness to preach in an extended sequence which adds nothing to our understanding of either character.
The real ending, though, is that Mary Magdalene spent the rest of her life in a cave while the Catholic church set about demonising her with considerable zeal throughout the millennia; thus any attempt to rehabilitate her should be acknowledged as a good thing, even if the film itself is problematic.
Designer Fiona Crombie gives the production the same stripped-down and authentic feeling she brought to Justin Kurzel's Macbeth, even though the film shot mostly in Sicily and Naples. And costume designer Jacqueline Durran has found a way to add texture and depth to the simple robes of peasant preachers. Greig Fraser, who also shot Lion, provides crisp lensing although the issue with locations tends to grow as the film moves towards bigger set-pieces, which include the CG resurrection of the Second Temple in "Jerusalem".
Music by Hildur Gudnadóttir and Jóhann Jóhannsson – who passed away recently – leans on the Psalms and heavenly strings and can weigh quite heavily on the film, tipping it over into Enya territory.
Production companies: See-Saw Films, Porchlight Films
International distribution: Universal (US distribution: The Weinstein Company; Australia distribution: Transmission).
Producers: Iain Canning, Emile Sherman, Liz Watts
Screenplay: Helen Edmundson, Philippa Goslett
Cinematography: Greig Fraser
Production design: Fiona Crombie
Editors: Alexandre De Franceschi, Melanie Oliver
Music: Hildur Gudnadóttir, Jóhann Jóhannsson
Main cast: Rooney Mara, Joaquin Phoenix, Chiwetel Ejiofor, Tahar Rahim, Denis Menochet