Saoirse Ronan and Margot Robbie deliver strong performances in this biopic of Mary Stuart and Queen Elizabeth I.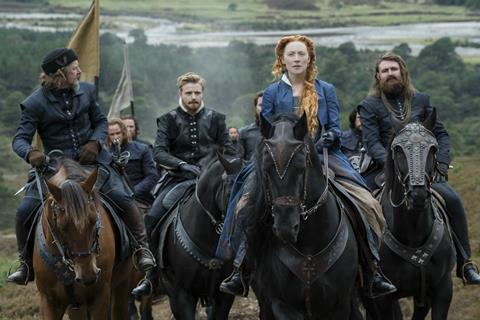 Dir: Josie Rourke. UK. 2018. 123mins
Two tragedies unfold in Mary Queen Of Scots, a historical drama which is often more thought-provoking than it is enthralling. This tale of Mary Stuart and her cousin Queen Elizabeth I slowly builds to an unexpectedly pointed and moving finale, as director Josie Rourke presents us with rival monarchs who have more in common than they might realise. Taking the roles immortalised by Vanessa Redgrave and Glenda Jackson back in 1971, Saoirse Ronan and Margot Robbie are both superb in muted performances and, while the film's palace intrigue gets a bit dense, the story never loses sight of its deep compassion for these characters and their shared plight of being held hostage by conniving, belittling, power-hungry men determined to usurp their authority.
Mary Queen Of Scots never lets the audience forget the precariousness of the women's power
After its AFI Fest premiere, this Working Title production plants its flag in the middle of Oscar season, opening December 7 in the US. (The film arrives in the UK on January 18.) Ronan and Robbie will attract art house crowds, and the film's feminist message should strike a chord during our #MeToo times.
Mary Queen Of Scots spans roughly 25 years, starting in 1561 as Mary (Ronan) returns to her Scottish homeland to become queen. This Catholic teenager is cousin to Queen Elizabeth I (Robbie), a Protestant, who is concerned that Mary may try to claim her throne as well. Both women fight to have the upper hand, surrounded by male advisors who often believe they know better. Based on John Guy's biography, Mary Queen Of Scots never lets the audience forget the precariousness of the women's power. Elizabeth rules England, but with no heir, her kingdom's future is uncertain. Mary clearly has ambitions to replace Elizabeth, but she must be careful lest her scheming provoke an invasion from the English army.
Although Rourke (a long-time theatre director making her feature debut) and screenwriter Beau Willimon (creator of the US adaptation of House Of Cards) detail the political manoeuvring in minute detail, the filmmakers are arguably more concerned about this story's thematic undercurrents than its plotting. Mary Queen Of Scots patiently observes all the ways that these women are threatened by a closed-minded, patriarchal society.
Sometimes, the maleficence is obvious, such as when Elizabeth's closest advisors (including Guy Pearce) treat her patronisingly, second-guessing their queen behind her back. On other occasions, the harm is more subtle and self-inflicted: Elizabeth has chosen, as she puts it, to become a man so that she will be respected, but she secretly envies Mary's beauty and ability to have a child, which leaves her feeling incomplete as a woman.
Slyly, Rourke and editor Chris Dickens never show the monarchs on the screen at the same time, cutting between their narratives so that we see the parallels. Mary Queen Of Scots notes the cruel irony of these cousins being put in competition with one another — both of them at the mercy of men who try to de-legitimise them. Only at the film's end — during a quietly forceful encounter — do Mary and Elizabeth speak face-to-face, but by that point we understand how much they've each sacrificed, and why their conversation is so emotionally fraught.
That said, Mary Queen Of Scots will test an audience's patience for scenes in castles where people plot against people in other castles. The intricacies of the women's chess moves — against each other but also against their enemies from within — illustrate the difficulty of holding onto power, but these talky sequences can lack dynamism. Despite battle scenes, shocking betrayals and violent reversals of fortune, this handsomely mounted, somewhat sluggish film is more interesting to talk about in terms of its ideas than what actually transpires onscreen.
Ronan is a fiery presence as Mary, a young queen who has learned that she can't let older, arrogant men push her around. There's vulnerability in the performance, as well as resignation: on some level, Mary realises that the deck is stacked against her, and the only question is how long she can maintain her throne. Robbie gives us an Elizabeth desperately trying to root out every bit of her humanity so she can be a ruler who is never questioned. But the Oscar-nominated actress succeeds in letting us see the traces of melancholy underneath the character's impassive, heavily powdered face.
Production company: Working Title
International sales: Focus Features info@focusfeatures.com
Producers: Tim Bevan, Eric Fellner, Debra Hayward
Screenplay: Beau Willimon, based on the book Queen Of Scots: The True Life Of Mary Stuart by John Guy
Production design: James Merifield
Editing: Chris Dickens
Cinematography: John Mathieson
Music: Max Richter
Main cast: Saoirse Ronan, Margot Robbie, Jack Lowden, Joe Alwyn, David Tennant, Guy Pearce