Elle Fanning and Douglas Booth headline cinema's latest version of the creation of Frankenstein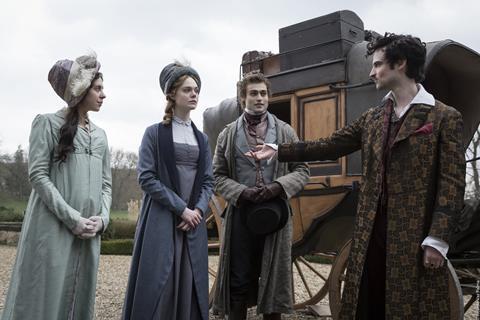 Dir: Haifaa Al Mansour. Ireland, UK, Luxembourg, US, 2017, 120mins
The creation of Frankenstein inspired a spate of films in the 1980s, including Ken Russell's Gothic (1986) and Ivan Passer's Haunted Summer (1988). Mary Shelley considers the writing of the book as the summation of a life's experiences and claims its author as a pioneering feminist pushing against the boundaries of an age that blithely patronised and oppressed women. The result is an intelligent balance between romantic drama and literary biography that could hold a solid appeal for upscale arthouse audiences.
The film's screenplay relishes the way in which words can arouse, provoke, and seduce
The second feature from Saudi Arabian director Haifaa Al Mansour is an ambitious foray into English period drama but it is very much of a piece with her admired debut Wadjda (2012) in its desire to celebrate and champion rebellious woman fighting to make their presence felt.
Mary Wollstonecraft Godwin (Elle Fanning sustaining a convincing English accent) is an unusually mature and poised 16 year-old when we first encounter her. Drawn to ghost stories and graveyards, she has a passion for reading and a desire to write her own works. A meeting with radical poet Percy Bysshe Shelley (Douglas Booth) convinces her that she has met her soulmate.
The film's screenplay relishes the way in which words can arouse, provoke, and seduce and the sentiments found in Shelley's poetry are like an assault on Mary's senses. The reality of life with the unconventional Shelley can never quite match the earthly paradise promised in his writings, however.
Defying the disapproval of her father William (Stephen Dillane), the youthful Mary leaves home to be with Shelley, accompanied by her boldly flirtatious stepsister Claire (Bel Powley) who has soon endeared herself to mad, bad Lord Byron (Tom Sturridge).
Mary Shelley is structured in a way that all of Mary's heartaches and disappointments are filtered into the writing of Frankenstein. "My choices made me who I am and I regret nothing," is her final proud declaration. The grief of losing loved ones, Mary's fascination with the possibility of re-animating life, her sense of loneliness and abandonment all feed into the construction of Frankenstein's plaintive creature.
Mary's personal travails also find a wider echo in societal attitudes to a woman's rightful place; most people find it easier to accept that the anonymous Frankenstein: A Modern Prometheus was written by Shelley rather than contemplate the possibility that the work is hers.
Mary Shelley is lacking in ostentation as it evokes early 19th century Britain. There is nothing in the costumes or settings that seems designed to draw attention to itself. Instead, candlelight rooms, the flicker of oil lamps, the soggy landscapes of Scotland and all the extremes of luxury and squalor are there to draw the viewer into the past but not distract from emotions and aspirations that cross centuries and cultures. It may even be a little too tasteful and respectable for its own good.
Mary Shelley is ultimately the story of a woman finding her own voice and asserting her independence and that will be the heart of its appeal.
Production company: Gidden Media, Parallel Films
International sales: HanWay Films info@hanwayfilms.com
Producers: Amy Baer, Alan Moloney, Ruth Coady
Executive producers: Johanna Hogan, Peter Watson, Matthew Baker, Isabel Davis, Charles Auty, Phil Hunt, Compton Ross, Emma Jensen, Joannie Burstein, Rebecca Miles, Mark Amin
Screenplay: Emma Jensen, Haifaa Al Mansour
Cinematography: David Ungaro
Editor: Alex Mackie
Production design: Paki Smith
Music: Amelia Warner
Main cast: Elle Fanning, Douglas Booth, Bel Powley, Joanne Froggatt, Tom Sturridge