Lively doc about the Tamil/London rapper premiered in Sundance before moving to Berlin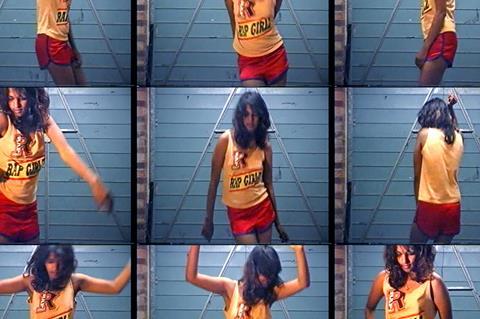 Dir. Steve Loveridge. UK/US/Sri Lanka. 95 mins.
From the highs of Amy in 2014, audiences have begun to approach the pop-star biopic with justifiable suspicion; these have rapidly become marketing tie-ins if the artist is alive; rueful hagiographies and catalogue-shifters when they're dead. The robustly living Sri Lankan/London rap magpie M.I.A. hasn't released anything since 2016, though, and what distinguishes Matangi/Maya/M.I.A. from the crowd is its extensive access to the controversial artist, and the strong impression that she isn't terribly likeable, nor terribly keen to be liked. Like her, this doc falls outside the norm.
An honest, interesting, but ultimately drifting doc
Yet despite the natural vitality of the Tamil rapper Mathangi Arulpragasam, aka Maya, and her story, her old college friend Steve Loveridge struggles to give his film meaning, even with his subject's relentlessly fiery political pronunciations, incessant feuding and status as daughter of one of the founding fathers of the guerrilla terrorist organisation the Liberation Tigers of Tamil-Eelam, or Tamil Tigers. Although Maya is known as the Oscar- and Grammy-nominated artist behind 'Paper Planes' and the Madonna collaborator who antagonised the NFL by giving the finger to the camera during a half-time Super Bowl show, she claims that her 2016 album was her last. And there's not a lot of music in this film.
This honest, interesting, but ultimately drifting doc was disowned by its protagonist in Sundance ("It's not the film I would have made"), but that's a little unfair: while there is a sense of a missed opportunity, M.I.A. still stands to do terrific business on streaming platforms and brings a little bit of edge back to the pop-doc, dancing closer to Curt Cobain: Montage of Heck than Lady Gaga's Five Foot Two or Katy Perry: Part Of Me. Premiering in Sundance before crossing over to Berlin's Panorama section (presumably attractive to the festival due to its political content), this Dogwoof-sold film should secure some prestige theatrical slots before romping onto premium cable.
You get a sense of Maya's atavistic need to provoke – or show off – from a very early age, and Loveridge, armed with a vault of home videos (reportedly 700 hours), is able to present her as a refugee who was housed in Mitcham, Southwest London, in 1986 at the age of 11 after a childhood spent in extreme circumstances in war-torn Jaffna. Maya spent the rest of her teenage years on a council estate mostly without her father Arular, who was busy waging war back home, and it's quite a story, how this daughter of a terrorist and a spat-upon 'Paki' grew up to be an international star even as, in Jaffna, the Sri Lankan government was waging an incessant civil war against the Tamil Tigers, culminating in shocking massacres in 2009 that have been likened to genocide. Her opinions certainly come from the heart, and bitter experience.
Initially interested in making films – she met Loveridge at Central St Martins School of Art at London while they were both studying documentary making – Maya got into music through a close friendship with Elastica signer Justine Frischmann. Working, and living for a while, with the producer Diplo, she started to formulate her distinctive offering, which is all-colour, provocation, and lyrics which reflect her own experience and that of her immediate family (her first album was named after her father). Sonically, it's also a blend of influences and attitudes, from rap and Afro-Caribbean beats to the pulses of her own ethnic upbringing ('Paper Planes' employed a Clash song to powerful effect).
In fact, it's a trip she takes back to Sri Lanka in 2001, which she extensively documented, which manages to get beyond M.I.A. to Maya, letting us know why Mathangi Arulpragasam is who she is and says what she says. It's not all attitude or prickliness, and there are reasons for both, and if she's no more likeable by the end of it, that seems to be by happy design.
Fascinating as it is, though, Loveridge struggles to master his film. With the technical level of the footage being largely dictated by the quality of the home video camera Maya was using at the time, the film relies on the intermittent soundtrack and M.I.A.'s love of colourful regalia to give it some pop. There's more than sufficient subject matter here, perhaps even too much, but he can't quite funnel it into a film that says something coherent – like its protagonist, perhaps, there are too many opinions, but unlike her, not enough focus. Loveridge doesn't seem to trust Maya's natural significance and strains for the doc about her to achieve UN levels of relevance. Taking her for what she is would have been more than enough.
Production company: Cinereach
International sales: Dogwoof, sales@dogwoof.com
Producers: Steve Loveridge, Lori Cheatle, Andrew Goldman, Paul Mezey
Executive producers: Philipp Engelhorn, Michael Raisler,
Cinematography: Graham Boonzaaier, Catherine Goldschmidt, Matt Wainwright
Editors: Marina Katz, Gabriel Rhodes
Music: Dhani Harrison, Paul Hicks