A home for unmarried mothers is the setting of documentarist Maura Delpero's first fiction feature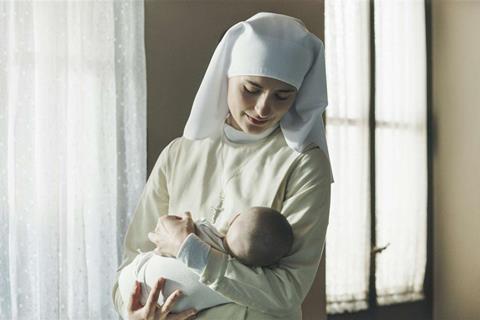 Dir. Maura Delpero. Argentina-Italy. 2018. 91 mins.
Stated simplistically, Maternal is a rare drama about nuns that is made without a trace of piety, sentiment or romanticism. In broader terms, it portrays young women from two worlds that seem radically opposed, but who face similar struggles to find their way in life. This Argentinian-made feature debut by Italian documentarist Maura Delpero (Teachers, 2009) has its roots in hard reality and the director's own experience, and mixes compelling performances from a nearly all-female cast of non-professionals and experienced actors.
Delpero's insider knowledge makes for some cliché-bucking surprises
Its formidable stylistic control results in a film that is highly emotionally charged beneath its surface of detached austerity, making Maternal a cert both for festivals and upmarket art-house acquisition.
While its English title arguably reveals too much about the film's fundamental theme, the original Spanish Hogar simply means 'home' – in this case, a home or refuge for young unmarried mothers and their children, operated by nuns within a Buenos Aires convent. Among the teenage residents are introverted Fatima, or Fati (Denise Carrizo), on the run from an abusive family background, and her rebellious friend Luciana, Lu for short (Agustina Malale).
Lu struggles against the restraints of life in the home, and can't help finding her little daughter Nina (Isabella Cilia) a distraction from what really preoccupies her: yearning for her brutish boyfriend on the outside.
Also young and vulnerable in her own way is Sister Paola (Lidiya Liberman), a novice nun who arrives from Italy. Calmly self-possessed, Paola fits neatly into the daily life of the centre, her caring nature equipping her perfectly for her duties. But when Lu absconds, leaving her daughter behind, Paola takes over the care of little Nina, who becomes deeply attached to her – eventually attracting the disapproval of the convent authorities.
In an environment where motherhood is revered in the shape of the Virgin Mary, the real demands of maternal feeling, biological or adoptive, become fiercely contested terrain.
Writer-director Delpero herself worked for four years in just such a centre, and the authenticity of her portrayal is palpable throughout. She establishes a striking contrast between the contemplative calm of the nuns' corridors and the daily hubbub of the family quarters, where toddlers run riot, babies cry and the mothers, only recently children themselves, struggle with enclosure and the demands of parenthood. Delpero's insider knowledge makes for some cliché-bucking surprises: the young mothers are free to hold raucous party nights, where they twerk in micro-skirts, even though two nuns sit sternly on guard in the corridor outside.
The casting is superb, notably the non-professional debut leads: Denise Carrizo as Fati, and Agustina Malale, herself discovered living in a hogar, whose portrayal of wild child Lu is note-perfect and subtly vivid. Heading the professionals is Lidiya Liberman, previously seen as a nun in Marco Belloccho's Blood Of My Blood. Her Paola is captivatingly downplayed, cautiously showing compassion and humour when convent decorum and her crisply ironed habit allow, then letting her tenderness towards little Nina become the driving force in her life. The small children involved (Alan Rivas as Fati's son, and Isabella Cilia as Nina) are entirely natural and, needless to say, utterly winning.
Delpero mixes something like a docu-drama approach, for the scenes with Lu and Fati and the children, with a more austere detachment in Soledad Rodriguez's rigorously composed photography; overall, the film merges the two modes seamlessly.
There is only one point, near the end, at which Delpero momentarily shifts into a potentially melodramatic register and it is proof of her control that she pulls back for a resonant open ending. Counterpointing the austerity of religious life with the vibrancy of young working-class womanhood, Maternal is a richly satisfying drama, and entirely non-judgmental towards its characters, on both sides of the worldly divide.
Production companies: Campo Cine, Dispàrte, Vivo Film, Rai Cinema
International sales: Charades, mathilde@charades.eu
Producers: Nicolás Avruj, Diego Lerman, Alessandro Amato, Luigi Chimienti, Marta Donzelli, Gregorio Paonessa
Screenplay: Maura Delpero
Cinematography: Soledad Rodriguez
Editor: Ilaria Fraioli, Luca Mattei
Production design: Yamila Fontán
Main cast: Lidiya Liberman, Denise Carrizo, Agustina Malale, Isabella Cilia, Marta Lubos