Dir. Thea Sharrock. US-UK, 2016, 112 minutes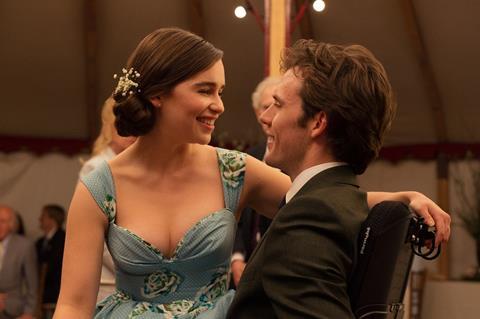 Mixing personal tragedy with love across the social divide, Brit chicklit adaptation Me Before You borrows liberally from the Nicholas Sparks template, throwing in a scrummy English castle and a beach holiday paradise. Energised by a relentlessly genial Emilia Clarke, and afforded some soulful depth by a highly decorative Sam Claflin, this glossy MGM/New Line tearjerker should amply satisfy fans of the bestselling Jojo Moyes novel. The only question is whether the tough ending – one that may run contrary to the rooting impulses of broader audiences – will hinder the film crying all the way to the bank.
Once Claflin takes his charisma off the leash, Will registers powerfully as a big-screen romantic hero
In a quaintly pretty English town, 26-year-old Louisa Clark (Clarke) loses her café waitress job after six years of contented and unambitious toil. Seemingly the key breadwinner among her family (mother, father, sister, toddler nephew), but distinctly limited in qualifications, she is relieved to land a job as care giver and companion to a member of the wealthy Traynor clan, which resides nearby in a beautiful, historic country seat.
Despite the local fame of the Traynors, Louisa is oblivious to the fact that it is the family's handsome son Will (Claflin) – rather than, say, its steely patriarch (Charles Dance) – that will be her client, news not having reached her that her town's most stunningly handsome and eligible bachelor was left paralysed and wheelchair-bound after being knocked down by a motorbike two years prior.
Louisa quickly learns that her post has suffered a chronic staff retention problem, easily explained by former investment banker Will's unwelcoming disposition, varying between cold condescension and surly hostility. On the upside, nurse/physio Nathan (Aussie actor Stephen Peacocke) is also on hand to fulfill the more intimate aspects of the caregiving.
Although the film's trailer hints at the fact that Will's time on this planet my be limited, serving up a bitter-sweet storyline in which Louisa lights up his dwindling days, perhaps even making him a better man than he ever was, a major plot point is omitted. A spoiler for those who have not read the book is the fact that the strong-willed paraplegic – whose life is blighted by chronic pain and opportunistic infections – has already informed his parents that he intends to end it all in six months' time. For Will's heartbroken mother (Janet McTeer), Louisa represents one last-gasp chance that he might yet change his mind.
Once Claflin takes his charisma off the leash, Will registers powerfully as a big-screen romantic hero, and Louisa's triathlon-obsessed, subtitled movie-averse boyfriend Patrick (Matthew Lewis) is clearly going to be the loser of this contest – especially when employer and employee start settling down to DVD viewings of Xavier Beauvois' Of Gods and Men and heading off to Mozart concerts.
Clarke, more challengingly, has been directed by British theatre and TV director Thea Sharrock into a rather unvarying mode of bamboozled sweetness. Endearing in small doses, but cumulatively somewhat overwhelming, Louisa initially calls to mind Sally Hawkins' audience-dividing Poppy in Mike Leigh's Happy-Go-Lucky. Fashion choices veer way beyond thrift store chic right into child-raiding-grandma's-dress-up box – although, in fairness, costume designer Jill Taylor proves adept at developing Louisa's wardrobe in ever more appealing directions, without fully sacrificing its quirky essence.
By the time the story reaches its well-signposted destination – the Dignitas clinic in the picturesque Swiss Alps – tear ducts are apt to be in full flow, nimbly orchestrated by Craig Armstrong's score plus ballads from the likes of Ed Sheeran, Jack Garrett and Imagine Dragons. Resistance to this delirious romantic tragedy is futile, save for that nagging voice in our head wondering if it really has to be this way. Even in Will's reduced health circumstances, waking up every day looking like Sam Claflin, living in a beautiful English castle, and basking in the radiant sunshine of Louisa's devoted goodness, would, for many brave souls, surely be reason enough to soldier on.
Production company: Sunswept Entertainment
International sales: Metro-Goldwyn-Mayer Pictures, kcotich@mgm.com
Producers: Karen Rosenfelt, Alison Owen
Screenplay: Jojo Moyes
Cinematography: Remi Adefarasin
Editor: John Wilson
Production design: Andrew McAlpine
Music: Craig Armstrong
Mason cast: Emilia Clarke, Sam Claflin, Janet McTeer, Charles Dance, Stephen Peacocke, Matthew Lewis, Jenna Coleman, Brendan Coyle, Samantha Spiro, Vanessa Kirby, Ben Lloyd-Hughes, Joanna Lumley