The beat goes on - and on - in Abdellatif Kechiche's second 'Mektoub' film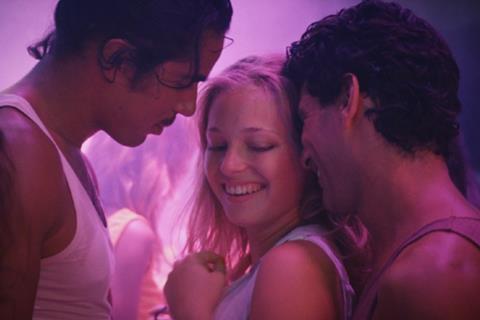 Dir. Abdellatif Kechiche. France. 2019. 205 mins (without credits)
Arriving "wet" in Cannes – the film was locked so close to projection that there weren't even credits on the print – Abdellatif Kechiche's sequel to Mektoub My Love: Canto Uno (2017) is very much an "intermezzo" as the title promises. A 3.5 hour-long, typically dawdling connector between Canto Uno's languid, beautiful set-up, and a promised finale, whenever it materialises.
One hopes that the time spent with Intermezzo will pay off dramatically in the final chapter
Viewers who found the first film dramatically thin as it introduced a group of friends in the Mediterranean port town of Sete in 1994 will certainly have problems with Intermezzo, which spends most of its running time in a night-club with the camera ogling Ophelie's (Ophélie Bau) jiggling bottom as she and her girlfriends twerk around poles and the music rises to a crescendo and drops, over and over and over again. While it's important to have seen Canto Uno in order to savour Intermezzo, this film in itself doesn't seem remotely essential.
There's an undoubtedly druggy, sexy , hypnotic effect to all the sweaty gyrating and Kechiche's absurd fixation with womens' backsides. But there's also a concern which gnaws away at the viewer. Allegations of sexism and tough working practices have dogged the Palme D'Or-winning Kechiche (Blue Is The Warmest Colour) throughout his career, and this film can look exhaustingly sweaty and filled with forced smiles while delivering not much more than prolonged sexual titillation - with young women being the sole providers of any such thrills. There's an extended sequence of cunnilingus in the club's bathroom which initially provides a much-needed break from all the sexual tension on the dance floor but eventually proves off-puttingly anatomical and quasi pornographic.
The question lingers: why put the actresses through such extensive voyeurism, for such thin drama? The best to be hoped for is that the time spent with Intermezzo will pay off dramatically in the final chapter.
Kechiche's film starts – after a close-up shot of a woman's naked bum, starting as he means to go on – back on the beach where, in a mirror of Canto Uno, Tony (Salim Kechiouche ) and Aime (Romeo de la Cour) chat up another young girl lying on the beach. The Parisien tourist Marie (Marie Bernard) is 18, beautiful, like a young Elizabeth Moss, and a student of psychology. She has already seen the group of girlfriends trying out their dance moves in the surf, and is delighted to be introduced to the Canto Uno gang including Ophelie, who is now pregnant by the randy Tony, and wants to have an abortion. Celine (Lou Luttiao) is still around, although Charlotte (Alexia Chardard) has seemingly disappeared. Everyone talks a lot about how wonderful and brilliant the absent Amin (Shaïn Boudemaine) is. (As he's the Kechiche figure in this sprawling drama to end all sprawling dramas, it's also a little creepy.)
Kechiche initially spends some time on the beach surveying how sand can get stuck in the girls' skimpy bikini bottoms and his camera carefully documents how beautifully the sun reflects off the tanning lotion on their cleavages (no close-up shots of budgie-smuggling Speedos here, unfortunately, as Kechiche is not an equal opportunity ogler.) His main purpose, though, is to bring the action back to the nightclub where the final reel of Canto Uno was set. Frankly, with almost three hours spent in here, that's more time than many kids will spend in a club in real life, especially one so prone to Abba remixes. But there is certainly fun to be had here: booze, drugs, twerking, sexual tension to beat the band. Marie, fortunately, isn't averse to a three-way sex dance sandwich, and Ophelie is trying to twerk her troubles away.
It goes without saying that Kechiche is a beautiful film-maker, but, stuck in a pretty grotty club in the mid-90s, Intermezzo misses greatly the sequences of its predecessor where Ophelie spent time on the farm with Amin, or the group gathered in the family restaurant, for example. Amin eventually shows up and mostly watches his friends grow increasingly drunk and wasted. ("Things are getting out of control!") Like Kechiche, he's a voyeur, and neither make any bones about it.
For all the energy and the flashy cutting and the music and the extreme camera angles, Intermezzo is more background mood music for particular tastes rather than essential cinema. In reality, the plot is doled out in the first 20 minutes and all the rest is sexy dancing. The bottom line: summer is ending, and Ophelie is pregnant with Tony's baby and due to be married to the absent soldier Clement in three weeks. Tune in next time for more of the same.
Production company: Quat'Sous Films
International sales: Pathe International
Producers: Abdellatif Kechiche, Jerome Seydoux, Ardavan Safaee
Screenplay: Abdellatif Kechiche, Ghalya Lacroix
Cinematography: Marco Graziaplena, Jérémie Attard
Editing: Luc Seuge
Sound: Leo Caresio
Main cast: Shaïn Boudemaine, Ophélie Bau, Marie Bernard, Salim Kechiouche, Alexia Chadard, Lou Luttiau, Romeo De Lacur, Kamel Saadi