A grieving mother must find a way to come to terms with her loss in this quiet Dutch debut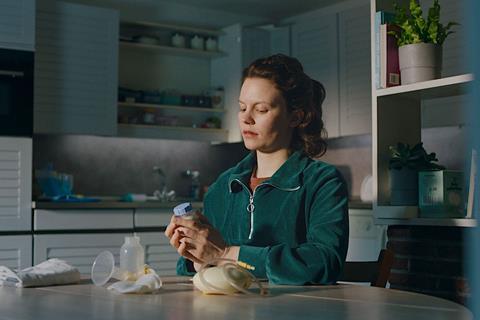 Dir: Stefanie Kolk. Netherlands. 2023. 96mins
Silence speaks volumes in Stefanie Kolk's humanistic and contemplative study of grief and the strength needed to overcome it. The loss is experienced by Robin (Frieda Barnhard) and Jonas (Aleksej Ovsiannikov), whose baby is stillborn late in their pregnancy – something that the Dutch filmmaker makes clear without resorting to melodramatics. The late-term nature of the death means that Robin begins producing milk, which becomes the focal point of her mourning.
Handled with confidence, maturity and a lightness of touch
It is heavy subject matter, but handled with confidence, maturity and a lightness of touch by Kolk and her co-writer Nena van Driel. Melk arrives at Thessaloniki International Film Festival after a strong run on the festival circuit following its premiere in Venice's Giornate degli Autori, and it could pique the interest of arthouse distributors looking for quality adult drama further along the line.
The milk of the title offers Robin a connection to her baby, a feeling so strong she finds herself unable to throw it away. The sight of Robin rolling one of the bottles across a slightly tilted table and then beckoning it back towards herself, or simply laying a warm bottle against her cheek, are among the economical ways that Kolk brings home the strength of her attachment without labouring the point. And while many filmmakers might have used Robin's obsession to create an explosive rift in her relationship with Jonas, here Kolk maintains the low-key tone. While Jonas is grappling with his own grief, he remains understanding of Robin.
Kolk's impressively measured approach, particularly for a first-time feature maker, invites us to lean into the maelstrom of Robin's emotions rather than finding them too hard to bear. The idea of donating her milk to another mother offers a light for Robin to focus on, but it proves much more difficult than she thought. Determined, she presses on with more unorthodox plans as the milk bottles slowly pile up in their freezer; a simple but hard-hitting visual that brings the weight of her grief home.
Robin also joins a group of other mourners who go on silent walks in the nearby woodland, where the only direct communication is done by writing on the leader's notepad. This is one of Kolk's indicators that grief is such a big emotion it can be as hard to verbally articulate as it is to emotionally process. The sparseness of the script reflects this. The silence of the walks feel companiable, while scenes between Robina and Jonas often feel loaded with a flurry of unspoken emotions. There is additional texture as Robin reads messages on a self-help group for mothers which, in a break from the way online communities are often shown on film, is largely reassuring and supportive.
By allowing silence to blossom, Kolk also sharpens our senses to the noises that break it, from bird song to the thrum of the breast pump and an unexpected peal of laughter. Kolk offers us enough space to think about these issues on our own, while working towards a conclusion that feels both hopeful and realistic.
Production companies: Lemming Film
International sales: Bendita Films sales@benditafilms.com
Producers: Erik Glijnis, Leontine Pet
Screenplay: Stefanie Kolk, Nena van Driel
Cinematography: Emo Weemhoff
Production design: Nadide Argun van Uden
Editing: Maarten Ernest
Music: Alexander Reumers
Main cast: Frieda Barnhard, Aleksej Ovsiannikov, Ruth Sahertian, Jules Elting, Murat Toker, Arnoud Bos, Zineb Fallouk, Wimie Wilhelm