Tilda Swinton experiences a tropical malady in Apichatpong Weerasethakul's Cannes Competition entry, filmed and set in Colombia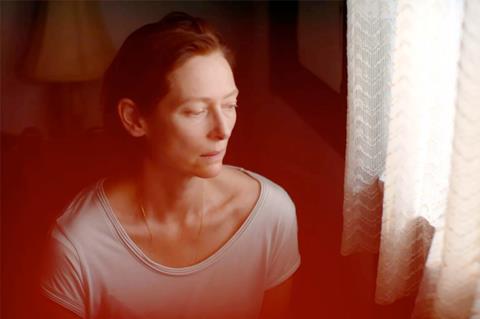 Dir/scr: Apichatpong Weerasethakul. Colombia/Thailand/UK/Mexico/France. 2021. 136 mins.
Halfway through Memoria, the film's troubled protagonist is advised against taking Xanax because it will deprive her of the ability to savour the beauty in the world — the kind of beauty, in fact, that Apichatpong Weerasethakul's latest film offers in steady doses. Graced by Tilda Swinton's emptied-out performance as a woman haunted by a strange sound whose origins she is obsessed with uncovering, Memoria eludes easy categorisation while becoming a powerful meditation on connection, spiritual isolation and renewal. The celebrated Thai auteur's first English-language feature — and his first to be made outside of his home country — is as entrancing and wonderfully perplexing as any of his previous pictures.
The boldness of Weerasethakul's vision — the way he turns simple tales into resonant parables — remains astonishing, even nourishing
With Memoria, Weerasethakul returns to the official Cannes Competition for the first time since Uncle Boonmee Who Can Recall His Past Lives won the Palme d'Or in 2010, and Swinton's arthouse cachet could help widen the filmmaker's profile. (Indeed, Neon will be releasing Memoria in the US.) That said, this remains a challenging, slow-paced affair.
We don't learn much about Jessica (Swinton), who lives in Medellin and is plagued by the unpredictable occasional jolt of a loud banging noise that is happening only in her head. With trouble sleeping and concerned that she may be losing her mind, Jessica seeks answers, recruiting a sound engineer (Juan Pablo Urrego) to help her replicate the noise and, later, journeying into the Colombian jungles.
In a more conventional film, Jessica's strange malady would be fuel for a psychological thriller in which she unravels the mystery of her ailment. Instead, Weerasethakul pushes the story into existential terrain, not so interested in solving the riddle as he is in examining how small physical hindrances can profoundly alter our reality — but also open us up to the offhand wonders around us. There's no pattern for when Jessica will hear the unsettling banging noise — which sounds like a thudding wallop — but Memoria populates the film with just as many instances of other distinctive noises, whether it's a crack of thunder or the screech of howler monkeys. In his typically unhurried style, Weerasethakul asks us to contemplate all of these aural sensations and consider how they form the unexamined background of our lives.
Weerasethakul's frequent cinematographer Sayombhu Mukdeeprom shot Memoria on film, lending the images a rich, grainy texture that makes them feel like memories. And although Memoria doesn't boast the overtly fantastical elements of the writer-director's earlier work — at least not initially — there's the usual amount of whimsical narrative curiosities. Why does the sound engineer suddenly go missing, his colleagues telling Jessica that they've never heard of him? And why does a very different man she encounters later in the film go by the same name, Hernan (Elkin Diaz), although they seem to have no connection? Like Jessica, audiences will be disoriented as the story rolls along, but the sureness of Weerasethakul's pacing and calmly composed frames leave no doubt that the filmmaker knows exactly where her quest will end.
Swinton's raw immediacy has been forgotten of late, but in Memoria she exudes a meek, haunted air playing a woman with few attachments. As Jessica pursues this mystery, the actress strips away more and more — almost as if Jessica is returning to some elemental state the closer she gets to an explanation. Swinton has rarely been so vulnerable, and she acquits herself well in Weerasethakul's measured, long-take approach, giving us a character who, long before she started hearing this noise, felt separated from those around her.
The Colombian locales provide Weerasethakul with the same otherworldly environment that Thailand once delivered for him. The country's jungles feel cut off from civilisation, making them ripe for folkloric magic, while the city scenes project an icy sterility that echoes Jessica's own sense of displacement. Characters switch easily back and forth from English to Spanish, but what's most impactful are the silences — particularly when Jessica meets the second Hernan, whose remarkable past provides a clue to her malady.
At its conclusion, Memoria remains something of a mystery, as Weerasethakul's gentle, hallucinatory fables often do after only one viewing. But the boldness of his vision — the way he turns simple tales into resonant parables — remains astonishing, even nourishing. "I think I'm going crazy," Jessica laments at one point. But she's not — she's just seeing the world in a startling new way, an Apichatpong Weerasethakul specialty.
Production companies: Kick The Machine, Burning
International sales: The Match Factory, info@matchfactory.de
Producers: Apichatpong Weerasethakul, Diana Bustamante, Simon Field, Keith Griffiths, Charles de Meaux, Michael Weber, Julio Chavezmontes
Production design: Angelica Perea
Editing: Lee Chatametikool
Cinematography: Sayombhu Mukdeeprom
Music: Cesar Lopez
Main cast: Tilda Swinton, Elkin Diaz, Jeanne Balibar, Juan Pablo Urrego, Daniel Gimenez Cacho