Dir. Fabrice Du Welz. UK/France/Belgium, 2016. 102 mins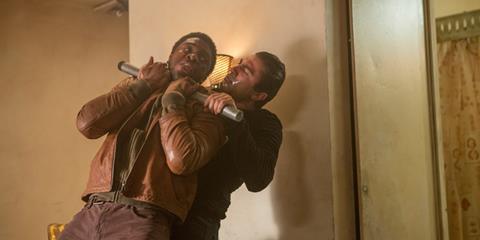 Revenge is a dish best served with beatings, bombs and righteous anger in Message From The King, a lurid potboiler that no amount of surface style can salvage. Calvaire director Fabrice Du Welz struggles to bring anything fresh to a thriller that revisits all the familiar ingredients of a dime store detective novel. Genre fans might be attracted by the director's reputation and a superior cast, including rising star Chadwick Boseman, but theatrical potential seems limited for a film that might be a more comfortable fit for secondary markets if positioned as a lower division Jack Reacher.
Cinematographer Monica Lenczewska (Diffret) captures some sleek, burnished images of Los Angeles that lend a visual touch of class to the film.
Du Welz follows in the steps of European directors from John Boorman (Point Blank) to Roman Polanski (Chinatown) as he casts an outsider's eye over the mean streets and murky morals of Los Angeles. There is some interest as Du Welz explores the grubby underbelly of Los Angeles's glamorous image, setting a good part of the story in Venice Beach and Echo Park. Otherwise this grimly adheres to the old-fashioned conventions of a convoluted Chandleresque plot involving a missing woman, corrupt cops, compromised politicians and sleazy, lily-livered Hollywood high rollers.
Jacob King (Boseman) arrives in Los Angeles from South Africa desperately seeking news of his younger sister Bianca. She has left him a phone message begging for help and has now disappeared, along with her stepson. Jacob checks into a cheap motel and starts to question her neighbours and friends, but his polite questions and naive notions of his sister are met by silence, disbelief or the comment that: "You're not from around here, are you?" There are tales of drug abuse, bad choices and criminal associates that build a very different picture of the sweet, innocent girl he once knew. Once he learns the grisly fate of Bianca, he sets on a hunt for vengeance that brings him into contact with Balkan bad guys, Hollywood producer Mike Preston (Alfred Molina) and smooth-talking dentist Paul Wentworth (Luke Evans) who declares that " You can tell a lot from a person's teeth".
You can almost tick off the cliches here as Boseman meets sympathetic part time prostitute Kelly (Teresa Palmer) and her daughter, and begins to seem indestructible as he quickly bounces back from more than one savage assault. As he continues to mete out punishment to the wicked, he comes perilously close to one of those remorseless vigilante figures that populate the later decades of Charles Bronson's career.
Screenwriters Stephen Cornwell and Oliver Butcher previously collaborated on Liam Neeson vehicle Unknown (2011) and there is very little in Message From The King that encourages the viewer to suspend disbelief or silence any scoffing. Everything feels like an echo of countless old movies, rather than something with at least a whiff of the real world. The dialogue is flavourless, and the odd attempt to add a note of reflection or lyricism jars, especially when Kelly talks of a Los Angeles that is like rotting cardboard when it rains but grows positively inspirational when the sun shines.
Boseman sustains a decent South African accent throughout and makes a credible dead-eyed avenger but even some of the more experienced actors fight a losing battle with their two-dimensional characters and ropey dialogue, with Molina often reduced to firing off an exasperated string of expletives as Preston.
Cinematographer Monica Lenczewska (Diffret) captures some sleek, burnished images of Los Angeles that lend a visual touch of class to the film. Du Welz makes token attempts to understand the nature of the city and the tensions between the powerful and disposable. Ultimately the visual polish and subplots merely serve as fleeting distractions from the weary familiarity of this two-fisted tale.
Production companies: Entertainment One, The Ink Factory, The Jokers Films, Entre Chien Et Loup
International sales: Sierra/Affinity info@sierra-affinity.com
Producers: Stephen Cornwell, David Lancaster, Simon Cornwell
Screenplay: Stephen Cornwell, Oliver Butcher
Cinematography: Monica Lenczrewska
Editor: Beatrice Sisul
Production designer: Melanie Paizis-Jones
Music: Vincent Cahay, Felix Penny
Main cast: Chadwick Boseman, Teresa Palmer, Luke Evans, Alfred Molina, Natalie Martinez