A teen crowdpleaser from former actor Hugh O'Conor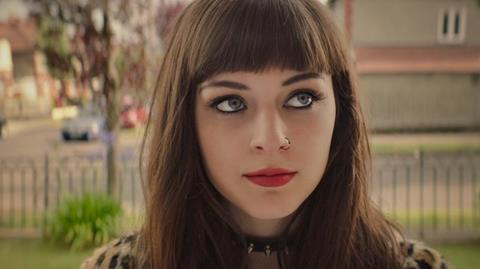 Dir. Hugh O'Conor. Ireland. 2018. 90 mins.
Crammed with Irish charm and warmth, the actor Hugh O'Conor's Dublin-set directorial debut is a teen comedy romance about warring fraternal twin sisters who are left alone by their parents one summer as they await vital exam results. Cut from the same cloth as last year's The Drummer And The Keeper, it bounces over a boggy third-act thanks to a breakthrough performance from Jordanne Jones as the Goth-leaning sibling Emma. Domestic audiences should respond, and Metal Heart could even make small inroads in the UK VOD market, where production seems to have completely stopped on low-budget feelgood crowdpleasers like this.
A luminous performance by teenage newcomer Jordanne Jones
Emma and her fellow Goth BFF Gary (Séan Doyle) are a scene-stealing pair in their outlandish platforms, sweeping black leather coats, piercings and purple lipstick. It all hides an acute self-consciousness, of course, as these outsiders struggle to find their way in the bland Dublin suburbs. Sister Chantal, meanwhile, is a blonde and vivacious blogger who also works at an ice cream bar dispensing make-up tips and pink bubble gum popularity. Their sisters' already-fraught relationship comes under a fatal strain when the boy-next-door moves back to look after his mother and has turned into a handsome, feckless charmer (played by the ubiquitous Moe Dunford).
From this simple premise, former actor O'Conor (who was the child star of films such as Lamb and My Left Foot) channels the spirit of the late John Hughes and his own compatriot John Butler (O'Conor starred in Butler's The Stag). This is a suburban land of teen dreams and lovelorn yearning, a summer during which our warring protagonists will grow up and finally understand what they mean to each other. It's light and airy and lacks the tension to breakout, but Metal Heart is always filled with a self-deprecating humour which moves the action along pleasingly.
Sold internationally by Bankside, Metal Heart is gifted with a luminous performance by newcomer Jones, who won the breakthrough award at Galway's Film Fleadh where the film premiered. Playing her lovelorn friend and elaborately-quiffed partner in the band Yeast Infections, Séan Doyle more than holds his own, however, whether it be working as a gardener in full black leather or resisting his chino-clad stepfather. ("You look like you've been kidnapped by Gap" is one of the film's many funny lines).
The sun always shines in this bright and airy film, which is competently-shot but not gifted with any hint of dramatic location work or punchy soundtrack like Sing Street. (The only sequece even approaching a crowd scene takes place in someone's living room.) O'Conor has made the best of his budgetary limitations to draw some strong but light-hearted performances in a likable and promising debut clearly made for audiences to sit back and enjoy.
Production company: Treasure Entertainment
International sales: Bankside Films, films@bankside-films.com
Producers: Claire McCaughley, Rebecca O'Flanagan, Robert Walpole
Screenplay: Paul Murray
Production design: Neill Treacy
Editing: Julian Ulrichs
Production design: Eoin McLaughlin
Music: John McPhillips
Main cast: Jordanne Jones, Leah McNamara, Moe Dunford, Séan Doyle, Aaron Heffernan