Frank Berry's prison drama won Best Irish Film at Galway's Fleadh, with newcomer Dafhyd Flynn also picking up an award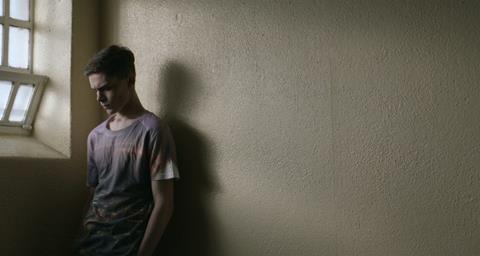 Dir/scr: Frank Berry. Ireland, 2017, 96 mins
The Irish are coming: certainly, young Irish actors are on a surge. In his second role for writer-director Frank Berry (I Used To Live Here), young Dafhyd Flynn is a revelation as the titular Michael, an 18 year-old boy who makes a bad decision and watches the illusion of his life disappear behind bars.
Michael's housing estate is as much as a pitiless prison as the jail he finds himself in at 18
Michael Inside is a sad story of incarceration and its effects, particularly on the young and naive. It was researched and workshopped with the Irish prison rehabilitation service Pathways, and the authenticity shows – mostly on Michael's innocent, heart-breaking face. Winner of Best Irish Film at Galway's Fleadh, Michael Inside is set for release through Wildcard Distribution (The Young Offenders) at home, and, although its subject and trajectory is a common one running through international arthouse cinema, it could find a way into festival and independent play in much the same way as Gerard Barrett's Glassland.
Berry, who shot the documentary Ballymun Lullaby in the same milieu, returns to the theme of young people who are all but propelled by their environment into the bad choices they make. It's a The Night Of set in a deprived inner-city Dublin, but with little prospect of any exoneration or future – Michael is, after all, clearly guilty, and this isn't just Dublin but anywhere that hopelessness and poverty prevails among young people.
Young actor Byrne, plucked off the streets when Berry cast him in 2014's I Used To Live Here, has benefitted in the meantime from training (at Ireland's increasingly noteworthy Bow Street) which helps channel his natural talent into a deep, multi-layered portrayal. Like most 18 year-olds, Michael is fairly monosyllabic, leaving Flynn's face to do the talking. With his hardened father in prison, Michael lives with his elderly grandfather Francis (Lalor Roddy, also excellent). His mother, we later learn, died of a drug overdose.
Francis worries for the boy, all-too aware of the pitfalls which lie ahead; Michael is already on probation after making a poorly-judged decision to take part in a joyride when another bad choice sees him agreeing to mind a drugs stash for the friend of a relative. He's caught, and there's no mercy this time. Michael is sentenced to three months inside. That may not seem much, but Michael's innocence - despite the uniform squint, hoody and chain necklace - make this legal detemination yet another poor outcome in his short young life. "I won't make it," he says, heartbreakingly.
Having left school at 14, Michael is innately smart but ill-equipped, and his grandfather also becomes vulnerable to those who threaten 'Michael inside'. As for outside? As one character says: "Forget about buying a house, forget about going to the States. Your sentence only starts when you're released."
While its tough subject matter may be a hard ask for audiences outside Ireland, where it should find an enthusiastic reception, this is a film shot with integrity and heart. Situations behind bars where Michael seeks protection from the wrong person (Moe Dunford) mirror classic prison dramas such as A Prophet, while Berry cleary shows that Michael's housing estate is as much of a pitiless prison as the jail. There are no real suprises here, but pulsing music underlines the tension, both inside and out, while settings are nicely drawn.
As Dafhyd Flynn moves forward in his career, Michael Inside should travel with him. Unsurprisingly, he picked up the Bingham Ray New Talent Award at Galway.
Production company/international sales: Subotica, info@subotica.ie
Irish distribution: Wildcard
Producers: Donna Eperon, Tristan Orpen Lynch, Aoife O'Sullivan
Cinematography: Tom Comerford
Production design: Emma Lowney
Editor: Colin Campbell
Main cast: Lalor Roddy, Dafhyd Flynn, Moe Dunford