Charming animation from Japan takes a todder-eye view of a new arrival in the family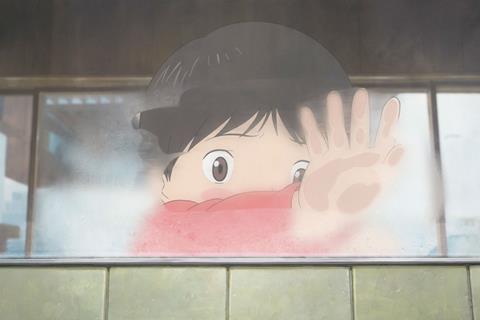 Dir. Mamoru Hosoda. Japan. 2018. 98 mins
The story is a wisp of a thing – a little boy gradually comes to terms with the arrival of a baby sister – but the latest anime from Mamoru Hosoda (The Girl Who Leapt Through Time) is a beguilingly sweet-natured little gem. The film balances spiralling flights of fancy with glinting observations on parenting and family dynamics. The former will charm younger members of the audience, the latter will elicit nods of recognition from their parents. A somewhat episodic structure which interrupts the flow of picture is the main issue with this otherwise delightful film.
A work of heart-swelling beauty and considerable charm
Because of the age of the protagonist – Kun (voiced by Moka Kamishiraishi) is a bullet train-obsessed toddler – the film may skew to a younger audience than many other anime pictures. And the story – of Kun learning to share his parents and not to thump his baby sister with a toy train – will appeal to parents who find themselves in a similar situation. The gentle appeal of the picture has already resulted in several sales, including to Gkids in the US and Anime Ltd in the UK.
Hosoda drew on his own experiences as a father for this fantasy; there's a candour here about the struggles of coping with a new baby which suggest that they are still painfully fresh in his mind. The birth of Mirai (also the name of Hosoda's daughter) has turned life upside down for all the members of Kun's family. His mother, who has chosen to return to work immediately, is racked with guilt about neglecting her children. His father, who will be working from home and looking after the children and housework, fearfully holds the new baby as if she were a live grenade.
Kun, outraged by having to share his parents' attention, throws his toys out of the pram (and aims them at his sister's head). And the family dog sulks, resigned to a further downgraded status.
Then, in the middle of a tantrum, Kun stomps off into the courtyard garden of their house (a gorgeously-realised modernist dream pad which is only partially ruined by Kun's train set). And he finds himself in a palace, face to face with a princely but curiously familiar man who complains that Kun usurped him from pole position in the household and that the quality of dog food has gone seriously downhill of late. Kun realises that he is the dog in human form. Then a girl arrives, claiming to be an older version of the very sister that Kun says he hates.
The garden proves to be a portal into subsequent adventures, in which Kun meets his mother as a child, his great-grandfather and a hell monster version of his beloved bullet train. Each discreet chapter teaches Kun a valuable life lesson, a device which is not nearly as trite as it sounds, despite a slightly twee score full of twinkling piano.
Visually striking throughout, the film boasts several stand-out moments, the most notable of which is a child's eye view of a teeming Tokyo train station, full of neon, rattling trains and faceless danger. While perhaps not the most ambitious anime in terms of story, Mirai is a work of heart-swelling beauty and considerable charm.
Production companies: Studio Chizu
International sales: Charades
Producer: Yuichiro Saito, Takuya Ito, Yuichi Adachi, Genki Kawamura
Screenplay: Mamoru Hosoda
Art Direction: Takashi Omori, Yohei Takamatsu
Editing: Shigeru Nishiyama
Cinematography: Ryo Horibe
Music: Masakatsu Takagi
Main cast: Moka Kamishiraishi, Haru Kuroki, Gen Hoshino, Kumiko Aso, Mitsuo Yoshihara, Yoshiko Miyazaki, Koji Yakusho