Dirs: Ron Clements, John Musker. US. 2016. 106mins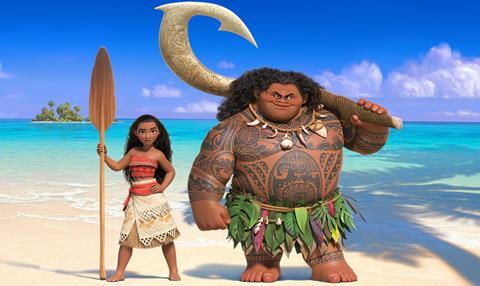 The perfectly pleasurable Moana boasts vivid animation, a handful of catchy songs and a sweetly sunny disposition — all suitable compensation for a story which is not particularly inspired or original. This tale of a teen islander going on a journey across the Pacific Ocean to save her people and find herself is a sturdy Disney vehicle executed with crowd-pleasing, family-friendly gusto, and it's enriched by lively voice work from newcomer Auli'i Cravalho alongside Dwayne Johnson. Even if the whole enterprise is a little disposable, it's hard to imagine younger viewers (or their parents) minding too much.
Moana's storyline only really becomes poignant when the dialogue ceases and the singing begins
Premiering at AFI Fest, Moana will arrive in US theatres on November 23 and the UK about a week later. This animated offering faces competition from Fantastic Beasts and Where To Find Them and doesn't appear to have the wide crossover appeal of another recent Disney musical, Frozen ($1.3 billion worldwide). But Johnson's star power, combined with a lack of family-film options, ought to ensure robust grosses.
Cravalho provides the voice of Moana, a 16 year-old Pacific Islander whose father (Temuera Morrison) is the leader of Motunui Island. One day, she too will be chief, but she chafes at her father's decree that no one can leave for fear of what may await them beyond their gorgeous reef. When the island's crops start dying and the local fishing diminishes drastically, Moana takes it upon herself to grab a boat to seek out Maui (Johnson), a legendary demigod who can reverse the curse by defeating a fearsome lava monster known as Te Kā.
Directed by Ron Clements and John Musker, Moana features a heroine who longs to break free of her dad's shackles and explore the great big world, much like their earlier collaboration The Little Mermaid. Cravalho, who reportedly won the role over several hundred others who auditioned, provides Moana with a wide-eyed, adventurous spirit, but the character doesn't differ significantly from similar fairy-tale characters on a quest.
It also doesn't help that, when she finds Maui, their oil-and-vinegar rapport is often more jokey than legitimately funny. Johnson plays this muscle-bound demigod with tongue-in-cheek arrogance which is often amusing. But his character's annoyance at this assertive young woman, paired with her frustration that he won't take her seriously because of her age and gender, yields only hit-or-miss comedic returns.
Predictably, Moana and Maui embark on this journey both to slay a monster and to heal something deep within themselves, but Moana's storyline only really becomes poignant when the dialogue ceases and the singing begins. Scored by Mark Mancina, and featuring original songs from Opetaia Foa'I and Hamilton sensation Lin-Manuel Miranda, the film sports emotional, rhythmically propulsive tunes. Granted, the lyrics echo familiar themes — the desire to be independent or, in the case of Jemaine Clement's endearingly pretentious crab, the humour in being a clueless bad guy — but Moana's songs have a sonic richness and lump-in-the-throat grandeur that make them one of the film's consistent highlights.
Illustrating the vast beauty of the Pacific Ocean, the animators give us a cheerful high-seas adventure that includes a couple moderately exciting action sequences. In both its comedy and suspense, Moana seems geared toward the younger side of the spectrum for a Disney family film. But the big set pieces are imaginative and stirring enough, especially near the end when Moana finally becomes the hero she was always meant to be.
In recent years, Disney has tried to shift its focus away from ineffectual princess characters who were simply waiting around to be rescued by a strapping prince. In films like Brave, Tangled and Frozen, the studio gave its female protagonists more agency, to varying degrees of success. Moana may not be groundbreaking in terms of its narrative — the film even wastes time with the umpteenth iteration of the wacky animal sidekick — but it's nonetheless refreshing to see a main character who isn't just resourceful but also more concerned with saving the day than falling in love. (Moana's contentious partnership with Maui never leads to romance, just mutual respect.)
Even when its hero's journey feels recycled, Moana comes across as modestly and encouragingly progressive in other ways.
Co-directors: Chris Williams & Don Hall
Production company: Walt Disney Animation Studios
Worldwide distribution: Disney, http://movies.disney.com/all-movies
Producer: Osnat Shurer
Executive producer: John Lasseter
Screenplay: Jared Bush, story by Ron Clements & John Musker, Chris Williams & Don Hall, Pamela Ribon, Aaron Kandell & Jordan Kandell
Cinematography: Rob Dressel (director of cinematography-layout) and Adolph Lusinsky (director of cinematography-lighting)
Production design: Ian Gooding
Editor: Jeff Draheim
Music: Mark Mancina
Website: http://disney.com/moana
Main Voice Cast: Auli'i Cravalho, Dwayne Johnson, Rachel House, Temuera Morrison, Jemaine Clement, Nicole Scherzinger, Alan Tudyk