Dir: Maiwenn. Fr. 2015. 140 mins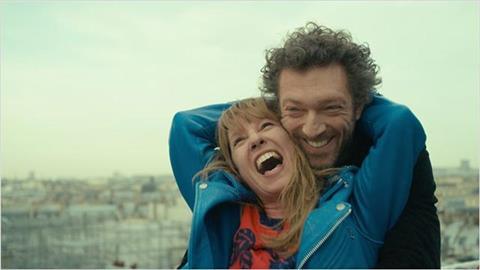 The French tradition of tormented marital drama becomes a three-ring circus of tears, joy and angst in French director Maïwenn's glossy follow-up to her 2011 drama Polisse. There's no shortage of confidence in this elegantly shot number, which features two fine lead performances - especially from Emmanuelle Bercot, best known as a director, who gives a full-throttle turn. She and Vincent Cassel will ensure export appeal, and Gallic tales of fraught passion tend to travel well - but Mon Roi's melodrama glossiness grates more than it convinces.
For all its rough edges, this is a film drowning in its own chic.
The film starts with Tony (Bercot), in her 40s, damaging her knee in a ski accident - perhaps less accidental than symbolic, suggests a doctor, pointing out that the French word for knee (genou) breaks down into je and nous (me, us - see what she did there?). Tony retreats to a convalescence centre where she hangs out with some lively young working-class guys, and muses in flashback on her ten-year relationship with husband Georgio (Cassel).
An insouciantly flamboyant restaurateur whose life is one big charming performance, Georgio instantly clicks with lawyer Tony, and life becomes a festival of passion - hot sex on kitchen surfaces, the lot. They move in together, but his dazzling exterior conceals secrets - profound egotism, addiction, womanising, unfinished business with his troubled ex, who, wouldn't you know it, happens to be a Vogue cover star (played by model Chrystèle Saint-Louis Augustin).
The bailiffs arrive to strip the couple's deluxe flat, but before long, life is back to glamorous normal, and the couple are back on their round of Moroccan holidays and dinners with exuberantly trendy pals, when not bickering over their young son Sindbad (yes, Sindbad). Luckily, Tony's brother (an unusually likeable Louis Garrel) and his girlfriend (Isild le Besco) are there to offer tea and sympathy.
The film doesn't lack energy - it's vibrantly shot in Scope by Claire Mathon, and the two leads are nothing if not charismatic, with Cassel effortlessly wolfish and charming in equal measure. Bercot's intense performance feels honest and self-exposing, although the drama sometimes pushes her to emote way beyond what works. But as a female view of a damaging relationship, Mon Roi looks pretty thin beside Catherine Breillat's recent, bruising Abuse of Weakness. Maïwenn comes closer to the glibness of Claude Lelouch; for all its rough edges, this is a film drowning in its own chic.
Production company: Productions du Trésor
International sales: Studio Canal, emilie.martel@studiocanal.com
Producer: Alain Attal
Screenplay: Maïwenn, Etienne Comar
Cinematography: Claire Mathon
Editor: Simon Jacquet
Production design: Dan Weil
Music: Stephen Warbeck
Main cast: Emmanuelle Bercot, Vincent Cassel, Louis Garrel, Isild le Besco