Ana Lily Amirpour stalks the streets of the Big Easy with Kate Hudson and Burning's Jeong Jong-seo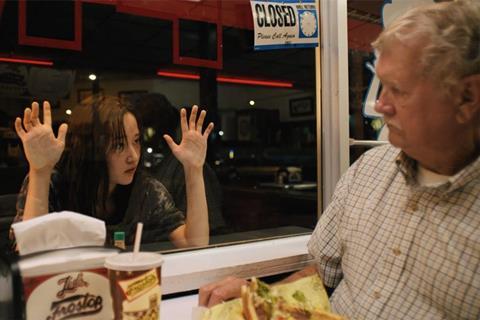 Dir/scr: Ana Lily Amirpour. US. 2021. 106 mins
Having spent the best part of a decade in a catatonic state in a 'Home for Mentally Insane Adolescents' near the Louisiana everglades, something is awoken in Mona Lisa Lee (Jeon Jong-seo) one night. Using just the considerable power of her mind, she is able to escape, leaving a trail of bloodied guards and cops behind. By chance she encounters pole dancer Bonnie Belle (Kate Hudson), a streetwise opportunist who is quick to realise the potential of Mona's very specific skill set. She offers the girl shelter, at a cost. The latest from Ana Lily Amirpour reprises some of the themes of her previous pictures – outsider status, sexual politics – themes which are once again viewed through a genre-tinted lens. All seamy New Orleans sleaze, with a neon and nylon aesthetic, the film relishes its own trashiness. But the writing is not focussed enough to make this much more than a cheap thrill.
All steamy New Orleans sleaze
With its strip joint backdrop, simmering madness and exploration of odd-couple friendships, the film will no doubt draw comparisons with Julie Ducournau's Titane, although it is neither as formally bold nor as genuinely transgressive. Lacking that film's polished chrome visual precision, it opts instead for a swampy murkiness, both in the look of the picture and in the storytelling. It may be a tricky film to position commercially: not quite extreme enough to thrill horror fans; not complex enough to appeal to arthouse audiences; slightly too weird for the mainstream.
Jeon Jong-seo, best known for her memorable performance in Chang Dong Lee's Burning, is smart casting for a character who is defined throughout the picture by her outsider status and her otherness. Having spent most of her life in a padded cell, with no meaningful interaction with other people, Mona is learning what it is to be human. Jeon plays the character like an AI, cooly processing information and somewhat bewildered by the idea of actually liking another person. Her initial lessons ground her in the concepts of cruelty, fear and greed. The natural human reaction it seems, when faced with a gift as specific and powerful as Mona's, is to crush it and contain it, or, in the case of Bonnie, to monetise it.
But there are a few encounters which demonstrate altruism – the backlot drinkers who give her a beer and a pair of shoes; Fuzz (Ed Skrein) the street corner drug dealer with facial tattoos who seems to be about to put the moves on this damaged, vulnerable young woman, but turns out to be a benign and caring presence. But the closest connection forged by Mona – the friendship which starts to humanise a character who is initially depicted as a kind of weaponised holy fool – is with Bonnie's eleven-year-old son, Charlie (Evan Whitten), himself a wounded outsider who coaches her in the cathartic joys of flailing around to heavy metal played at bruising volumes.
The use of music is one of the film's strengths. Charlie's metal just one of many punchily confrontational soundtrack choices which add a brash propulsive swagger to storytelling which otherwise can seem a little uncertain at times. Having unleashed Mona Lisa into the world, it seems as though Amirpour doesn't entirely know what to do with her.
Production company: Le Grisbi Productions, 141 Entertainment, wiip studios, Rocket Science, Black Bicycle
International sales: Rocket Science info@rocket-science.net
Producers: John Lesher, Dylan Weathered, Adam Mirels, Robbie Mirels
Cinematography: Pawel Pogorzelski
Editor: Taylor Levy
Production Designer: Brandon Tonner-Connolly
Music: Daniel Luppi
Main cast: Jeon Jong-seo, Kate Hudson, Craig Robinson, Evan Whitten, Ed Skrein