Christina Ricci leads Frightfest favourite Chris Sivertson's latest genre take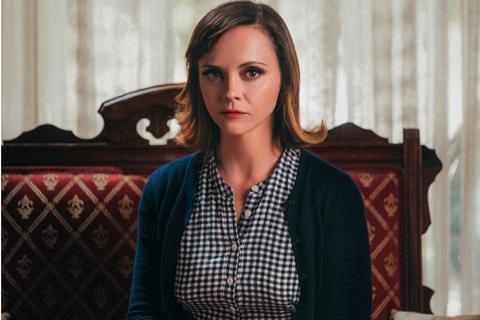 Dir: Chris Sivertson. USA. 2022. 89 mins
The presence of evergreen favourite Christina Ricci in the lead role will undoubtedly be a draw for Monstrous, an uneven chiller which deals in well-worn horror conventions but has great fun doing so. There are some intriguing ideas about trauma, trust and maternal guilt in this story of a single mother starting a new life with her young son in 1950s California but, as is typical from director Chris Sivertson (I Know Who Killed Me, All Cheerleaders Die), the film largely favours genre scares over anything deeper.
Monstrous hangs on some rather obvious genre conventions
Making its debut in Glasgow Frightfest – a spinoff of London Frightfest and an adjunct to the main Glasgow programme – Monstrous should attract attention for both Ricci and its audience-pleasing effects, while its narrative twists and turns could create some additional word-of-mouth buzz. It's being distributed in the UK by Koch Media, and looking further ahead, a dedicated streaming platform seems its most natural home.
In 1950s America, Laura (Ricci) and her seven-year-old son, Cody (Santino Barnard) head out to a small California town to escape Laura's abusive ex-husband and begin a new life. Laura falls in love with their new home and keeps herself busy at her typing pool job; in the evenings, she watches television and dreams of new kitchen appliances. Cody, however, finds it more difficult to settle; he struggles to fit in at school and longs to go home. And when he begins talking about the "pretty lady" from the outside pond who comes to visit him at night, Laura realises her troubles are only just beginning.
Monstrous has an effectively unsettling atmosphere from the off; despite the picture postcard Americana on display — a glorious technicolour palette of gleaming Chevrolets, ice-cream sundaes and bright full skirts — nothing feels quite right. The dark shadows of the past have clearly followed them to the Golden State; despite Laura's best efforts, Cody is introverted and distant, the connection between the pair by turns intimate and strained.
And just as her son seems to drift, untethered, through his new surroundings, Laura is often overwhelmed by them, repeating advertising slogans to quiet the physical pain she feels in her stomach, closing her eyes to escape bizarre visions of waterlogged walls and dissolving pictures. It's a committed, involving performance from Ricci, while the cinematography from Senda Bonnet also does some impressive heavy lifting, contrasting the expansive California horizon and seas of whispering grass with the oppressive, creaking night-time interiors of Laura's home and the pressure-cooker environment of her office job and Cody's school.
Despite its off-kilter tone, there is, however, no escaping the fact that Monstrous hangs on some rather obvious genre conventions: the desperate single mother, trying to save her child; the dripping monster that rises from the glassy woodland lake; an unshakable domestic threat; the fact that, despite Laura's increasingly frightened pleas, no-one is willing to believe her. To writer Carol Chrest's credit, it remains largely ambiguous as to whether this squelchy supernatural stalker is genuine or a manifestation of collective trauma; the fact that Laura can't find help for either possibility is a palpable frustration.
Indeed, it's with this idea of the gaslighting of vulnerable women — a mainstay in horror cinema — that the film makes its most interesting explorations. As the story progresses, and disparate elements start to come into focus, Laura's predicament begins to take on a very different shape. When the true natures of her demons are finally revealed, the story begins to delve into far more intriguing territory, examining how the past can haunt the present, how the worst kind of nightmares may come from within and how it's not always best to trust one's own perspective. It's just not quite enough to elevate Monstrous beyond standard genre fare.
Production companies: Screen Media
International sales: Film Mode Entertainment, info@filmmodeentertainment.com
Producers: Robert Yocum, Sasha Yelaun, B.I. Rosen, Johnny Remo
Screenplay: Carol Chrest
Cinematography: Senda Bonnet
Production design: Mars Feehery
Editing: Anjoum Agrama
Music: Tim Rutili
Main cast: Christina Ricci, Santino Barnard, Don Baldaramos, Colleen Camp