Dir/scr. Chad Hartigan. US/Germany 2016, 91 minutes.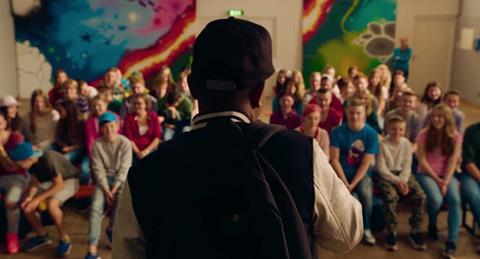 Chad Hartigan's sweetly amiable US/German co-production Morris From America benefits greatly from the central father-son dynamic created by actors Craig Robinson and Markees Christmas as they negotiate their characters through a rites-of-passage summer in Germany. Football coach Curtis (Robinson) and 13-year-old Morris (Christmas), "the only brothers in Heidelberg" are a real couple, bonded through love, loss and rap music, who triumph over cinematic cliché to give Morris From America its heart and, of course, soul.
Markees Christmas is an appealing, sensitive find as Morris, with Robinson striking all the rights notes as his struggling father.
Competing at Sundance in the US Dramatic section, Hartigan's follow-up to 2013's This Is Martin Bonner makes some acute emotional observations about the difficulties in finding the right line between friendship and parenting. And Hartigan triple- layers his film's fish-out-of-water scenario by making Morris American, black, and non-German-speaking, zinging along on rap and what it really means to express yourself authentically.
Occasionally, Morris From America can also feel insubstantial outside this central dynamic, playing itself out through some very familiar tropes whereby the teenager falls in love with the unobtainable class beauty and does foolish things in her pursuit, attracting the ire of her German goon squad. Odd cinematic flourishes – museum statues whimsically nod to Morris's beat in one isolated sequence – add an uneasy dissonance. This lack of heft could restrict Morris when it comes to wider theatrical exposure, particularly outside the US. (German audiences may not react well to being depicted as uniformly white and bigoted either.)
But Morris From America is always match-fit when it comes to the rapport between Morris and his dad Curtis, first shown in early, loving sequences where they goof around and talk about music. (The camera pulls back to reveal that they're actually in the Rhine city of Heidelberg, where Curtis is working as a coach and Morris is taking German lessons from the Swedish graduate student played by Wetlands' Carla Juri.)
Morris's mother is dead, and he's left alone in the apartment for long periods of time as Curtis goes about his job in a way in which the viewer knows will ultimately spell trouble. More interesting, though, is how Curtis has come to depend on Morris for a friendship which is fundamentally unequal, given he is the parent. Now Morris, who is sent off to a teenage summer camp to make friends, will begin to make increasingly confident steps towards becoming an adult, encouraged by his 15-year-old crush Katrin (another talent in newcomer Lina Keller)
Whether the father-son relationship will survive the transition is the most interesting part of Morris From America- but the film does veer off into some bracingly ordinary subplots including a road trip to Frankfurt which must be endured before Hartigan eventually swings his camera back to Curtis and the real core of his film.
Markees Christmas is an appealing, sensitive find as Morris, with Robinson striking all the rights notes as his struggling father. Hartigan has a clear sense of their relationship, which plays out in a cold, stripped-down apartment,the two men clearly lacking any female warmth in their lives. Outside, in Heidelberg, DoP Sean McElwee captures Morris's summer of love with all the right tones of bright optimism mixed with darker, dangerous, night-time sequences. There, Katrin's beloved electronic dance music dominates, but it's the words, the hip hop composed by Keegan DeWitt – and the wrong turns Morris can make as he tries to find his true voice – which consistently impress.
Production company: Lichtblick Media
International sales: Visit Films, info@visitfilms.com
Producers: Martin Heisler, Adele Romanski, Sara Murphy, Gabrielle Simon
Executive producers: Michael B Clark, Alex Turtletaub
Screenplay: Chad Hartigab
Cinematography: Sean McElwee
Production design: Babett Klimmeck
Editor: Anne Famini
Music: Keegan DeWitt
Main cast: Craig Robinson, Markees Christmas, Carla Juni, Lina Keller, Jakub Gierszal