A young American boy returns with his mother to her Lithuanian homeland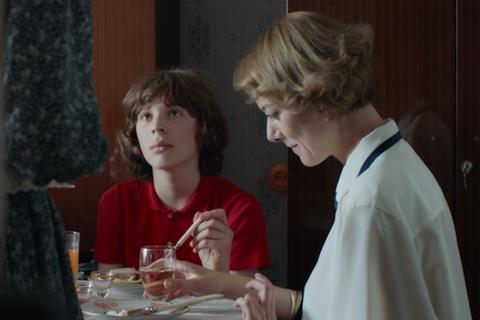 Dir. Tomas Vengris. Lithuania, Latvia, Germany, Greece. 2019. 96 mins
The year is 1992, shortly after the collapse of the Soviet Union. A mother and her 12-year-old son return to Lithuania, the country she fled 20 years before. She hopes to reclaim the family property which was taken from her parents when they were arrested and sent to labour camps. But her hopes of a new life are not shared by her son, who, born and raised in the US, feels ill at ease among the strangers who call themselves his family. Told through the eyes of the child – and the picture places a great deal of weight on the brooding, watchful performance of its young star, Matas Metlevski – this is an impressive feature debut which explores ideas of cultural identity and legacy.
There's a questioning emptiness in the score, which has a wistful, airy quality,
Writer and director Tomas Vengris makes his feature directing debut here, having cut his teeth as the editor of several US indie pictures including I Don't Feel At Home In This World Anymore and, most recently, Jungleland. Motherland is an assured piece of filmmaking which should make its mark on the festival circuit and could connect with arthouse audiences, particularly in the Baltic region.
Wrenched from his life in America, and not fully party to his mother's plans, Kovas (Metlevski) seems initially bemused by the fact that he and his mother are visiting the place of her birth, a country whose language he speaks but which feels very alien nonetheless. It doesn't help that he is considered a novelty by the other kids he meets, ranking a distant third place in interest behind his calculator watch and the chewing gum he uses to try and buy acceptance. He is at sea in a culture in which male and female roles are strictly delineated; in which drunken saunas are followed by naked target shooting; in which a girl his age is told by her father to drive the car to the village to buy him more schnapps.
In the absence of a straight explanation, he studies his mother for clues. The expressive camera is constantly peering through the gap of a half shut door or through a smeared and shuttered window. Never quite seeing the full picture, Kovas finds himself a spy on his own life. His eavesdropping confirms the fact that his parents have just divorced, and that his mother, Viktorija (Severija Janusauskaite) is leaning heavily on her shifty ex-boyfriend for support.
When it's not peeping around corners, the camera frequently rests on Kovas' glum face. It's not the most varied performance from Metlevski, but he conveys disgruntled simmering very effectively. It's on Kovas' expression that we focus, for example, when, out of the frame, family grudges from a lifetime ago reignite. There's a questioning emptiness in the score, which has a wistful, airy quality, like someone blowing across the mouths of empty beer bottles.
Kovas' uncertainty deepens when it is revealed that the family estate that Viktorija hopes to reclaim is currently occupied by an impoverished Russian family who, in a terrific, taut scene, make it clear that they have no intention of leaving. It's only at the end of the film, when Viktorija has given up on at least some of her plans, that she starts to talk to her son about her own life. But her stories are elegantly ribboned throughout the film in a pensive narration which ties the picture together.
Production Company: Studio Uljana Kim
International Sales: Alpha Violet info@alphaviolet.com
Producer: Uljana Kim
Screenplay: Tomas Vengris
Editing: Gintare Sokelyte
Cinematography: Audrius Kemezys
Production Design: Ramunas Rastauskas
Music: Karlis Auzans
Main cast: Matas Metlevski, Severija Janusauskaite, Darius Gumauskas, Barbora Bareikyte