Two housewives become bitter enemies in 1960s Brussels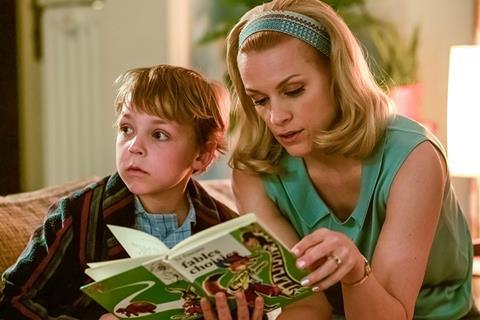 Dir: Olivier Masset-Depasse. Bel-Fr. 2018. 97mins
Bourgeois Brussels in the early 1960s is the setting for a Hitchcockian psychological thriller which pits two suburban housewives against each other following the death of one of their children in a freak accident. Olivier Masset-Depasse deftly handles a plot which flirts openly with ripe melodrama, but keeps the audience guessing about which household the madness and paranoia lurks within. It's a picture which could have benefited from a tighter edit, but the tension crackles nonetheless.
The orchestral score pays homage to Hitchcock; the saturated colours are a nod to Sirk
This meticulously-styled period piece, which is based on a novel by Belgian writer Barbara Abel, is a change of tone for Masset-Depasse, whose last feature was the Cannes Director's Fortnight SACD Award-winning refugee drama, Illégal. Fans of photogenic female treachery and mid-century interiors will appreciate the attention to detail in both the choice of soft furnishings and the elegantly manicured malice. Haut Et Court and O'Brother Distribution have claimed French and Belgian distribution deals respectively; elsewhere the film could attract arthouse interest.
The film opens with a shot which goes on to become a recurring motif in the film – a woman, in this case Alice (Veerle Baetens) peering through her net curtains at her neighbour. Yet Masset-Depasse playfully wrong-foots the audience; there is no malign plan in action, just a surprise birthday party for Céline (Anne Coesens) In a none-too-subtle piece of plotting, the celebration is used to set up the various health complaints which may or may not come back to bite their sufferers once the film is underway. The different character traits of the two women are also established; Alice is nervy and riddled with self-doubt; Céline is poised and calm.
The death of Céline's son is a tragic accident. It is nobody's fault. But the fact that Alice witnessed it and failed, despite panicked attempts, to avert it means that, in the first crashing wave of grief, Céline holds her partially accountable. Unable to comfort her friend and distraught on her behalf, Alice begins to question whether there was something she could have done.
A month or so later and there has been a rapprochement between the pair. But something has changed. Masset-Depasse captures the toxicity of personal tragedy in the way a pregnant woman recoils from Céline's touch when she visits the school that her son used to attend. Alice begins to question Céline's motives when she befriends Theo with gifts and confidences; Alice's husband questions whether his increasingly unpredictable wife needs a psychiatrist. Things take a darker turn when further members of each family start to die.
Mothers' Instinct (Duelles) is a polished package. The orchestral score pays homage to Hitchcock; the saturated colours are a nod to Sirk. And the eloquent use of architecture – the two families live in twin houses, almost mirror images or each other – adds another level of symbolism to the tricky mystery of just who is gaslighting who, and to what end.
Production company: Versus Production, Haut & Court, Savage Film, Voo et Be tv
International Sales: Indie Sales Company neschbach@indiesales.eu
Producers: Jacques-Henri Bronckart, Carole Scotta, Simon Arnal, Caroline Benjo, Barbara Letellier, Bart Van Langendonck
Screenplay: Olivier Masset-Depasse, Giordano Gederlini
Production Design: Anna Falguères
Editing: Damien Keyeux
Cinematography: Hichame Alouie
Music: Frédéric Vercheval
Main cast: Veerle Baetens, Anne Coesens, Mehdi Nebbou, Arieh Worthalter, Jules Lefebvre, Luan Adam