George MacKay and Jannis Niewohner star alongside Jeremy Irons as Neville Chamberlain in this Netflix adaptation of Robert Harris's best-selling novel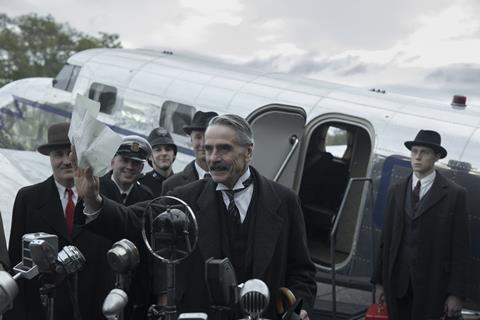 Dir. Christian Schwochow. UK/Germany. 2021. 122 mins.
It's 1938, and the Western world is in turmoil – pulled between peace, endless appeasement and all-out war. This Netflix-backed UK/German adaptation of Robert Harris's best-selling novel Munich also bears the hallmarks of an internal struggle. Is it a spy thriller set during the backdrop of the crucial negotiations between Neville Chamberlain (Jeremy Irons) and Adolf Hitler (Ulrich Matthes) to reach the Munich Agreement, or is it a more sweeping drama about two idealistic young men and their partners as the clock ticks down? Fleshing out the narrative, Christian Schwochow has made a mostly engaging drama that is too long for an espionage film, yet too short for the limited series it always threatens to become.
Munich… proves, as if 1917, or True History of the Kelly Gang, weren't enough, that George MacKay can carry a big, muscular film in his wake
There's no doubt that Schwochow's film works precisely where it is supposed to – on the streets of Munich in the hours leading up to the Sudetenland capitulation where two exciting performances by young leads George MacKay and Jannis Niewohner finally come into their own. Writer Ben Power and producer Andrew Eaton's classically structured work – first-half flashbacks and half-hearted back-stories – don't always gel with Schwochow's supple show-don't-tell direction, though, and the film cries out for the Anglo-German unity which is the film's thematic thrust. (The fact that Munich has become the meaninglessly extended Munich – The Edge Of War speaks to its problems. Why distract ardent Harris fans? The author is on board as executive producer, although he did not work on the script.)
Munich… proves, as if 1917 or True History Of The Kelly Gang weren't enough, that George MacKay can carry a big, muscular film in his wake. Although it's a story of two men at intellectual odds in the run-up to war who come together in Munich around the time of the Oster plot, it's left to the British actor to do the heavy lifting through the first act, after a prologue set during an Oxford party introduces the viewer to his character, German-language student Hugh Legat, and his two expat best friends, the feisty Paul Von Hartmann (Niewohner) and his girlfriend Lena (Liv Lisa Fries) in 1932.
There's a fast-forward to London in 1938, where Legat is working as a private secretary to Chamberlain and struggling in his marriage to Pamela (Jessica Brown Findlay). This element of the plot is awarded an undue amount of screen-time, given it adds nothing to the story: there's an altercation in a restaurant, and a fight at their home. He is accused of being withholding, uncomfortable with his emotions. This much attention to his personalty seems to promise a past secret or emotional breakdown – or possibly he's in love with Lena? – but ultimately Legat's issues are put down to him being British, suggesting all this may have sat better on the cutting-room floor.
Harris's book was written, in part, to posit the argument that Chamberlain wasn't Hitler's patsy, but a man in desperate search of peace left with no alternatives but to devise a strategy of his own. This is where the core of the novel lies, and once the script allows Schwochow to get to it, then the drama starts to fall into place. The manoeuvrings to get Legat and Paul together in Munich pay off, even though the attention to Legat's marriage comes at the expense of Paul, whose conversion from ardent nationalist to terrified spy is left mostly to the imagination, and Lena, revealed to be Jewish and persecuted by the Nazis, is awarded a sole, mute hospital scene.
Still, as Jannis Niewohner's appearance in Schwochow's last film, Je Suis Karl – which premiered at the 2021 Berlinale – proved, this is not an actor who will let a chance slip by. He takes what slivers of character he is given and polishes them to diamond-sharp intensity, both in his scenes with Sandra Huller (wasted in a small role as a German civil servant), but mainly with MacKay, who matches him. If there's any sense of this co-pro working well, it's here – and it's frustrating to wait so long to get to it.
Munich: The Edge Of War filmed in Berlin, Munich – at the Fuhrerbau, where the meetings were held – and Dresden, with some location work in Liverpool. Shooting 'London' and 'Oxford' with fresh eyes gives the film a visual appeal – it doesn't look like British films set in the same period, and that's not a bad thing. German locations, meanwhile, work well, despite Covid restrictions during the shoot – presumably contributing to the scarcity of crowd scenes, and the concentration of the drama in the shadowy backrooms where the real power is held.
Production company: Turbine Studios
International distribution: Netflix
Producer: Andrew Eaton
Screenplay: Ben Power, adapted from the novel by Robert Harris.
Production design: Tim Pannen
Cinematography: Frank Lamm
Editing: Jens Kluber
Music: Isobel Waller-Bridge
Main cast: George MacKay, Jannis Niewohner, Jeremy Irons, Sandra Huller, Jessica Brown Findlay, August Diehl, Ulrich Matthes, Richard Dillane