Tense debut set on a Croatian island promises an explosive payoff – and delivers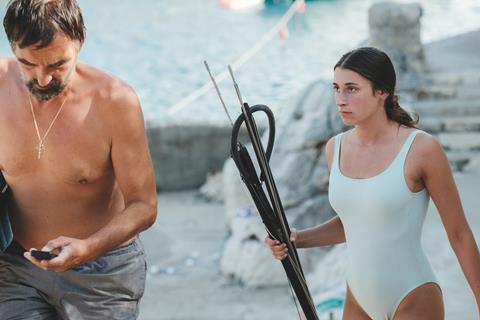 Dir: Antoneta Alamat Kusijanovic. Croatia/Brazil/US/Slovenia. 2021. 96 mins.
Sexual tension and the threat of violence permeate director Antoneta Alamat Kusijanovic's engrossing feature debut, which chronicles a battle of wills between a bullying father and the defiant teenage daughter who longs to be rid of him. Murina is a superb study in sustained subliminal menace, with Gracija Filipovic especially skilled playing a young woman learning how to utilise her sensuality to secure her freedom — unless, of course, her dad (a wonderfully repellant Leon Lucev) doesn't clip her wings first. Taking place on and around a gorgeous Croatian island, this tense drama takes aim at the patriarchy with sinister restraint, promising an explosion within a powder-keg family that can no longer maintain its facade of civility.
Tense drama which takes aim at the patriarchy with sinister restraint
Murina screens as part of Directors' Fortnight, and the film (executive produced by Martin Scorsese) will gain visibility thanks to strong festival reviews. Building off her short Into The Blue, Kusijanovic proves adept at letting discomfort simmer, and she's aided by a cast that includes Cliff Curtis in one of his best roles in recent years.
There's undeniable animosity between Julija (Filipovic) and her dad Ante (Lucev), who is verbally abusive to her and her long-suffering mother Nela (Danica Curcic). Demanding their respect through intimidation, Ante expects Julija and Nela to behave like the perfect family when his millionaire friend Javier (Curtis) comes for a visit — in large part because he wants to persuade Javier to invest in a business proposition that will turn Ante's untamed seaside property into a lucrative tourist destination. But for Julija, who is plotting to flee the island to live a bigger life out in the world, perhaps the handsome Javier might be seduced into helping her escape.
Filipovic, who was also the lead in Into The Blue, expertly exudes quiet resentment, showing how Julija bristles at her father's antagonism but recognises that she can't risk overtly offending this physically imposing man. Often dressed in flattering swimsuits in this warm, sun-splashed setting, Julija knows she's attractive, despite Ante's attempts to ridicule her. (He mocks her for her "boy's shoulders".) But once Javier arrives — and we hear him mention that, long ago, he once proposed to the beautiful Nela — Murina becomes an intriguing showdown between the two women to win his affections. For Nela, he's a reminder of a different life she could have had. For Julija, he's a getaway plan.
Cinematographer Helene Louvart captures the impossibly blue waters and muggy atmosphere, creating an earthly paradise where only Ante feels entirely comfortable. Whereas he's a braggart and a backslapper, the other characters keep their feelings to themselves, with Curtis especially terrific as a rich man with his own share of chauvinistic tendencies, but also a melancholy longing for Nela, the one that got away. Murina gradually amplifies the discontent and flirtatious gestures, placing these four in idyllic locales while we observe the unspoken desires being communicated by those around Ante.
As forceful as Filipovic is, her eyes always hinting at Julija's silent calculations, she's well-matched by Lucev, who plays a brute whose insecurities start to show. It's not simply that Ante knows his family despises him — it's that he's all too aware that Javier could steal Nela away if he wanted to. Lucev makes the character compellingly pathetic, his rage and impotence equally ferocious.
Because of the story's slow-burn approach and stormy sexual undercurrents — will Javier try to bed either woman? — eventually the filmmaker needs to deliver a worthy payoff. And happily, Kusijanovic succeeds, although the resulting fireworks don't go off quite as expected. If Murina is a tale of a young woman's search for independence, Kusijanovic understands that such victories in a repressive society are hard-earned and far from unqualified. Julija might eventually get away from Ante, but as the picture's final frames suggest, what constitutes escape from this family may all be relative.
Production company: Antitalent, Spiritus Movens
International sales: The Match Factory, info@matchfactory.de
Producers: Danijel Pek, Rodrigo Teixeira
Screenplay: Antoneta Alamat Kusijanovic & Frank Graziano, story by Antoneta Alamat Kusijanovic
Production design: Ivan Veljaca
Editing: Vladimir Gojun
Cinematography: Helene Louvart
Music: Evgueni Galperine, Sacha Galperine
Main cast: Gracija Filipovic, Leon Lucev, Danica Curcic, Cliff Curtis