A slow-burn psychological thriller set in the testosterone-filled confines of an old-style gym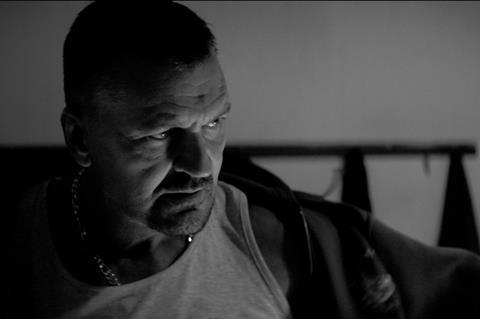 Dir/scr: Gerard Johnson. UK. 2019. 110 mins
Hyena director Gerard Johnson elbows into David Mamet territory with Muscle, a brooding, slow-burning psychological thriller steeped in toxic masculinity. Set in a gym culture dripping with testosterone, it is a study in opposites as a meek call centre worker falls under the spell of a domineering personal trainer.
There is a gloom that hovers over 'Muscle'
Committed performances from Cavan Clerkin and Craig Fairbrass help to sustain the premise but the relentless, oppressive immersion in macho swagger and misogyny may prove too much for some audiences although there are still enough provocative elements to provide a commercial future that seems likeliest to flourish on streaming services.
Filmed in black and white by Stuart Bentley, there is a gloom that hovers over Muscle. Bentley helps to anchor the story in plaintive images of abandoned beaches, factories and the outstretched arms of Anthony Gormley's Angel Of The North statue. Simon (Clerkin) works for a telesales company in Newcastle. His job is to follow leads and hustle individuals into buying things they neither need nor want (very Glengarry Glen Ross). Unhappy at work, Simon is equally unfulfilled at home. He is constantly rebuffed by his partner Sarah (Polly Maberly) who has been exploring job options in London.
Clerkin makes Simon a sympathetic figure. He creates a portrait of an ordinary man, aimless, powerless and ripe for change. His timidity suggests a person who is ready for someone else to take control of his fate.
Simon decides to join an old school, bodybuilding gym in the hopes of turning his soft belly and submissive attitudes into something tougher. He is approached by craggy, ex-army geezer Terry (Fairbrass) who sniffs his vulnerability like a dog in close proximity to a bone. "You need a little bit of guidance," he growls. "You wanna get big and you wanna get strong."
Soon, Simon has agreed to let Terry train him. He grows in size and confidence, gaining an aggressive edge at work. Clerkin really does seem to physically change before our eyes. The story develops in some ways that are grimly predictable, including the offer of steroids. Less predictable is the way that Terry insinuates himself into every aspect of Simon's life, controlling him and seeming to flirt with him. Simon's home is suddenly filled with alpha males snorting coke and using and abusing women. Most unsettling is the way Simon journeys from warily admiring his new best friend to almost becoming him.
The relationship between the two men has echoes of Harold Pinter's screen work (The Servant, Sleuth) mixed with a throwback feel of thrillers like The Hand That Rocks The Cradle and SIngle White Female, as Terry gradually reveals himself as the trainer from hell.
Fairbrass brings a sarcastic, sadistic arrogance to Terry and has the physical presence of someone who considers resistance to his demands as futile. When Simon hesitates over using steroids Terry barks: "I'm not asking you. I'm telling you." The tussle between the two men provides an intriguing exploration of conflicting notions of masculinity and what it takes to be a real man. None of it is pretty.
Production companies: Stigma Films, Hook Pictures, Logical Pictures, West End Films
International sales: West End Films info@westendfilms.com
Producers: Matthew James Wilkinson, Ed Barratt, Richard Wylie, Eric Tavitian, Fred Fiore
Prouction design: Bobbie Cousins, Helen Watson
Editing: Ian Davies
Cinematography: Stuart Bentley
Music: The The
Main cast: Cavan Clerkin, Craig Fairbrass, Polly Maberly, Lorraine Burroughs