A young woman explores her sexuality as Syria teeters towards war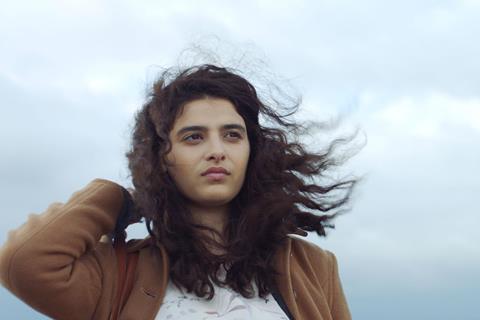 Dir: Gaya Jiji. France-Germany-Turkey. 2018. 95mins
In search of freedom in an oppressive society, a defiant young woman exerts her complex personality in a tottering-on-the-brink Damascus in My Favourite Fabric (Mon tissu préferé). This subtly devastating tale, which starts in March of 2011, is anchored by Franco-Lebanese actress Manal Issa who was also outstanding in Danielle Arbid's Parisienne. Where some may see hints of a 21st century Belle de jour and others will see traces of The One Thousand and One Nights, Franco-Syrian writer-director Gaya Jiji explores Middle Eastern notions of femininity and virility with frank and daring strokes, leavened by fantasy.
There's a strong feminine energy in most frames
Nahla (Issa) is more or less permanently disgruntled and who could blame her? She lives in a small apartment with her mother, relatively empty-headed sister Myriam (Mariah Tannoury) and smart, tomboyish youngest sister, Line (Nathalie Issa). Nahla and her mother are at odds and life in the cramped all-female household is stifling.
Nahla works as a salesgirl in a small clothing shop. She knows a lot about fabric and fashion, and also excels at showing contempt for prospective customers. Like any 25-year-old female, she's intent on exploring the sensual side of life, preferably with a partner who respects her. Fabric is her second skin, but she craves the control and abandon of her real skin on her own terms.
New neighbours move in two flights up. An intriguing middle-aged woman, Madame Jiji (Ula Tabari) seems to be the official resident. Nahla introduces herself to the mysterious new tenant and tries to determine what really goes on in her apartment. A bearded man in military camouflage attire is a steady visitor.
At home, an introduction is arranged between Nahla and Samir (Saad Lostan), a grown man who lives in North America but has come back to the country where he was born to find an authentic Syrian bride. The assumption is that Syrian women are submissive and virginal unlike Americans and Canadians.
Nahla doesn't just play hard-to-get – she is hard to get. She is so dismissive and off-putting that Samir ends up courting Myriam instead. This matters little to her mother, who just wants a family tie to somebody who can get them to safer ground abroad. A burdensome aura hangs over the proceedings except in radiantly lit dream sequences, the only setting in which Nahla is seen to smile.
There's a strong feminine energy in most frames yet the film is anything but girly or complacent. Commentary overheard on radio and TV hints at what we know but the characters can only guess – that Syria is headed toward horrible circumstances nobody would choose to endure. Used sparingly but with eye-jarring impact, archival scenes of explosions and urban terror, shot on video, are incorporated into the fictional narrative.
Production companies: Gloria Films, Katuh Studio, Dublin Films, Les Films de la Capitaine, Liman Film, ZDF
International sales: UDI Urban Distribution International sales@urbangroup.biz
Producers: Laurent Lavolé, Vanessa Ciszewski, David Hurst, Eiji Yamazaki, Nadir Öperli
Screenplay: Gaya Jiji in collaboration with Eiji Yamazaki
Production design: Nadide Argun
Editing: Jeanne Oberson
Cinematography: Antoine Héberle
Music: Peer Kleinschmidt
Main cast: Manal Issa, Ula Tabari, Souraya Baghdadi, Mariah Tannoury, Nathalie Issa, Saad Lostan, Wissam Fares, Amani Ibrahim, Metin Akdülger