A bold, experimental adaptation of the stageplay 'Dreamscape'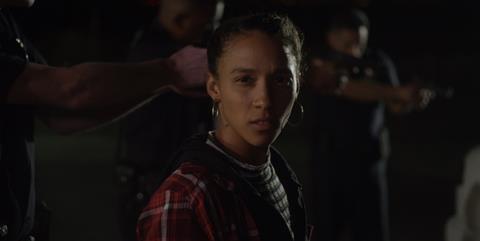 Dir. Gus Krieger. USA. 2018. 85 mins
It takes a while for this screen adaptation of a stage play to hit its groove. The first ten minutes are rather off-putting, hampered by over-stated performances and laboured direction. But once the story, which was inspired by real life shooting of Tyisha Mills by police, disengages from realism and spins off into playful fantasy, a crackling energy drives this far-reaching commentary on young black America.
A heartfelt protest against a culture which has turned the street into a battle line
Using beatboxing and rhyme to riff on everything from barbecue to tattoos to black women's relationship with their hair, the picture doesn't attempt to obscure its stage origins. Rather, it embraces theatrical devices – characters repeatedly break the fourth wall – while also utilising the skittish attention span and broader scope of cinema.
My Name Is Myeisha was adapted from the play Dreamscape by director Gus Krieger and playwright Rickerby Hinds, who also serves as a producer on this project. Partially funded by a kickstarter campaign, it's a boldly experimental project which, with its slam poetry-infused lyrical assault and its hip hop rhythms, presents something of a marketing challenge. What's not in question is the timeliness of the material: although the story unfolds at the end of 1998, the pivotal event – the shooting of a young African American woman by the police – is one which will resonate the current generation just as surely as it will with those who lived through the 90s. It's a film which might work as a discussion point in events targeting urban and teen audiences; it could also connect with a receptive audience through VOD platforms.
Rhaechyl Walker, a former student of Rickerby Hinds, reprises the role she first took on in the stage play. She is forcefully charismatic as Myeisha, delivering a performance which is admittedly more assured with the physical element of the role – Walker is required to dance and to enact a fantasy cheerleading sequence – than the more conventional acting element. Myeisha is a mercurial teenager who bristles with attitude and confrontational swagger. Walker, although older than the character she plays, effectively conveys the pinballing energy and jostling ideas as time slows down in the final moments of Myeisha's life and we get a whistle-stop tour of her abrasive, multi-faceted personality.
Almost as key as Walker in the success of the film is John Merchant, taking on multiple roles. Employing beatboxing skills and an arresting baritone, Merchant plays the policeman who opened fire and the coroner who talks us through each of the twelve bullet wounds sustained by Myeisha, as well as other peripheral characters.
The design of the film accentuates the theatrical elements of material with striking, strident lighting and brash staging. It makes sense: to survive on the streets of Riverside, California, Myeisha is constantly acting a role. Unfortunately, the role that she has chosen requires a gun as a prop, a decision which places her in the crosshairs of a cop with a twitchy trigger finger. From an uncertain start, the picture gathers momentum, ultimately delivering both a fleshed out portrait of a complex young woman and a heartfelt protest against a culture which has turned the street into a battle line.
Production companies: Echowolf Productions
International sales: Gerren Crochet, Gersh Agency, gcrochet@gersh.com
Producers: Paulette Brown-Hinds, Rickerby Hinds, Gus Krieger, Joshua Bunting, Carl Lucas, Robert Dehn, Michael Glassman, Scott G. Hyman
Screenplay: Rickerby Hinds, Gus Krieger
Production design: Drina Durazo
Editing: Matthew Herrier
Cinematography: Jeff Moriarty
Music: James Raymond
Main cast: Rhaechyl Walker, John Merchant, Dominiques Toney, Dee Dee Stephens, Rickerby Alexander Brown-Hinds