Back to your desks, with Alan Cumming and Jono McLeod taking a class in deception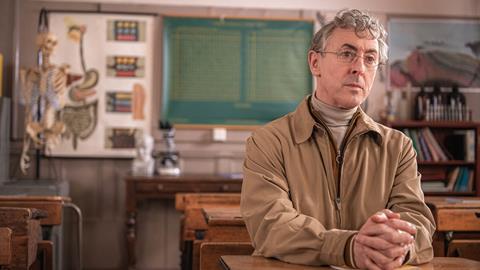 Dir. Jono McLeod. UK. 2022. 104 mins.
Taking us back to a Glasgow time bubble of 1993, Jono McLeod recreates the story of Scotland's infamous teenage trickster 'Brandon Lee' - who happened to be classmate of his at Bearsden Academy. This doc/animation hybrid is an eccentric little gem of a story, a tall tale told with irreverent cheer and considerable charm. Chief amongst its many attractions is the actor Alan Cumming, lip-syncing to an audio tape and delivering a performance that is quite uncanny.
A unique meld of storytelling, grafted together to build a well-timed tale.
While it's possible that the name of Brandon Lee - not the late film star son of Bruce - might stir some memories in the UK, most audiences will come relatively fresh to this story and roll with its tidal waves of surprises (most of which are, admittedly, quite heavily signposted). Brandon arrived at the school straight from a private education in Canada after his opera singing diva mother was killed in a car crash. Strange, yes. But isn't everything when you're that age? Most teenagers are a mix of blithely accepting and outrageously paranoid, suspecting their teachers of all sorts of plotting and nefarious derring-do, but happy enough to welcome an older-looking 16 year-old with a leather satchel and buttoned-up blazer into their midst without too much comment.
McLeod gathers them all, his classmates and teachers alike, and puts them back in school to tell the story. You can almost see them regress as they sit in friend groups and remember their late teens when that strange character first walked into the classroom. McLeod extracts much wry amusement from his scenario, using a blend of sweet, old-fashioned 2D animation, period footage, recollections - and Cummings' uncannily brilliant performance, sitting behind a desk himself. An appealing highlight of Sundance's factual premieres, My Old School seems set for a rosy future, at least in the UK - the question of which medium will be the challenge for its sellers and buyers alike.
Determined to get into medical school, Brandon was knowledgable beyond his years — something that thrilled his professors. And even though he was an unusual addition to the classroom, his uncanny knowledge of retro bands stood him in good stead with his peers. Brandon spent two years at Bearsden Academy, the highlight of which was his star turn in a school production of 'South Pacific' - fortunately, McLeod even has footage of the show which brings the suspense to a climax. It's where you first see Brandon's face. Because even though he has agreed to give his testimony here, Brandon won't appear before the camera, which is why Cumming subs for him. McLeod does eventually, and finally, unmask Brandon, but by then, it's almost beyond the point.
McLeod, an experienced hand in the TV and documentary world, has concocted a unique meld of storytelling, grafting it together to build his well-timed tale. The combination of media gives My Old School a satisfyingly picaresque, almost puppy-ish feel - it really captures the teen spirit, but he grounds it with strong details of the environment at Bearsden Academy. Coupled with music of the era and redolent voices (Lulu and Clare Grogan also feature), My Old School pushes audiences to contemplate all aspects of this bizarre scam, a sort-of victimless crime - until you consider who really got hurt, and who is still wounded.
Production companies: Hopscotch Films
International sales: Dogwoof
Producers: John Archer, Olivia Lichtenstein
Screenplay: Jono McLeod
Cinematography: George Geddes
Editing: Berny McGurk
Music: Shelly Poole