Dir: Nicholas Stoller. US, 2016, 92 mins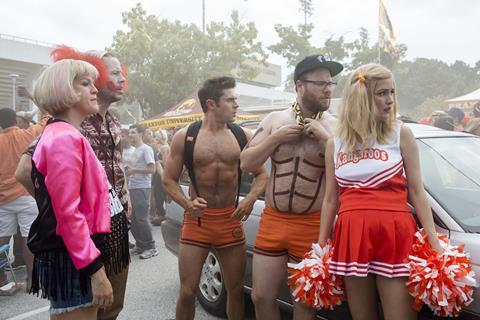 Holding out the promise of guilty low-brow pleasure - a collision of Bad Neighbors with Pitch Perfect, marrying both viewing demographics in box office harmony – Neighbors: Sorority Rising turns out to be an uneasy watch, awash with unconvincing performances, unfunny stereotypes, and dubious gross-out gags. Its chief pleasure turns out to be Zac Efron, who delivers a sweet-natured turn as ageing dim-wat, little-frat-boy-lost Teddy, back from the original film to torment Seth Rogen and Rose Byrne again as they try to sell their house.
There's some vague, muddled message in Bad Neighbors about female empowerment, but the film is so blisteringly sexist it burns everything else off in its wake.
Efron delivers another mostly shirt-less performance, but the actor's abilities as a physical comedian generate some of the film's laugh-out-loud sequences. Opening in the UK and selected European territories this weekend before a May 20 US launch, Neighbors 2: Sorority Rising may be challenged to match the $150m domestic tally of the original, but should rustle up good business on VOD and in the inevitable boxed-set.
Neighbors 2: Sorority Rising is blinkered in its focus on being provocative on all fronts, an equal-opportunity bad-taste offender. Thus it delivers gags which include toddlers who carry dildos around as toys, sorority sisters who deploy used tampons as weapons, and feeble Jewish jokes which come out of nowhere to die excruciatingly onscreen (if you're going to make a joke about ovens, it should at the very least be funny). It delivers a half-hearted stab at female empowerment by establishing a "house of united women" sorority Kappa Nu to move into Teddy's old frat-house, but makes them even more stupid than Tedddy, who can at least count. Even worse, they're a little dull.
The film starts out promisingly, with Mac (Rogen) and Kelly (Byrne) discovering the hard way that they are about to have a second child. They're selling their house to a mixed-race couple, who have a 30-day escrow period in which to pull out. Meanwhile, Teddy is having a "quarter-life crisis". His employers at Abercrombie & Fitch are insisting he covers his still-ripped abs, and his Delta Psi best friend and room-mate Pete (Dave Franco) is about to be married - to a man – and wants him to move out. (Neighbors 2 is confident when it comes to the whole gay marriage issue, even as it stumbles elsewhere.) Traumatised, Teddy runs away to the scene of his heyday, the old frat-house.
Meanwhile, college freshman Shelby (a miscast Chloe Grace Moretz) has decided to start up a new sorority which isn't prissy, like that run by Selena Gomez, but can party as hard and smoke as much weed as the frat boys - although not with such a "super-rapey" vibe.
All well, good, and even funny – up to a point. That seems to be where Kappa Nu moves in next door to Mac and Kelly, who are shocked, like Teddy, to realise they're now the boring "old people". Bad Neighbors then starts to lose itself a little. Kappa Nu members are so dim, Teddy has to show them how to run a party, and they can't even do the sums to pay the rent. Shelby's new best friends Beth (Kiersey Clemons) and Nora (Beanie Feldstein) are bland and unfunny, although they're not quite as stupid as Kelly's best friend, who doesn't even know when she's having a baby. There's some vague, muddled message in Bad Neighbors about female empowerment, but the film is so blisteringly sexist it burns everything else off in its wake.
With Moretz and the usually-dependable Rose Byrne struggling with their under-written roles, it's clear where the writers' sympathies really lie - with Zac Efron in particular, and Seth Rogen as his sidekick, who take up where they left off in the original and their shtick is dependably funny. A tailgate party/weed heist gives the duo an opportunity to show their goods - in Efron's case, his abs - although one of the biggest comic threads, involving misplaced text messages, doesn't make much sense, either literally or comically.
Cameos include Gomez, Lisa Kudrow as a hard-assed college principal, and Kelsey Grammer as Shelby's dad. But Teddy has the best lines here ("there's no I in Sorority," he declares), and Efron makes the most of the opportunity. Now aged 28 himself, the actor has struggled to come of age on-screen, but Bad Neighbors bodes well for as bright a future as Teddy niftily manages to achieve for himself here.
Production companies: Point Grey Pictures, Good Universe
Worldwide distribution: Universal Pictures
Screenplay: Andrew Jay Cohen, Brendan O'Brien, Nicholas Stoller, Seth Rogen, Evan Goldberg
Producers: Evan Goldberg, Seth Rogen, James Weaver
Executive producers: Joseph Drake, Ted Gidlow, Nathan Kahane, John Powers Middleton, Brendan O'Brien
Cinematography: Brandon Trost
Production design: Theresa Guleserian
Editors: Zene Baker, Peck Prior, Michael A. Webber
Music: Michael Andrews
Casting director: Francine Maisler
Main cast: Seth Rogen, Rose Byrne, Zac Efron, Chloe Grace Moretz, Kiersey Clemons, Beanie Feldstein, Dave Franco, Lisa Kudrow, Selena Gomez
Main cast: Seth Rogen, Rose Byrne, Zac Efron, Chloe Grace Moretz, Kiersey Clemons, Beanie Feldstein, Dave Franco, Lisa Kudrow, Selena Gomez