A spotlight on Riga's rave scene through the eyes of a sheltered young girl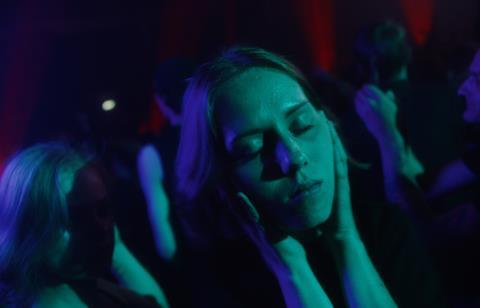 Dir: Matiss Kaza. Latvia. 2022. 102 mins.
A young Latvian woman experiences the ecstasy and agony of her local rave scene in Neon Spring, a lowkey coming-of-age picture whose modesty is both a virtue and a limitation. Marija Luize Melke is appealingly enigmatic as a 20-year-old woman at a crossroads, trying to find herself while holding together her splintering family. Director and co-writer Matiss Kaza travels familiar terrain, avoiding melodramatic flourishes and cautionary-tale handwringing, and yet the film ends up being so muted that the story can't quite distinguish itself among the many entries in this well-worn genre.
Kaza constantly pushes back against the cliches inherent in his setup.
Premiering at the Edinburgh Film Festival, Neon Spring is 26 year-old Kaza's fourth fiction feature — his third, the single-take satire The Taste Of Water, was released earlier this year — and his new picture's accessible narrative and rave-culture backdrop could help court international attention. (Magnolia picked up worldwide rights in the past week.) That said, Neon Spring's restrained tone may well limit its commercial prospects, with at-home viewing just as likely as theatrical.
Melke plays Laine, the spiritual centre of her fairly-well-to-do family. Her father is emotionally distant, while her mother is geographically far away, forcing Laine to be the sole support system for her younger brother Budzis (Timotejs Pelle Kalnins), whose acting-out at school appears to be a byproduct of their parents' disintegrating marriage. But this mild-mannered woman finds unexpected respite once she's invited to Riga's underground rave scene, where she befriends the more outgoing Gunda (Greta Trusina).
Soon, Laine discovers a sense of community — and escape — dancing along to techno's entrancing groove, and just as quickly audiences will be able to guess where Neon Spring is headed. The euphoria of new love and the thrill of illicit drugs are a potent mixture for our sheltered protagonist, but Kaza constantly pushes back against the cliches inherent in this setup.
He's aided by co-writer Melke, whose performance is constantly (and intriguingly) withdrawn, never letting us fully grasp how Laine is processing this potentially more exciting life. Naturally, there are pitfalls along the way — stories about characters experimenting with cocaine rarely turn out well — but what Neon Spring never forgets is that, for young people, those heady first encounters with the unsupervised adult world are as confusing as they are exhilarating.
Melke incorporates an unvarnished, handheld style, although he resists overdoing the gritty realism, instead letting Laine's odyssey feel like it's progressing organically, rather than being dictated by the director. A tentative fling between Laine and Gunda is treated with the same of matter-of-factness as Laine's growing concern for her brother, who seems even more cut-off from the world than she does — and struggling mightily as a result. Even when Laine has occasion to explode, Neon Spring is so sensitively rendered that the big dramatic moments eschew histrionics. The picture is steadfast in its belief that there's nothing especially remarkable about Laine — but that she, like so many impressionable young people, eventually has to integrate her own desires with the life that her parents have constructed for her.
Unfortunately, the picture's quiet thoughtfulness can't fully distract from what's predictable about this slight saga. Whether it's the bone-dry visual approach or the ominous foreboding as Laine becomes more enmeshed in the rave scene's sex-and-drugs environment, Neon Spring telegraphs its intentions early on and then never really deviates from that predetermined course. Laine feels trapped inside her unhappy family, but she's also shackled a bit by Melke's unsurprising twists and turns. The techno music Laine comes to love serves as a way for her to transcend her circumstances, but the film itself ends up feeling a little too tied to the ground.
Production companies: Deep Sea Studios, Trickster Pictures, Fenixfilm
International sales: Magnolia Pictures International, ltorres@magpictures.com
Producers: Matiss Kaza, Dace Siatkovska, Una Celma
Screenplay: Marija Luize Melke, Matiss Kaza
Cinematography: Aleksandrs Grebņevs
Production design: Rudolfs Baltins
Editing: Paula Popmane
Music: Toms Aunins
Main cast: Marija Luize Melke, Greta Trusina, Gerds Laposka, Agnese Ruksane, Janis Skutelis, Matiss Ozols