Three oprhan boys band together in Syria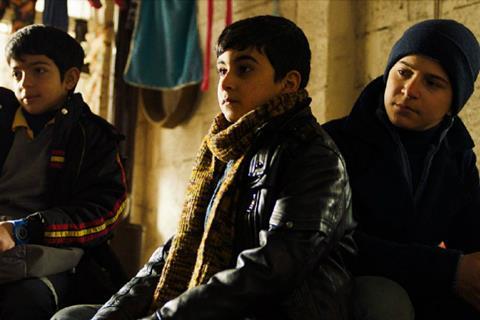 Dir: Aida Begić. Turkey-Bosnia and Herzegovina. 2017. 97 mins
Fourteen-year-old Isa is mourning his mother's recent death and is stonily determined to make a go of things on his own. Ahmad, 11, fills the space left by his missing father with a torrent of hyperactive chatter. And ten-year-old Motaz plans to enter a talent competition in the hope that his mother will see it and invite him to live with her again. The three boys, all refugees, find themselves in an orphanage for displaced Syrian children in Şanliurfa, Turkey. With little in common except loss, they are forced look out for each other in this heartfelt, but disjointed third feature from Bosnian director Aida Begić.
With real-life Syrian refugees in the key roles, authenticity is not an issue here
The film represents familiar territory for Begic: all three of her films have dealt with the legacy of war. Snow (2008) looked at the aftermath of conflict through the eyes of the women left behind, and 2012 Cannes Un Certain Regard special jury prize winner Children of Sarajevo shares with this latest picture a focus on young people. Never Leave Me screens in Sarajevo already well into its festival run, and theatrical prospects are limited; not least by the fact that it bears thematic similarities with Nadine Labaki's higher profile and more commercially focused Capernaum.
With real-life Syrian refugees in the key roles, authenticity is not an issue here; although performance quality sometimes is. The three central boys, however, are persuasive throughout. We first meet Isa (Isa Demlakhi) at his mother's graveside where he is collected by a dishevelled aid worker whose job it is to transfer him to his new home. That home – an orphanage run on a shoestring by a group of women – comes with a set of rules. School attendance is mandatory. Fighting is forbidden. Bunking off and hawking packs of tissues around the tourist sights is certainly against the rules. But Isa breaks all of these and more in a matter of days. Unwillingly at first, Isa takes the other two boys under his wing and they try and raise money together.
A repeating musical motif – a melancholy piano melody – is an attempt to give the picture a coherence which is lacking elsewhere. The central core of story of the three boys is surrounded by numerous threads which never seem to fully knot together. Tuka, a girl from the orphanage, is preoccupied with buying a racing pigeon but, when she finally raises the money, the bird refuses to fly. A teenage girl who sings for money on the street has a combative relationship with a homeless child who scrabbles together a basic subsistence by stealing. But when he drowns, she is the only one who notices or cares. Everyone, from Isa to Doaa, the woman who runs the orphanage, is permanently in debt.
The film is not without moments of real power – Motaz's attempt at singing in the talent show, for example, is devastatingly sad. But the disconnected storytelling prevents the film from building to the emotional climax that it might otherwise have achieved.
Production company: Beşir Derneği, Film House Sarajevo
Contact: besir@besir.org.tr, info@filmhouse.ba
Producers: Aida Begić, Adis Đapo, Seyyid Muhammed Emin Elhüseyni
Screenplay: Aida Begić
Production Design: Mirna Ler
Editing: Redžinald Šimek
Cinematography: Erol Zubčević
Music: Igor Camo
Main cast: Isa Demlakhi, Ahmad Husrom, Motaz Faez Basha, Carole Abboud, Tuka Na'al, Mehmet Usta, Ossama Mahmud Himeli