Michel Franco's dystopian howl is dynamic cinema which takes no prisoners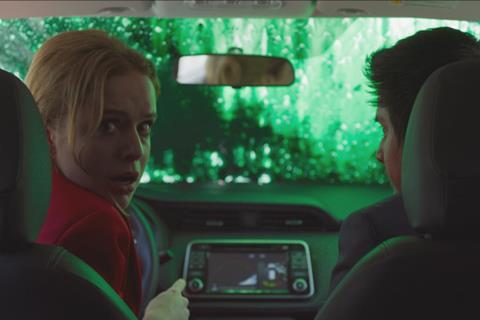 Dir/scr. Michel Franco. Mexico/France. 2020. 86 mins.
Nothing Michel Franco (After Lucia, Chronic, April's Daughters) has made up to now would prepare the viewer for the 86-minute dystopian howl that is New Order, although the question of whether it is entirely dystopian, having been made in the narco zone of today's Mexico, is debatable. The twisting rage and bewilderment of a divided populace ravaged by open street warfare and endemic corruption brings to mind elements of the early work of Costa-Gavras, or even Michael Haneke, but New Order is also very much its own beast, defying narrative conventions to present a glossily blood-spattered street-level view, albeit an artfully composed one. There's a disconnect to the action/reaction which makes Franco's film seem almost allegorical at times. New Order is not the place to look for heroes, any more than today's world seems to be.
Franco adds fast-moving handheld camerawork to his classic, inviting style – but it's the content that surprises.
Marked as a 14+ for its Venice outing, New Order may split audiences who require a more conventional approach, but this is dynamic cinema which takes no prisoners outside the hostages on screen: loud and violent, it lures the viewer into a place where there can be no bystanders. In that way, it's quite magnificent – an outlet for those boiling in our times. You don't have to live in Mexico to feel the rage - as the gilet jaune movement in France indicates - but whether you want to descend into Franco's stressful societal eruption is another question. Widely sold prior to its Venice premiere and TIFF and San Sebastian follow-ups, this is a big-screen proposition.
Franco, who wrote the piece himself, adds fast-moving handheld camerawork to his classic, inviting style – but it's the content that surprises. He pounds the film open with flashes from a hospital ward where patients are being forcefully removed. Victims drip in vivid green paint and there's a nightmarish view of dead bodies, a flash of a woman standing naked and defenceless. Mexico City has been seized by a violent uprising. Amid the chaos and looting, we move to a society wedding in an upmarket house in the suburbs where "los putos ricos", as the graffiti has it, live. Bride Marianne (Naián González Norvind) has chosen an Almodovarian red velvet pantsuit for her big day. Her mother is anxious that the judge hasn't arrived to perform the ceremony; some guests burst through the doors, daubed in green paint, and the house is heavily guarded by armed private security.
Not too much is spelled out, but the viewer can feel the coup moving closer as Marianne receives packets of money from invitees, including her father's politico friends. The social whirl spins and the champagne and canapes flow, but there are nervy cracks at the corners. Younger guests take drugs; references are made to bribes and property developments amongst the older attendees. The indigenous staff in the kitchens are divided between those who are content to serve their Anglo masters and some who want what they have. When a desperate former employee of the family arrives to ask for money for his wife's operation – herself also a former servant – he is refused by all except the soft-hearted Marianne.
The screen fades to black.
What happens next is a tense, stressful cacophony of barking dogs and crying children – kidnapping, double-crossing, mass rape and indiscriminate murder, that could hail from Kubrick's A Clockwork Orange. It feels as if New Order has come from a place where the disenfranchised have been betrayed so wholly – those who know militias, curfews, crooked police forces, the manifestation of a police state and levels of corruption which are so incoherent there's no explaining anything away, no point in a plot or good guys. And in 2020, that place is growing.
What's so eerie about Franco's film is how classically he frames it, despite all that chaos and noise. There's no visual disintegration to accompany the rot, but a firm control of the narrative which echoes that of the malign forces which have prompted it.
These events take place in a deliberately-framed world, presided over hauntingly by the giant Mexican flag which ushers in the end credits, revealing that the film was inspired by a painting called 'Only The Dead Have Seen The End Of War'. Franco's story is also an essay with a powerful message: you may not like it, but if things don't change, you'll be living in it soon enough.
Production company: Teorema, Les Films D'Ici
International sales: The Match Factory, info@matchfactory.de
Producers: Michel Franco, Cristina Velasquez L., Erendira Nunez Larios
Screenplay: Michel Franco
Cinematography: Yves Cape
Editing: Oscar Figueroa, Jara Michel Franco
Production design: Claudio Ramírez Castelli
Music:
Main cast: Naián González Norvind, Diego Boneta, Mónica Del Carmen, Fernando Cuautle, Darío Yazbek, Eligio Meléndez