A familiar dystopian tale is given a compelling indigenous twist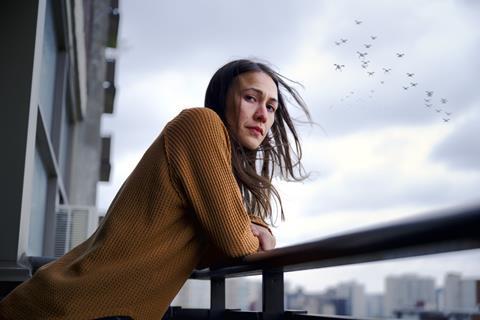 Dir/scr: Danis Goulet. Canada/New Zealand. 2020. 97mins.
The dystopian sci-fi drama is approached from a fresh perspective in Night Raiders, a deeply-felt parable about the eradication of indigenous North Americans. Writer-director Danis Goulet's feature debut is often more thoughtful than it is riveting, utilising familiar elements for a story of a mother desperate to rescue her 11 year-old daughter who has been shipped off to a state-run academy to be assimilated. Working impressively with a low budget, Goulet capably produces an atmosphere of melancholy and societal decay, even if her plotting isn't quite as nimble as her political commentary. Night Raiders is part of Berlin's Panorama section, where its recognisable genre trappings could make it an attractive offering for subsequent festivals. Oscar-winner Taika Waititi's involvement as executive producer should only further boost visibility.
A pointed commentary helps enliven a film that otherwise faithfully adheres to audience expectations.
Elle-Maija Tailfeathers plays Niska, who fervently protects her daughter Waseese (Brooklyn Letexier-Hart) during a bleak near-future in which children must report to boarding schools that will train them to be soldiers. Night Raiders teasingly reveals details about its world in dribs and drabs, but soon we become aware that a massive war recently devastated North America, with the winning side setting up a wall and forming a totalitarian government keen to indoctrinate young people into its philosophy.
Niska safeguards her child from this fate by hiding out in the woods, but after Waseese is seriously injured, she has no choice but to let government troops capture her so that she can receive proper medical care. Niska's only hope to free Waseese is to team up with a First Nations rebel group, known as the Night Raiders, which is determined to spirit the next generation far away from the clutches of this cruel regime.
Goulet gives us a world of dilapidated high rises, grey clouds and war-torn despair as robot drones relentlessly patrol the skies looking for children. (The film's occasional special effects are deftly executed.) On its surface, Night Raiders isn't appreciably different from dozens of other dystopian pictures concerning authoritarian governments that must be overthrown, but soon the filmmaker introduces a metaphor for cultural erasure that gives the proceedings a provocative twist. Part of the Indigenous Cree people, Niska is embraced by the Night Raiders, who view this new regime not just as evil but the latest example of outsiders trying to colonise their land. Similarly, Waseese's stint in the academy isn't simply a training ground to mould her into a warrior — the all-white leadership renames the girl Elizabeth as part of a program to Westernise her.
This pointed commentary helps enliven a film that otherwise faithfully adheres to audience expectations. Collaborating with cinematographer Daniel Grant, who also serves as camera operator, Goulet isn't as confident when it comes to crafting suspense sequences, and the story's finale, which finds Niska and her cohorts breaking into the academy, is fairly pedestrian. So it's important that Night Raiders possesses this emotional undercurrent, which keeps the viewer invested in this mother's frantic quest to save her daughter — and, by extension, preserve part of her people's heritage.
Refreshingly, Tailfeathers doesn't portray Niska like the typical kinetic action heroine. Overwhelmed and exhausted from protecting her child for so many years, the character can be indecisive, particularly when she chooses to let Waseese be apprehended. Tailfeathers' young costar Letexier-Hart underplays her role, which especially helps when it's revealed that Waseese has developed a mysterious power — a sci-fi trope that feels fanciful in this otherwise stripped-down story. Alex Tarrant exudes charisma as a dashing rebel leader, while Amanda Plummer portrays another mother who's lost her child and, therefore, is more than qualified to commiserate with Niska's anguish. The supporting cast brings added resonance to a narrative that uses our awareness of its genre conventions to raise awareness of the oppression and destruction of indigenous people that has been orchestrated for centuries — long before dystopian fiction like Night Raiders became fashionable.
Production companies: Alcina Pictures, Uno Bravo, Miss Conception Films, Whenua Films
International sales: XYZ Films, todd@xyzfilms.com
Producers: Danis Goulet, Tara Woodbury, Paul Barkin, Ainsley Gardiner, Georgina Conder, Chelsea Winstanley
Production design: Zazu Myers
Editing: Jorge Weisz
Cinematography: Daniel Grant
Music: Moniker
Main cast: Elle-Maija Tailfeathers, Brooklyn Letexier-Hart, Alex Tarrant, Gail Maurice, Violet Nelson, Shaun Sipos, Amanda Plummer