Dir: James McTeigue. US. 2009. 99 mins.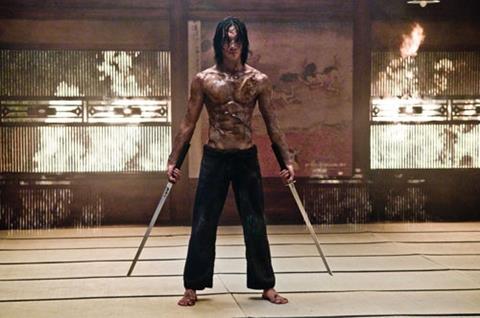 Somewhat unsurprisingly, given the straightforward nature of its title, bloody action flick Ninja Assassin has a boilerplate revenge narrative which closely tracks similar features (and their parodies).. Thus, despite providing ample showcase for balletically staged arterial sprays and dismemberments, this emotionally leaden genre offering never escapes a sense of mocking déjà vu for savvy viewers.
From its title on down, Ninja Assassin is not a movie of much nuance or subtlety.
Mid-seven-figure returns seem the ceiling for this sort of graphic R-rated fare, as previous releases including Jet Li's Unleashed and Cradle 2 the Grave have both borne out, each splitting their $50 million-plus grosses almost evenly between domestic and foreign receipts. The international flavor of its cast could boost Ninja Assassin's returns in Eastern territories, and a general lack of holiday genre competition could also assist its theatrical prospects. But a lack of other memorable elements won't help its ancillary value.
Plucked from the streets as a child and brutally trained as a killer by the shadowy Ozunu crime syndicate, Raizo (Rain) is now one of the deadliest assassins in the world. When the Ozunu boss (Sho Kosugi) cuts down his friend, though, Raizo breaks free and prepares to exact his revenge.
In Berlin, meanwhile, Europol agent Mika Coretti (Naomie Harris) stumbles upon a financial link between several gruesome political murders and an underground network of assassins. This brands her a target of the Ozunu, who send Raizo's lethal mentor, Takeshi (Rick Yune), to silence her. Raizo saves Mika, and the duo then pair up, working together to try to bring down the Ozunu clan.
From its title on down, Ninja Assassin is not a movie of much nuance or subtlety. But almost from the get-go, the enthusiastic over-application of CG technology to the martial arts genre robs the material of some of the whiz-bang wonderment that marks the best work of stars like Jackie Chan and Jet Li. The film's animated emphasis on bloodiness, which McTeigue embraces over any legitimate attempt at spatial coherence, is misguided from the standpoint of any emotional investment.
Technically, in terms of choreography, editing, sound design and music, the violence on display is staged for maximum cathartic effect, if frequently dubious narrative plausibility. Shades of grey dominate and overwhelm the color palette, robbing the movie of a chance to make anything special of its Berlin setting, where a good portion of the action takes place.
Harris manages to power through chunks of investigatory exposition without embarrassment, but erstwhile pop star Rain (Speed Racer) registers faintly. While he's lithe enough to set female hearts aflutter (and often shirtless too), this isn't a typical pin-up role, and he possesses neither the pure athletic showmanship of Chan or raw charisma of Li.
To sign up for Screen's weekly Reviews Newsletter with all the week's new releases, international openings and full festival reviews delivered free to your mailbox every Friday, please click HERE
Production companies
Legendary Pictures
Dark Castle Entertainment
Worldwide distribution
Warner Bros.
Producers
Joel Silver
Andy Wachowski
Larry Wachowski
Grant Hill
Screenplay
Matthew Sand and J. Michael Straczynski, from a story by Sand
Cinematography
Karl Walter Lindenlaub
Production designer
Graham Walker
Art director
Sebastian Krawinkel
Editors
Gian Ganziano
Joseph Jett Sally
Music
Ilan Eshkeri
Main cast
Rain
Naomie Harris
Ben Miles
Rick Yune
Sho Kosugi
Stephen Marcus
Wladimir Tarasjanz
Sung Kang
Guido Foehrweisser