A case of amnesia rewrites the past in this surprising Scottish Highlands romance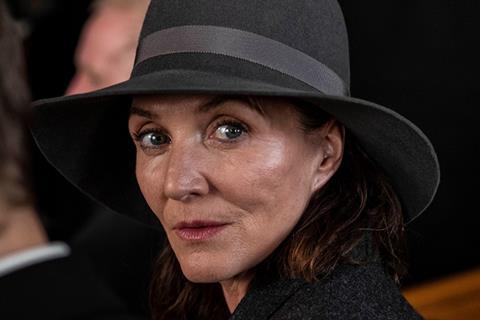 Dir: Bouli Lanners. Belgium, UK, France. 2020, 99mins
Love moves in mysterious ways throughout Nobody Has To Know. Director Bouli Lanners confidently navigate a tale of guilty secrets, regrets and longing to deliver a quietly touching, unabashed weepie. A radiant performance from Michelle Fairley and the beauty of the Scottish islands of Harris and Lewis should deepen the film's appeal, especially to older audiences and true romantics.
Retains its hold and credibility thanks to the sincerity of the filmmakers and the conviction of the performances
Belgian farmhand Phil (Lanners) appears to have exiled himself to a remote Scottish island. Cinematographer Frank van den Eden contrasts views of charcoal mountains and slate grey waters with empty, bleached white beaches. This is a windswept, God-fearing community where life revolves around hard graft, Sunday worship and nights at the pub. People tend not to ask awkward questions.
Phil is an outsider, but one who has been welcomed into the community. By contrast, estate agent and farmer's daughter Millie (Fairley) is an outsider to her own people. Her aloof manner has earned her the nickname of the Ice Queen. We first see her on a Sunday as she dresses for church; she wears black, tightly lacing up her boots and fastening a starchy white blouse. Her look is severe and she is quite literally buttoned up.
When Phil suffers a stroke and is airlifted to hospital, Millie seems particularly concerned. Secrecy is her comfort zone but the catch of her breathe and the anxiety in her eyes is revealing. Phil returns to the island with no physical impairment but an amnesia that might only be temporary. Millie's nephew Brian (Andrew Still) jokes that Phil has become their Jason Bourne and will need help to piece together his past. Millie tries to reach out to him but he retains no memory of her. "Why do I live on this island?" he asks. "Do I have any other friends?"
Phil is lost in a fog of bewilderment, while Millie is crippled by uncertainty. Should she mention that they were more than friends? Can she hope to rekindle a secret love that now seems lost? There are echoes of heart-tugging Hollywood weepies in Millie's dilemma; Random Harvest (1942) and An Affair To Remember (1957) particularly come to mind. Yet Nobody Has To Know goes beyond those melodramatic roots to explore a more measured, complex story of how to escape the straitjacket of a settled past to create a future based on a more honest understanding. Side shoots of the story convey the family circumstances that have shaped both Phil and Millie, with Julian Glover co-starring as her dour, taciturn father Angus.
A plot peppered with revelations and twists could be hard to swallow, but retains its hold and credibility thanks to the sincerity of the filmmakers and the conviction of the performances; the fact that both central characters are in their fifties lends an extra poignancy to the story. Fairley makes a luminous Millie, her features visibly softening under the warming influence of love. Frequent close-ups of the subtle emotions that flicker over her face convey more than any dialogue how much this relationship matters and how she has come alive.
Alongside her, Lanners gives an understated, delicately pitched performance as someone ready to take what might be a last chance to salvage something worthwhile from a lifetime of flight and regrets. The chemistry between them is what makes this heartfelt love story fly.
Production companies: Versus Productions, barry crerar, Playtime, Prime Time, RTBF
International sales: Playtime info@playtime.group
Producer: Jacques-Henri Bronckart
Screenplay: Bouli Lanners
Cinematography: Frank van Den Eeden
Editing: Ewin Ryckaert
Production design: Paul Rouschop, Julien Denis
Music: Pascal Humbert, Sebastien Willemyns
Main cast: Michelle Fairley, Bouli Lanners, Andrew Still, Julian Glover, Clovis Cornillac