Starring Frances McDormand, Chloe Zhao's poetic migrant worker drama holds a mirror to society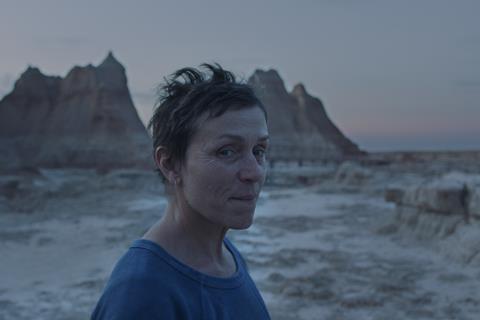 Dir. Chloe Zhao. US. 2020. 108 mins.
You know it's a rare year when a small, gentle indie film set in the American West about a 61-year-old woman (Frances McDormand) living in a camper van becomes an urgent must-see. Yet it's extraordinary how a work like Nomadland can hold a mirror to society and refract back to the audience the light of their own lives. Viewing it right now, Chloe Zhao's poetic film has real significance in the era of Covid-19 and the army of low-wage workers it will displace and perhaps kill, in one way or another. But there's more to it than that. Nomadland's clarity of thought on the concept of home, the environment, on women, on the elderly in society, on the very idea of human kindness, make this film much more than a passing moment.
Nomadland is, above all, wise in its stance on humankind and the land from which we take sustenance.
McDormand leads the story of a solitary migrant worker with formidable acuity, modulating her performance to the non-trained support cast in a remarkable way. Nomadland is, in some ways, a significant departure for Zhao, the lauded director of indie gems Songs My Brothers Told Me and The Rider. It's her first time to adapt a book, or to work with an experienced actor. But the keen appreciation shown by Zhao and key collaborator Joshua James Richards (camera, production design) for today's American West and the people who forge a life so connected to the land remains a constant.
In a way, Nomadland is the inheritor of Steinbeck's dust bowl, if lacking any similar catharsis, being a simple tapestry of events which take place over the course of a year on the road through South Dakota, Nebraska and Arizona. Times are tough, on-screen and off, but expect to see this in cinemas and on year-end 'best of' and awards lists, should such a thing remain. It's an admirable project for a studio to have backed, via Searchlight, now folded into Disney. But that powerful backing may ensure its survival, and eventual success.
McDormand's Fern is no victim here: she has options, even if none of them are appealing. After her husband's death and the closure of the gypsum mine in Empire, the rural Nevada town in which she lived and worked, she could have stayed with her sister. The end of the mine has taken the town with it: Empire is empty, abandoned, gone, even the post code has vanished. Fern has no children and clearly, not much in the way of savings or security either. So the life that she knew has disapeared. Her non-verbalised decision is to retrieve the bare essentials from her snowy lock-up and take her tiny Ford Econoline van, which she affectionately calls Vanguard, on the road. First stop is a vast Amazon fulfillment centre, where she takes seasonal work as a sorter over a festive season which is far from traditionally cheery.
The source material for Nomadland, Jessica Bruder's book of the same name, was a work of investigative journalism, with the writer spending a year both inside America's growing nomad community and also undercover working at one of Amazon's huge centres. The authenticty of her work is reflected in Zhao, producer McDormand and their team's attitude to the film-making process: a tiny crew, natural light where possible, a quasi-documentary feel to an intimate story of life on the road.
Money is tight and Fern is proud and stubborn. The interior of the warehouse seems as large and anonymous as the empty land which surrounds it, but she finds a camaraderie in fellow workers, in particular, Linda May, who leads Fern to Bob Wells, a YouTube guru on the practicalities of van living whose Rubber Stamp Rendezvous now attracts thousands of travellers annually. These, like a woman Fern meets on the road called Swankie, are real people who have either opted or been forced to live their lives on the road with no security net – apart, but not alone. They live on the kindness of others, whether that be a parking space, help with a blown-out tyre, barter or even just free wisdom. Because Nomadland is, above all, wise in its stance on humankind and the land from which we take sustenance.
Outside Fern's van, from the Dakota Badlands to the Pacific Northwest, the world is huge and beautifully captured by Richards. Even a dank garage forecourt in the freezing cold is almost too wide to fit on the screen. Yet Fern's van could hardly be smaller. She has to sleep in the foetal position. Her cherished improvements don't keep her warm and are, if anything, puny in the face of the size of her quest. It's a dangerous existence, and that's without any cinematically convenient crisis manifesting itself.
Job security, food security, health security are non-existent for Fern. Zhao takes these facts at a base and, with McDormand, examines what it is to be a woman living alone like this – an ageing woman who has made choices that she is comfortable with, even if others are not. Her encounters with Swankie, a determinedly free spirt, lead Fern to a greater understanding of herself, while a tentative relationship with a fellow traveller (Nomadland's only other actor, David Strathairn), does not.
Covid-19 has exposed giant faultlines in society, and how perilous life can be for those on siting on the edge of the cracks – in fact, how close we all are to them.. There's a keen desire, whether manifested through protest or in other, smaller ways, to be more equal on this planet, to be part of a kinder world. Viewing it straight on, neither condescending nor elevating, Nomadland shows what that looks like for the people who have the most tentative stake in it.
Production company: Highwayman, Hear/Say, Cor Cordium
International distribution: Searchlight
Producers: Frances McDormand, Peter Spears, Mollye Asher, Dan Janvey, Chloe Zhao
Screenplay: Chloe Zhao, based on 'Nomadland: Surviving America In The Twenty-First Century' by Jessica Bruder
Cinematography/production design: Joshua James Richards
Editor: Chloe Zhao
Music: Ludovico Einaudi
Main cast: Frances McDormand, David Strathairn, Linda May, Swankie, Bob Wells