Annette Bening goes the distance as real life endurance swimmer Diana Nyad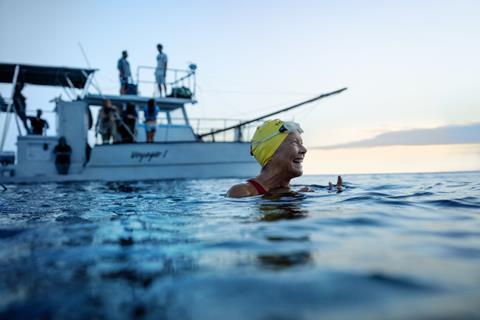 Dirs: Elizabeth Chai Vasarhelyi, Jimmy Chin. USA. 2023. 120mins
Success in the sport of endurance swimming takes a very specific kind of personality. Success at the level achieved by real-life athlete Diana Nyad (played here by Annette Bening), who – on her fifth attempt at the age of 64 – became the first person to swim from Cuba to Florida without the aid of a shark cage, requires a distillation of an already rather exhausting set of character traits. It is fair to say that this is not the kind of personality with which it is particularly easy, or indeed pleasant, to spend time. It's a testament to Bening's extraordinary performance, and that of Jodie Foster's more sympathetic counterpoint as Diana's best friend and trainer Bonnie Stoll, that, even at her most enragingly pig-headed and unreasonable, we are rooting for Diana rather than the sharks.
A stirring, if conventional, tale of dreams and determination
The feature film debut from documentary directing duo Elizabeth Chai Vasarhelyi and Jimmy Chin (Free Solo, The Rescue), NYAD is only slightly impacted by the fact that the story is already widely known. The filmmakers switch the focus from the suspense of an uncertain outcome to the central friendship between the two women, a friendship that Diana tends to inadvertently torpedo. This allows both actresses to bring a depth and texture that sustains the picture through the extended swimming sequences. This Netflix release is a stirring, if conventional, tale of dreams and determination, given added appeal by the fact that women in their 60s so rarely get to front this kind of story. Both actresses should figure prominently in awards conversations going forward.
Early scenes lay the groundwork for a persuasive and complex relationship between the two women. It's a crabby, affectionate bickering bond that feels almost as though they are a couple rather than old friends – and in fact, for a brief while in the distant past, they were a couple. Now however, they know each other inside out. Or rather Bonnie knows Diana. Diana, meanwhile, sometimes struggles to see further than herself.
But she knows enough about Bonnie to feel certain that she will accept Diana's imperious request that Bonnie should act as her trainer for a renewed attempt at the Cuba to Florida 100-mile crossing. Also recruited is navigator John Bartlett (Rhys Ifans), a laconic, straight-talker who knows the treacherous currents of this stretch of water, and has serious doubts that the swim is even possible. A shark defence team uses Kayak-mounted electronic pulses, and, as a last resort, tennis balls on sticks to poke them in the snout if they get too close.
The monotony of the swimming sequences (it is rather difficult to make extended shots of a woman flailing in the water visually exciting) is broken up with smartly-used actual archive clips of the younger Diana, a mental playlist of songs that play out in her head, sleep deprived hallucinations of the Taj Mahal and memories of childhood trauma that circle her like piranhas, nipping at her confidence. Diana's drive to succeed as a world-class swimmer, her need to claim the sport as her own, her slightly wearing tendency to bang on about her own sporting mythology: it all makes sense once we learn that as a teenager, she was abused by her male coach (Eric T. Miller). Her achievements and her glory, it becomes clear, are a kind of retribution against the man who tainted her love for swimming in the first place.
Production companies: Black Bear Pictures, Mad Chance
Contact: Netflix www.netflix.com
Producers: Andrew Lazar, Teddy Schwarzman
Screenplay: Julia Cox
Cinematography: Claudio Miranda
Editing: Christopher Tellefsen
Production design: Kara Lindstrom
Music: Alexandre Desplat
Main cast: Annette Bening, Jodie Foster, Rhys Ifans, Ethan Jones Romero, Luke Cosgrove, Jeena Yi, Eric T. Miller