Hikaru Toda's eye-opening documentary examines Japanese culture through the experiences of a gay couple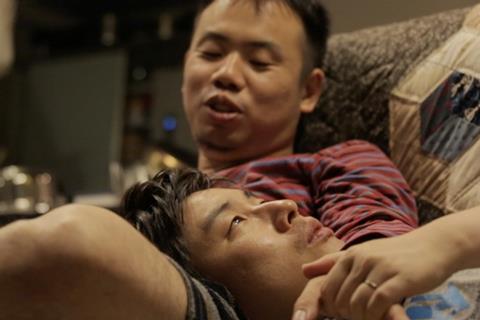 Dir: Hikaru Toda. Japan-UK-France. 2017. 94 mins
The first documentary to win the Tokyo International Film Festival's Japanese Splash competition for local fare, and only the second screened in the program strand's history, Of Love & Law details the personal and professional lives of Masafumi Yoshida and Kazuyuki Minami, an Osaka-based couple who operate Japan's first openly gay law firm. Gentle yet authoritative in its approach, it's an impassioned and insightful debut feature from director Hikaru Toda.
Of Love & Law shines a spotlight on the side of Japan that the rest of the world doesn't often see
While it may be steeped in the intricacies of Japanese society, it is also teeming with international relevance. Indeed, at a time when LGBTQ rights and marriage equality remains the subject of debate in much of the west, further festival play should follow in the wake of its Tokyo bow and continued accolades (it also won best pitch at Tokyo Docs in 2014). The LGBTQ circuit beckons at a minimum for the partially crowdfunded title, though streaming platforms should help provide a path to broader audiences. A Japanese release is expected in 2018.
If Toda had chosen to focus exclusively on the film's central figures, using their everyday existence as a microcosm of the gay experience in Japan, the filmmaker wouldn't have lacked content. Stemming from different backgrounds, and well aware of the stigma their sexuality and relationship carries, Fumi and Kazu remain not only engaging as they explain their tales, but eager and determined in their fight for civil rights.
Consequently, Of Love & Law is peppered with meaningful moments, from their emotional public speeches to their hopes, hobbies, home life and families. The more intimately it delves, the more revelatory it becomes. Kazu's mother shares her thoughts as she works for their firm and reflects upon her late husband; the couple desire to become parents in a place that won't allow them to adopt; and bond with a boy who needs their help.
As heartfelt, informative and even humorous as spending time with Fumi and Kazu proves, Toda reaches further than their specific plight, offering an eye-opening portrait of the pair's homeland. Using the duo to give voice to other outsider perspectives — everyone daring not to conform to the conservative status quo, those born beyond the traditional family structure, anyone supporting free speech — Of Love & Law shines a spotlight on the side of Japan that the rest of the world doesn't often see. Indeed, in one of the globe's most homogenous nations, with 98.5% of the population of Japanese descent, failing to adhere to the norm has considerable social and legal implications at odds with the cool and polite perceptions commonly associated with the country.
Accordingly, intertwined throughout Fumi and Kazu's exploits are the details of several of their clients, each expanding upon the feature's examination of Japan's treatment of minorities, its growing nationalism and the ramifications for personal expression. It's far from unexpected that the duo are drawn to diversity, and to those oppressed and deprived of individuality, freedom and recognition.
One of their cases involves Japanese artist Rokudenashiko, who has received global attention after breaking the country's obscenity laws with her vagina-shaped pieces, and the film affords viewers an insider account of her quest against censorship. Her efforts sit alongside a public school teacher's appeal against being fired for refusing to sing the national anthem, and the attempts of a number of unnamed Japanese residents to gain legal acknowledgement in the nation's family registry system — a status that can be denied for a myriad of reasons, including being born out of wedlock.
The parties involved are as ardent and astute as their lawyers, as captured by Jason Brooks' naturalistically lit frames and edited patiently but probingly by editor and associate producer Takeshi Hata. When Rokudenashiko speaks of the concept of "reading the air", however, the film's quietly rebellious nature becomes touchingly and stirringly apparent. In a society predicated upon silent obedience and learning to temper your behaviour to fit in with those around you, Of Love & Law reads the air in its standard construction, but surges forth defiantly in its message.
Production companies: Little Stranger Films, Hakawati, Les Films du Balibari and Postcode Films
Producer: Elhum Shakerifar
Co-producer: Estelle Robin You
Cinematographer: Jason Brooks
Editor and associate producer: Takeshi Hata
Composer: Yuichiro Maeda
Cast: Kazuyuki Minami, Masafumi Yoshida, Yae Minami, Kazuma Tsujitani, Rokudenashiko, Hiroko Tsujitani, Masae Ido, Natsuo Yamamoto