Peter Day expands his BBC documentary short into a feature length focus on the British urban parkour collective Brewman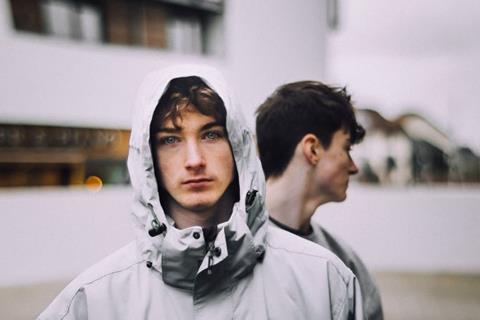 Dir/scr Peter Day. UK. 2022. 91 mins.
A bracingly kinetic snapshot of contemporary British urban youth, Off the Rails is infused by the daredevil energy of its adrenalin-junkie subjects. Graduating from parkour and free-running in their native sleepy Guildford to more ambitious stunts in major European capitals, these thrill-seekers escape the numbing, high-unemployment realities of suburban England into hazardous, potentially fatal realms of global internet quasi-celebrity. Premiering in the main competition at Thessaloniki documentary festival, this work of breathtaking highs and jarring lows will find further favour at non-fiction events, especially those focusing on social matters and young adults.
Off the Rails is at heart a humanistic, empathetic film which celebrates the feats and personal qualities of its participants but neither condones nor condemns their wilder exploits
Having previously chronicled the exploits of four-person collective Brewman via 2018's 28-minute Parkour Changed Our Lives for the BBC, longtime UK-based Peter Day (originally from New Zealand) now expands his canvas to feature length. It is a belated big-screen debut for Day, who has extensive experience as a producer and director for television, mainly in current affairs and politics-related programmes.
The fact that Day is in his early sixties may come as a surprise to viewers of Off the Rails, given its loose-limbed approach and its ease of engagement with young men in their late teens and early 20s, who still often behave like fifteen-year-olds. Conversing in casual street-slang throughout, the protagonists — chiefly Rikke (pronounced "Rick") Brewer and Aiden Knox — evince zero interest in orthodox channels of education and employment, and seemingly devote every waking hour to planning, executing and filming parkour and higher-octane escapades.
The latter includes the illegal scaling of vertigo-inducingly high structures such as the Severn Bridge and Berlin's TV Tower, as well as train-surfing — riding along the tops of subway trains — in London, Berlin and Paris. All of these stunts are captured by the team's cameras, including some skilful deployment of drones by tech-savvy cohorts, the resulting footage integrated smoothly into Day's fly-on-the-wall documentary material by editor Rob Alexander.
Working with a decade's worth of Brewman's video-archive, Alexander assembles a fast-paced survey of exhibitionist physical feats. "My life is a movie!" exclaims Rikke at one point, part of a generation for whom cameras and instant image-circulation are inescapable, even crucial concomitants of existence.
The lads' footloose bravado takes a hefty knock in summer 2017 when a founder of the Brewman collective, Nye Newman, is killed while larking about on the Paris Metro — his death a freak accident unconnected with the group's train-surfing spectaculars. Having included this tragic incident in his BBC short, Day now follows its ongoing impact on the surviving members over the next couple of years. Spells of semi-homelessness, alcohol addiction and prison time ensue, such travails exacerbated by the increasing difficulty of monetising the collective's output via YouTube and similar platforms. These downturns are superfluously underlined by Nikky French's score, which is overused and overemphatic in ways that betray Day's background in small-screen work.
Lower-key sequences involving Rikke's exasperated mother and Aiden's stoically sensible father, however, add further range and texture to a film which gains in emotional intensity and involvement as the lads pursue their haphazard paths towards adulthood. Indeed, many will find themselves surprisingly invested in the lives of folk they might never usually give a second glance. Off the Rails is thus at heart a humanistic, empathetic film which celebrates the feats and personal qualities of its participants but neither condones nor condemns their wilder exploits. It is notable that Day eschews any kind of "don't try this at home, kids!" captions, perhaps intuiting that such admonitions usually yield the opposite effect.
Production companies: Faction Films, Faction North, Perfectmotion
International sales: Journeyman Pictures, info@journeyman.tv
Producers: Peter Day, Grant Keir, Rob Alexander
Editing: Rob Alexander
Cinematography: Chris Evans, Rob Alexander, Rishi Ghosh-Curling
Music: Nikky French