Regina King adapts the award-winning stage play by Kemp Powers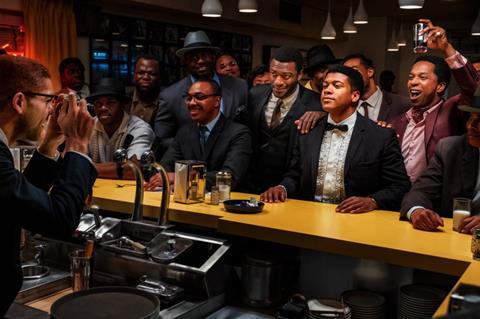 Dir. Regina King. US. 2020. 110 mins.
Kemp Powers' trenchant play opened a door into what it meant to be "young, black, righteous, famous, and unapologetic," at the height of the civil rights movement, namely on February 25, 1964 at the Hampton House Hotel in Miami. Like Regina King's adaptation, it's set over the night that Cassius Clay – soon to become Mohammed Ali – took the World Heavyweight title from Sonny Liston and met up with Malcolm X, Sam Cooke and NFL legend Jim Brown to celebrate. The meeting happened, but the exchanges here are fictional with thoughts raging across the room and providing a crossroads moment for all four. King's debut makes attempts to widen out the stage play, but there's no denying the fact that this is an exchange of ideas as opposed to a narrative, or that dialogue is often pitched as monologue. What ideas, though, and what a night.
King's small-scale but empowering address to the black movements of the past, present and future.
It's clear that King's film comes at the right time for the US and for the world, as yet another generation cries out against the exact same injustices. Set for release through Amazon, this is an important snapshot of a moment in time seen through a vital exchange of political and personal goals - cinematic limitations aside. A young cast, led by British actor Kingsley Ben-Adir as Malcolm X, brings these outsized personalities to life with Leslie Odom Jr. making a big impression in the ostensibly lesser role of Sam Cooke. Recreating the lost performance of 'A Change Is Gonna Come' on the Johnny Carson show, this versatile actor (Hamilton) sings and acts his way into awards play. Realising that Cooke was killed mere months after the night depicted onscreen makes it doubly sad: in fact two of the four met with violent deaths and only Jim Brown now survives.
King's picture, written by Powers himself, has extended the part of Malcolm X to give context to his state of mind at that precise time. Scenes are added featuring his wife and small daughters, so the audience can appreciate the looming break with The Nation of Islam, despite his mentorship of Mohammed Ali (Eli Goree) which led to the boxer's conversion. Ali is also given his own time outside the room, with a recreation of a lead-up British bout with Henry Cooper; while Brown (Aldis Hodge) returns to Georgia after a successful season only to be denied entry past local grandee Mr Carlton's (Beau Bridges) porch because "we don't let niggers in the house". The word has a brutal effect, and slaps the viewer awake early on in the piece with precise context as to what world these men are living in.
Each has surpassed any expectations to be where they are: Malcom X is the oldest, at 39, while Mohammed Ali is a mere 22 years-old, his win over Liston a major upset in the boxing world. Both were confrontational in their approach to the white establishment and their revolutionary ideas were feared. Cooke and Brown less so, and the discussions which take place amongst these friends - sometimes tipping over into anger - involve how to best use their voices in what they fear may be a never-ending struggle. In the latter sequences, Hodge's solid, grounded Brown asks Malcolm X the vexed question of whether the movement's lighter-skinned leaders are trying to prove something to the black community – or to themselves.
Travelling up onto the roof of the hotel and back down to the room, where Nation of Islam guards maintain a less threatening presence than the play, One Night In Miami positions Malcolm X as more troubled and unsure than his usual onscreen persona (whether in real footage or previous films, including Spike Lee's Malcolm X, where he was played by Denzel Washington). At times, even, he seems more human, even weakened. It's a big step for Ben Adir, and also for Eli Goree to convey everything that the miraculous 22 year-old Ali embodied. Their performances fall back behind the words and ideas they're delivering in King's small-scale but empowering address to the black movements of the past, present and future.
Production companies: Snoot Entertainment, ABKCO Films
Worldwide distribution: Amazon
Producers: Keith Calder, Jess Wu Calder, Jody Klein
Screenplay: Kemp Powers, from his play of the same name
Cinematography: Tami Reiker
Production design: Barry Ro
Editing: Tariq Anwar
Music: Terence Blanchard
Main cast: Kingsley Ben-Adir, Aldis Hodge, Leslie Odom Jr., Eli Goree