Rachid Bouchareb returns to Cannes with a sobering story about the December 1986 Paris protests and police brutality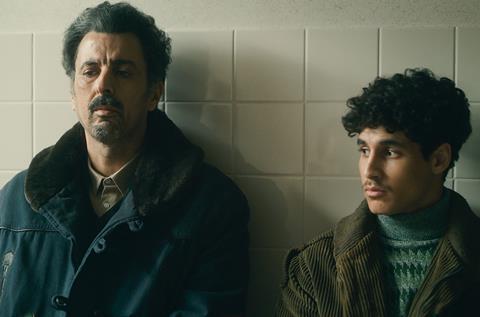 Dir: Rachid Bouchareb. France. 2022. 92 mins.
Politically conscious film-maker Rachid Bouchareb turns his attention to the scourge of police brutality with Our Brothers, a straightforward true-life drama that's earnest but effective. Focusing on the killing of Malik Oussekine and Abdel Benyahia in December 1986, their murders part of the backdrop of widespread protests occurring throughout Paris, the Days Of Glory (2006) director shows how sickeningly easy it is for law enforcement to demonise its victims, wielding power to spread misinformation and assert its authority. Some stark performances and a quiet sense of anger help mitigate what can sometimes be heavy-handed about the execution.
The sobering story doesn't need much embellishment.
This Cannes Premiere is the first of Bouchareb's pictures to grace the Croisette since 2010's Outside The Law screened in the Official Competition. While French audiences will be especially attuned to the subject matter, the film could also strike a chord internationally in our age of increased awareness around police misconduct.
Our Brothers spans a few days in December 1986 as young people are taking to the streets to speak out against the government's attempt to enact harsh higher-education reforms. Daniel (Raphael Personnaz), an Internal Affairs officer, is summoned to the morgue where there are two dead bodies, both of them men in their early 20s. One, Malik Oussekine (Adam Amara), was killed by police after accidentally wandering into the thick of a riot, while the other, Abdel Benyahia (who is not shown), was shot in a bar by police. Although Our Brothers is concerned with both men, Bouchareb spends a greater percentage of the picture's runtime following Malik's brother Mohamed (Reda Kateb), who tries to get to the bottom of what happened — while at the same time learning more about Malik's life in the weeks before his death.
There is a cold, procedural quality to Our Brothers, which boasts a docudrama feel, calmly following the attempts of police to cover up these killings and the desperate attempt by the two families to uncover the truth. Daniel quickly has misgivings about the orders of his superiors that he not contact the next of kin of the victims, and he is especially unhappy when it comes out that Malik needed dialysis — which, as far as his bosses are concerned, can be used as an excuse for why he died in police custody. Personnaz gives a sympathetic performance as a cop trying to do some good, blocked at every turn by a department determined to escape blame.
The modern-day relevance of the story couldn't be more appallingly apparent. The police try to suggest that Malik was a terrorist — after all, his family is Muslim — which fails to gain much traction. Indeed, in both victims' cases, law enforcement attempts to paint them as outsiders, and Samir Guesmi, who plays Abdel's grieving father, is especially affecting embodying a man who has learned to be careful so as not to be targeted by the police. Our Brothers illustrates how a culture of fear had seeped into this community long before these murders.
Mohamed's journey to learn more about his much-younger brother may seem extraneous, but those revelations, which shouldn't be spoiled, do speak to Bouchareb's larger point, which is that marginalised groups often seek to assimilate, shedding their culture and traditions in the hopes of being accepted by "mainstream" society. Kateb can sometimes overdo the theatrics, but it's hard to deny the raw rage Mohamed and others in Our Brothers feel.
Malik and Abdel were, of course, real people, and the film concludes with information about what happened to the police who killed them. (Suffice it to say, the punishment was far too weak considering the crimes.) Bouchareb means to enrage his audience — to remind them that France's shameful past isn't that far removed from our collective present — and he honours the dead by keeping the proceedings modest. The sobering story doesn't need much embellishment.
Production companies: 3B Productions
International sales: Wild Bunch International, ecastro@wbinter.eu
Producer: Rachid Bouchareb
Screenplay: Kaouther Adimi, Rachid Bouchareb
Editing: Guerric Catala
Cinematography: Guillaume Deffontaines
Music: Amine Bouhafa
Main cast: Reda Kateb, Lyna Khoudri, Raphael Personnaz, Samir Guesmi